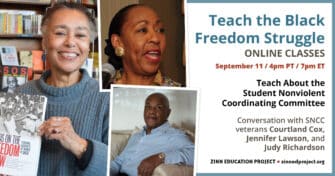 On Monday, September 11, 2023, Student Nonviolent Coordinating Committee (SNCC) veterans Courtland Cox, Jennifer Lawson, and Judy Richardson will discuss the SNCC Legacy Project and the importance of teaching about SNCC today.
The SNCC Legacy Project was established after the commemoration of the 50th anniversary of the founding of SNCC to collect, present history, and analyze the organization's work from the inside out emphasizing the thinking of SNCC veterans.
Courtland Cox worked with SNCC in Mississippi and Lowndes County, Alabama, served as Program Secretary for SNCC in 1962, was the SNCC representative to the War Crimes Tribunal organized by Bertram Russell, and in 1963 served as the SNCC representative on the Steering Committee for the March on Washington.
Jennifer Lawson served as SNCC's deputy director for an adult education program in Mississippi before relocating to Washington, D.C. where she worked as art director for the bookstore and publishing company, Drum and Spear. In 1989, Lawson was hired by PBS as their first chief programming executive, making her the highest ranking Black woman to have served in public television.
Judy Richardson worked with SNCC in Georgia, Mississippi, and Lowndes County, Alabama and ran the office for Julian Bond's successful first campaign for the Georgia House of Representatives. She founded the children's section of Drum and Spear Bookstore and was children's editor of its Press. She is also a documentary filmmaker.
They will be in conversation with a teacher. Click the link below and add your name to a list to be notified when registration is open.
These online classes with people's historians are held at least once a month (generally on Mondays) at 4:00 pm PT / 7:00 pm ET for 90 minutes. In each session, the historian is interviewed by a teacher and breakout rooms allow participants to meet each other in small groups, discuss the content, and share teaching ideas. We designed the sessions for teachers and other school staff. Parents, students, and others are also welcome to participate.