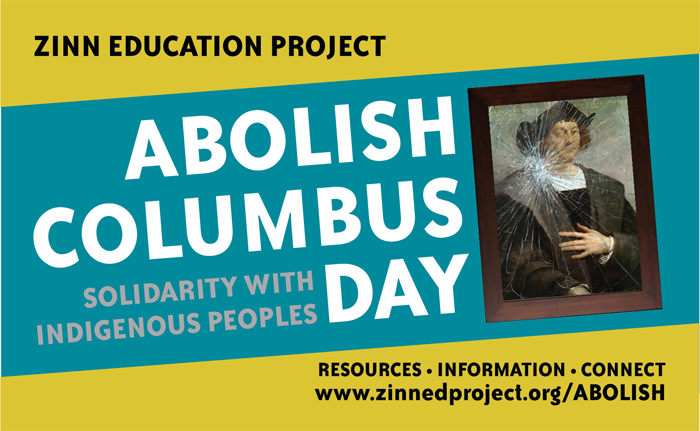 It is time to stop celebrating the crimes of Columbus and stand in solidarity with the Indigenous people who demand an end to Columbus Day. Instead of glorifying a person who enslaved and murdered people, destroyed cultures, and terrorized those who challenged his rule, we seek to honor these communities demanding sovereignty, recognition, and rights. We encourage schools to petition their administration and for communities to introduce legislation to rename Columbus Day to Indigenous Peoples' Day. Below we provide information and resources to join the campaign to Abolish Columbus Day.
Jump to: WHY • HOW • EXAMPLES • WHERE • PROMOTE • DONATE

Time to Abolish Columbus Day
By Bill Bigelow
When the school curriculum celebrates Columbus, children are taught that it's OK for white people to rule over peoples of color and that militarily powerful nations can bully weaker nations. By his own account, Columbus enslaved people, destroyed cultures, and terrorized those who challenged his rule. It's time to abolish Columbus Day.
Continue reading.

Resources from the Zinn Education Project
Sample Resolutions

Campaigns and Other Actions
Sixth-grade students in the Plattsburg, New York School District led a campaign to change Columbus Day to Indigenous Peoples' Day. Here are the steps they took:
Sept./Oct.: Co-teachers undertake a critical study of Columbus using primary sources, including Columbus's own journal. Students decided to propose to the school board to change Columbus Day to Indigenous Peoples' Day.

Nov.:

At the school board meeting, students recommend to the board to change Columbus Day to Indigenous Peoples' Day on school calendars, effective 2016-2017 school. Vote is postponed to allow time for community feedback.

Dec.:

Motion made at the school board meeting to change the name. Vote postponed in order to give students time to get the opinions of local Native Americans on this topic.
Feb.: The Stafford Middle School's 6th-grade students provided the board with the feedback they received from Native Americans on changing Columbus Day to Indigenous Peoples' Day, as requested. The students were pleased with the overwhelming support for the name change. Vote taken, passing 5-2.
Sources: Press Republic, WAMC Public Radio, and BOE meeting minutes.
Notes from the Classroom
Suzanne Caruso, middle school teacher

Cambridge, Mass.

Students wrote a letter to the principal, hosted an all-school meeting with local Indigenous leader Annawon Weeden, and had members of the community sign a petition asking the state of Massachusetts as well as city of Cambridge to change Columbus Day to Indigenous Peoples' Day. "What started as a debate turned into an opportunity for students to expand their thinking and serve as agents of change in their communities."

Laura Farrelly, high school teacher
Eugene, Ore.

Students wrote letters to the editors of local newspapers and the city council. One letter got published inspiring others to write. "It was a powerful lesson in civics especially since my students are disenfranchised and feel like they don't have power to effect change politically."

Matthew Venditti, 8th grade teacher, Amherst, MA

The town of Amherst's decision to rename Columbus Day as Indigenous Peoples' Day was inspired by a proposal from 8th grade students from Amherst Regional Middle School. Students in Matthew Venditti's social studies class studied and discussed the issue in Fall 2015, and then some interested students formed a group called Student Advocates for Change. They encouraged the town of Amherst to change the name of Columbus Day to Indigenous Peoples' Day, presented their arguments twice to the town's Human Rights Commission, invited State Rep. Ellen Story to hear their arguments, presented to the regional school committee, and finally made a presentation to Amherst Town Meeting on May 18, 2016, which is the date Town Meeting approved the change. [Description by the Amherst Education Foundation.]

Related article: Teens lead the fight against Columbus Day in Massachusetts. Here's why they care.
Add Your Story
Explore the states, cities, towns, and schools where Columbus Day has been abolished in the interactive Abolish Columbus Day map. Click the arrow icon on the top-left to filter by type of place (school, district, city, town, or state). Click on the icon on the top-right to expand the map.
If your school or town does recognize Indigenous Peoples' Day (or a similar holiday) and not Columbus Day, let us know. We'll put you on the map.

Digital and Printable Materials
Help spread the word. Click on each image to view larger file, save, and publish.
Switch Your Facebook Profile Download

graphic and switch in.