Jump to:  Teaching Resources • Teacher Stories • Climate Crisis Timeline • Pledge • Donate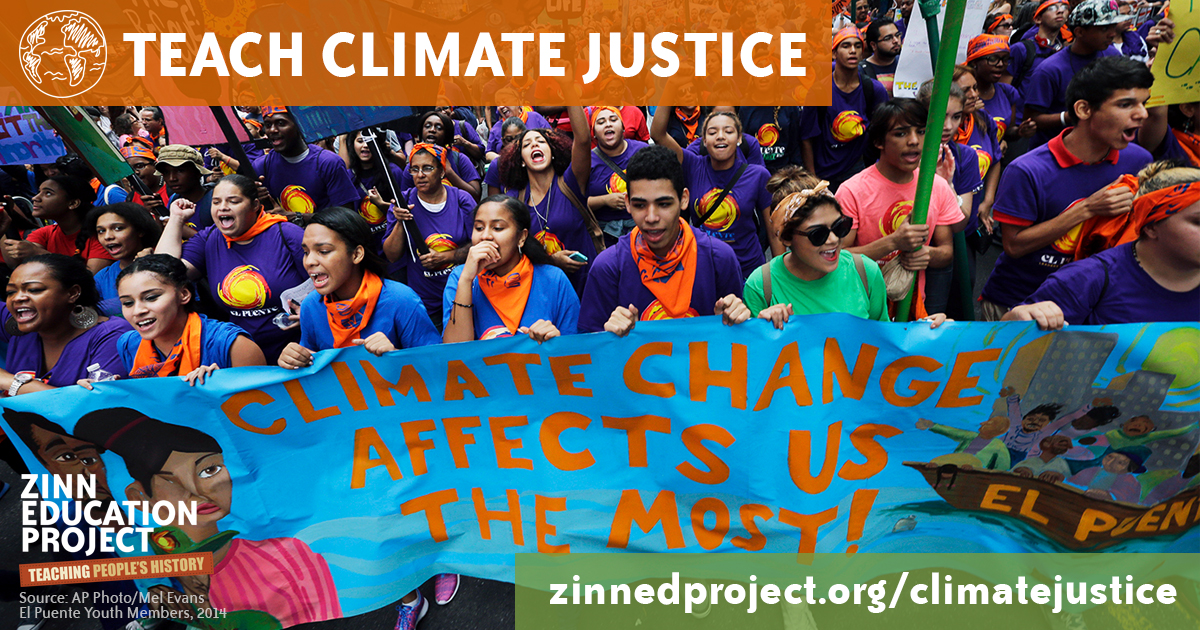 The climate crisis threatens our students' lives. And yet, throughout the United States, schools have failed to put environmental justice at the center of the curriculum.
To address this gulf between the climate emergency and schools' inadequate response, the Zinn Education Project sponsors a campaign to "Teach Climate Justice."
How do we teach the unfolding environmental crisis in a way that also confronts racism, economic inequality, misogyny, militarism, xenophobia, and that imagines the kind of world that we would like to live in?
We offer classroom-tested environmental justice lessons, a climate crisis timeline, other teaching resources, workshops, and a sample school board climate justice resolution. Please use these lessons and recommended materials, send us your teaching stories, and spread the word on social media (#TeachClimateJustice).
The climate crisis is not going away. That means that teaching for climate justice is work we all need to do. Join us.
CONTINUE READING

By Bill Bigelow

For too long, the fossil fuel industry has tried to buy teachers' and students' silence. But teaching climate justice has never been more urgent. Read more.
Lessons
Additional Teaching Resources
Climate Crisis Timeline
Our timeline traces its roots from European colonial expansion and racial capitalism to present-day fossil fuel industry and government projects that exploit and destroy the Earth in the name of maximum profit. It also emphasizes moments and movements of resistance and activism that inform climate justice work today. Scientific discoveries and disinformation — who knew what, when, and to what ends — punctuate this history, as do accelerating catastrophes that emphasize the urgency of the crisis.

Teacher Stories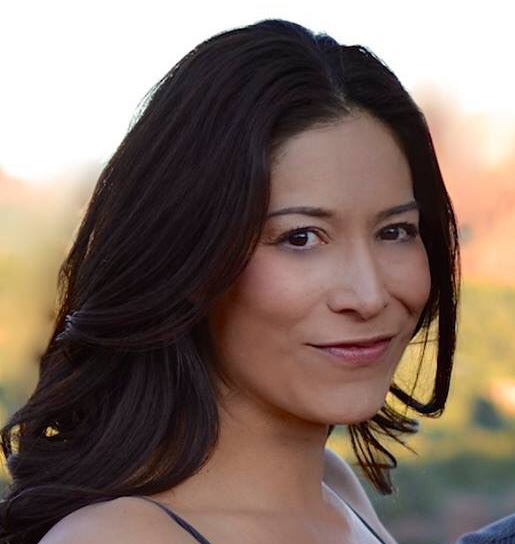 Lessons like the Climate Change Mixer, Paradise Lost, and the Thingamabob simulation took my students from a place of what appeared to be indifference and complacency, to a place of inquiry, compassion, and activism.
The culminating activity involved having my students participate in a mock trial based on Bill Bigelow's role play activity 'Who's to Blame for the Climate Crisis'? By this point of our study, my students were emotionally and intellectually 'invested' and were genuinely curious as to what or who is responsible for the environmental crisis. The collection of primary-source based lessons and activities at the Zinn Education Project website and in A People's Curriculum for the Earth proved to be an invaluable and powerful resource.
—Sarah Giddings
Middle School Social Studies Teacher, Mesa, Arizona
Read more teacher stories.
Share Your Story
Stories from the classroom can inform and inspire more teachers to use lessons on climate justice. We invite you to share your story. Selected responses will be posted at the Zinn Education Project website.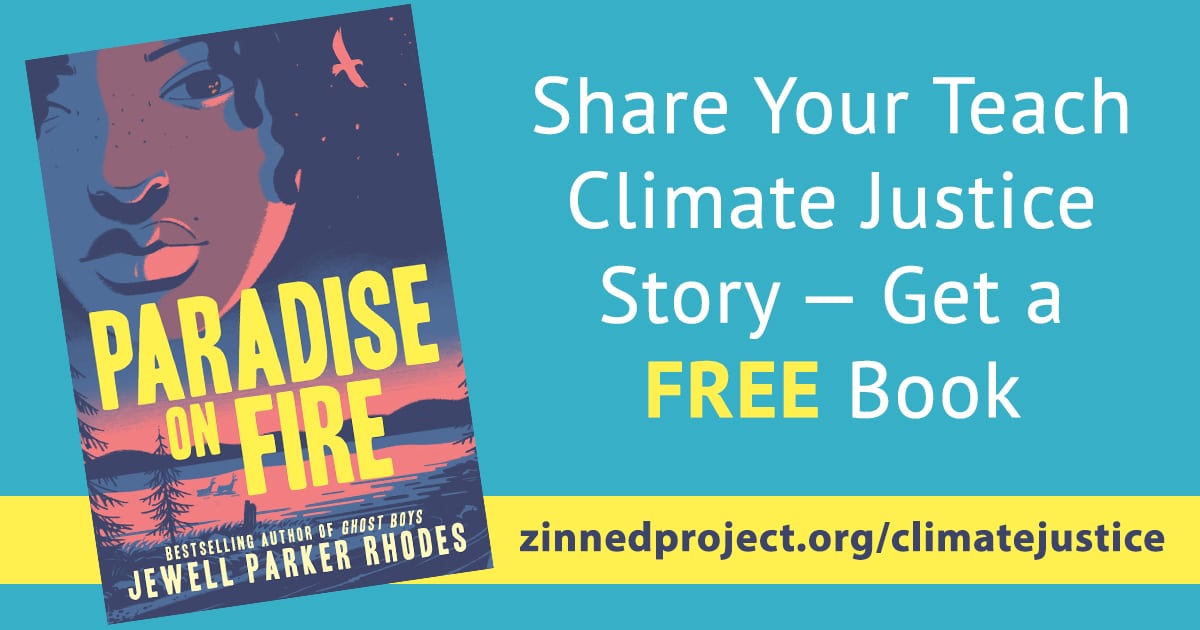 We will send you a copy of Paradise on Fire by Jewell Parker Rhodes in appreciation for your teaching story. Learn more.
Pledge to Teach Climate Justice
A CBS poll found that 48% of respondents wrongly believe that scientists disagree about the human role in climate change. They don't.
It is sad — and outrageous — that almost half the people in the United States have been influenced by media silence and climate denial propaganda in schools — from textbooks, Heartland Institute handouts, and fossil fuel company misinformation.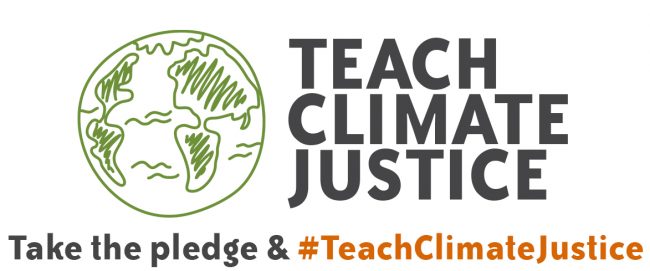 Teachers can turn that around. Please sign the pledge teach climate justice today.
See highlights from the pledges and read all pledges to date to see why and how educators are teaching climate justice.
Organizing
School District Resolution
As a result of grassroots organizing, the Portland, Oregon, school board passed a sweeping "climate justice" resolution that commits the school district to "abandon the use of any adopted text material that is found to express doubt about the severity of the climate crisis or its roots in human activity." The resolution further commits the school district to develop a plan to "address climate change and climate justice in all Portland Public Schools."
Here is how they did it. Let us know if you get a similar resolution passed. We'd love to feature more success stories on this page.
Global Climate Strike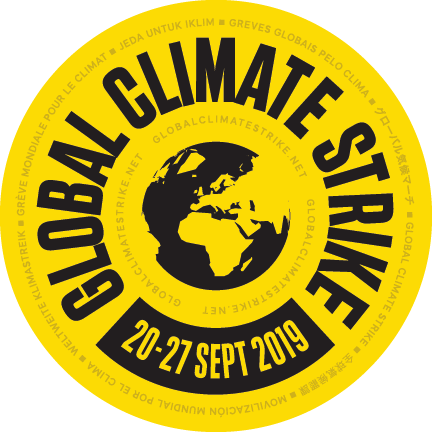 In September 2019, millions of people walked out of schools and workplaces to demand an end to the age of fossil fuels. Find out how school staff and students can participate in future strikes at globalclimatestrike.net.
Students from the Climate Strike Youth Coalition in Portland, Oregon, wrote a letter to the school district superintendent about their intention to strike on September 20 and their demands of the district. This could be a useful reference for students in other school districts. View letter.
Workshops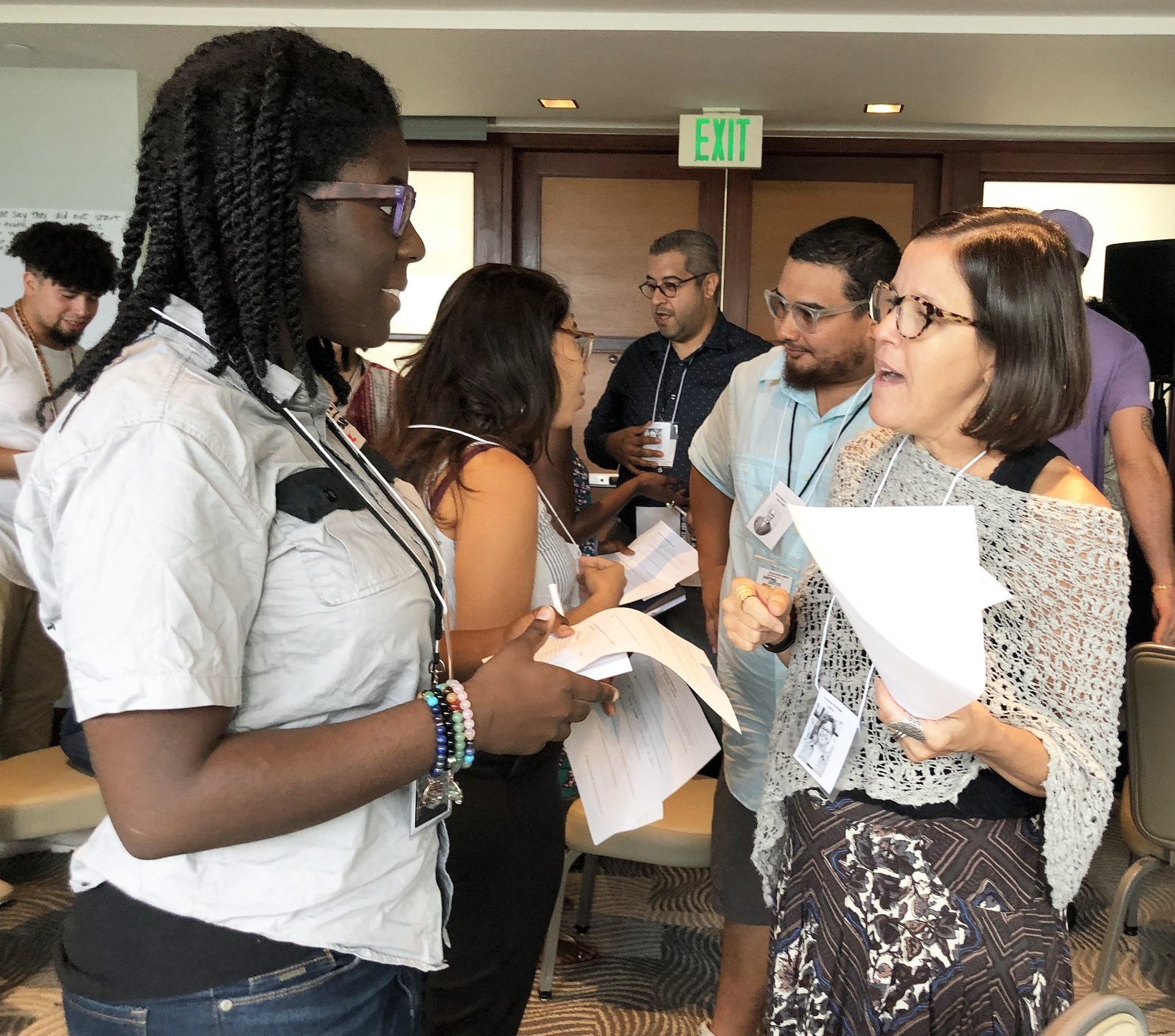 The Zinn Education Project team offers workshops for schools, teacher unions, pre- and in-service courses, and other settings with classroom teachers. The facilitators engage participants in a hands-on introduction to climate justice lessons. We are most interested in sessions with teachers who are committed to playing an active role in promoting climate justice education in their school district. An honorarium is required.
Most of our workshops are online.
Youth Engagement

There are many opportunities for young people to engage in climate justice actions beyond the classroom. Learn more.
Donate
The Teach Climate Justice campaign is made possible by support from individuals like you. Please donate today so that more teachers receive free lessons, books, and workshops to support Climate Justice teaching in their classrooms. The future depends on your support. Donate now!