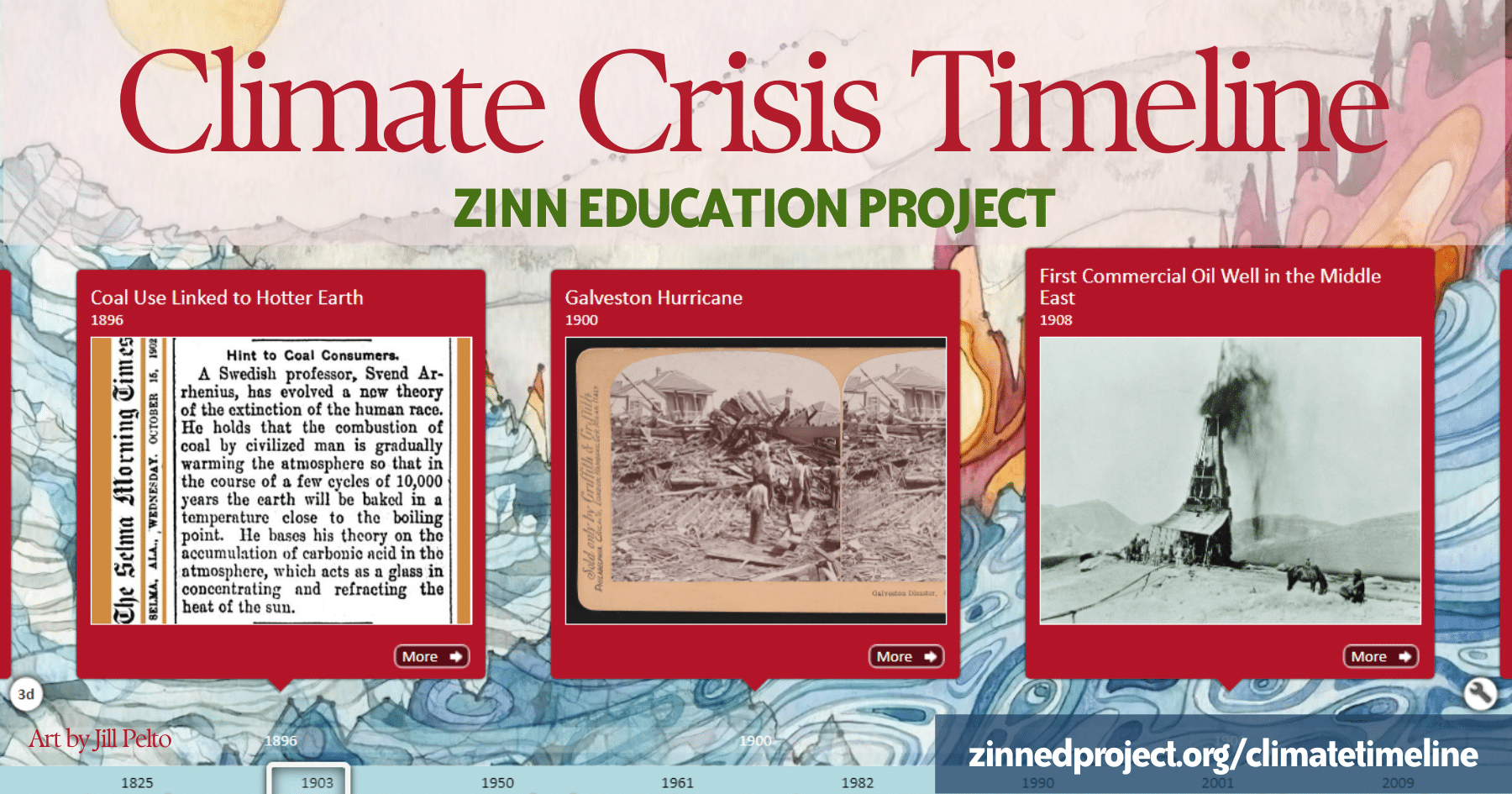 Climate emergencies surround us today. The gap between the severity of the climate crisis and the inadequate response in schools threatens students' lives and the future of the planet. Young people deserve tools that help them understand who shaped the warming world they inherited and how to meet the crises in front of them.
Timelines can be useful tools for distilling long, complex histories, and timelines of climate change are nothing new. A simple Google search can reveal dozens of sites or articles that claim to document its development. But the stories most timelines tell about the climate crisis misleadingly cast it as a product of the "natural" world — not as a consequence of human history, of choices, of systems through which profit and injustice flow. These accounts often laser-focus on the steady buildup of CO₂ in the atmosphere and climbing temperatures with little-to-no attention to the authors of global warming, movements to curb it, and populations that bear the brunt of its effects. They promote a sense of inevitability, fueling a dangerous mix of despair and inaction. We have developed a different timeline of the crisis at hand.
We invite teachers and students to examine the choices and stakes that animate the climate crisis, and to work together toward meaningful solutions. Our timeline traces its roots from European colonial expansion and racial capitalism to present-day fossil fuel industry and government projects that exploit and destroy the Earth in the name of maximum profit. It also emphasizes moments and movements of resistance and activism that inform climate justice work today. Scientific discoveries and disinformation — who knew what, when, and to what ends — punctuate this history, as do accelerating catastrophes that emphasize the urgency of the crisis.
The Climate Crisis Timeline is a brand new resource, and we're eager to hear how you use it in your classrooms and curricula. Experiment with it, send us your teaching stories, and spread the word on social media (#TeachClimateJustice).
We provide a set of teaching ideas to guide students' exploration of the timeline. These prompts encourage students to build on featured events and themes, identify key takeaways, and imagine paths to a more just future. For more on why we created the timeline, read our article: The Climate Crisis Has a History. Teach It.
Teaching Ideas
Below is a set of teaching ideas, including writing prompts and other activities for students: 
Ask students to select five events from the Climate Crisis Timeline that they believe are the

most

significant in explaining the climate crisis. Ask them to write a couple of sentences of explanation for each entry they select. Then ask students to do a modified mixer in which they walk around and share their analysis with other students. Ask students to share only one date for each one-on-one conversation, and to take note of patterns or questions that emerge.

Ask students to identify two to three dates on the timeline they are confused or have questions about. Group students in small groups to share. Then have each group share one or two questions out to the whole class for discussion.

Ask students to select at least three points on the timeline that were critical "choice points," — times when things might have gone in a different — or better — direction if people had acted differently. In a class discussion, ask students to share the dates and answer:

Why was this a critical moment?

Who or what is responsible for the way things happened?

Who or what might have been capable of achieving a different outcome?

In small groups, ask students to identify themes or trends on the timeline. Then, ask them whether there are any themes or information that should be added to the timeline.

Have students write on these questions:

What "big ideas" do you take away from looking at this timeline? 

What did you find surprising? 

What upset or troubled you? 

What gave you hope?

Provide students another timeline related to climate change. (For example,

New Scientist's "Timeline: Climate Change"

or

the BBC's "A brief history of climate change"

). Ask students to analyze differences between the timelines and answer some questions: 

What themes and patterns did you notice on the ZEP timeline that did not show up on the other timeline? And vice versa?

What is the purpose of each of these timelines? What do you think the authors of each timeline were trying to explain or reveal? Do you think they agree about the causes of the climate crisis?

Give students an opportunity to research at least five more important events to add to the timeline. These might include dates after the final entry, parts of the world or groups left out of the original timeline, or events that reflect a theme they believe should get more emphasis.

Tell students to unleash their creative, hopeful energies and to envision into the future. Ask students to imagine 3 choice-points ahead in which the climate justice movement has sufficient numbers and power to steer Earth on a different path. Tell students to write up these events — they are fictional, but should be plausible — to add to the timeline on dates (2035? 2050? 2066?) of their choosing. 
Learn More
Here are articles and podcasts that speak to the timeline's main arguments. The books listed below were among those read by the timeline authors to inform its development. 
Articles
Educators and the Climate Crisis (Rethinking Schools)
Naomi Klein on the Future of Climate Justice (UBC Centre for Climate Justice)
Our House Is on Fire — Time to Teach Climate Justice (Rethinking Schools)
Stuck in the Smoke as Billionaires Blast Off (The Intercept)
Teach the Fossil Fuel Industry — Our Students' Enemy (Rethinking Schools)
'The Environment Is Everything': A Conversation with Climate Justice Leader Elizabeth Yeampierre (Fordham Magazine)
Unequal Impact: The Deep Links Between Racism and Climate Change (Yale Environment 360)
What if Climate Change Meant Not Doom? (Washington Post)
Why Are Reparations Essential for Climate Justice? (Global Citizen)
Why Protecting Tribal Rights Is Key to Fighting Climate Change (Yale Environment 360)
Podcasts
A History of the World in Seven Cheap Things (New Books Network)
Amitav Ghosh: The Great Derangement – Rebel Book Club (1) (Extinction Rebellion Podcast)
Olúfẹ́mi O. Táíwò on Climate Colonialism and Reparations /216 (For The Wild)
Books
A History of the World in Seven Cheap Things: A Guide to Capitalism, Nature, and the Future of the Planet by Jason W. Moore and Raj Patel
Born in Blackness: Africa, Africans, and the Making of the Modern World, 1471 to the Second World War by Howard French
Carbon Democracy: Political Power in the Age of Oil by Timothy Mitchell
Fossil Capital: The Rise of Steam Power and the Roots of Global Warming by Andreas Malm
Late Victorian Holocausts: El Niño Famines and the Making of the Third World by Mike Davis
Reconsidering Reparations by Olúfẹ́mi O. Táíwò
The Great Derangement: Climate Change and the Unthinkable by Amitav Ghosh
The Pentagon, Climate Change, and War: Charting the Rise and Fall of U.S. Military Emissions by Neta C. Crawford
Donate
The Teach Climate Justice campaign is made possible by support from individuals like you. Please donate today so that more teachers receive free lessons, books, and workshops to support Climate Justice teaching in their classrooms. The future depends on your support. Donate now!