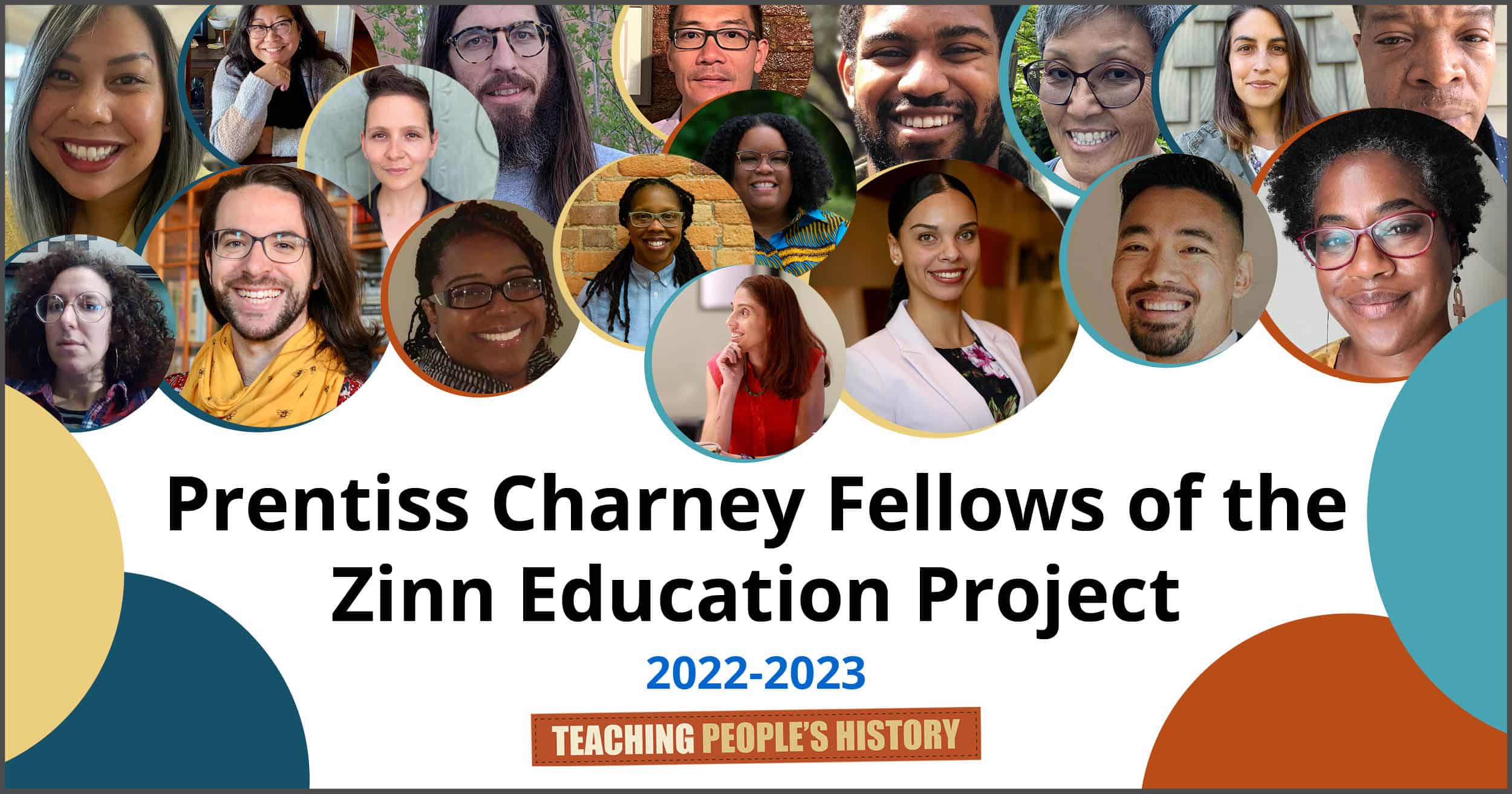 The Zinn Education Project launched the Prentiss Charney Teacher Fellows program in 2022. Named for education activists C. J. Prentiss and Michael Charney, the fellowship offers support for a cohort of 15 to 20 people's history teacher leaders a year.
Why Now?
The United States is, once again, facing an intense battle over what narrative children will learn about U.S. history and what future they will create.
The right wing is using its immense funding and the complicity of the mainstream press to fan the fires of racism and keep the traditional narrative dominant in schools. As noted in this 2021 Rethinking Schools editorial,
By banning educators from teaching honestly about history and current events, lawmakers seek to deny young people the right to understand — and so effectively act upon — the world they've been bequeathed. These bills are an attack on democracy itself.
Educators are faced with the task of resisting the "anti-CRT" bills and the multitude of less obvious ways that people's history is silenced in the curriculum. In order to fight back, we need to support educators who, in addition to teaching, can engage as people's history organizers, people's history curriculum writers, and people's history workshop facilitators. 
This is not a moment of despair. The anti-CRT initiatives are a signal not of our weakness, but of our strength. Another 2021 Rethinking Schools editorial explains,
Republican lawmakers across the country are acting because the ground is shifting. Following the summer uprisings for racial justice in 2020, which were by some accounts the largest in U.S. history, thousands of teachers committed to learning more about the United States' long history of white supremacy and to teaching their students about the equally long struggles for justice that continue to this day. . . Young people across the country are witnessing the power of activism firsthand; as key places where they are invited to reflect, analyze, and learn more about what is happening and why, our classrooms have become the target of reactionaries.
We are also getting an increased number of requests for media interviews, workshops, presentations at conferences, and more lessons. In order to respond to the current requests, let alone ensure that this work can carry on in the years ahead, we need to develop a cohort of teachers with the support, skills, analysis, and connections to play that role.
From Isolated Classrooms to Collective Action
Five years ago we could point to thousands of teachers across the country using people's history lessons from the Zinn Education Project. We impacted a truly impressive number of classrooms — one by one. 
Ironically, the pandemic created the opportunity to overcome the isolation and bring those teachers together. While they were working from home and on Zoom, we organized weekly classes with people's historians. In each class, teachers met in small groups for conversation. While the teachers said the speakers were phenomenal and transformed much of what they knew about U.S. history, they cited the small group conversations with peers as equally important. For many, this was the first time they could talk with radical educators from across the country — sharing both moral support and strategies.
Those online classes began in March of 2020 and continue today, shifting from weekly to monthly now that teachers are back in the classroom. 
In September of 2020, we deepened the peer-to-peer teacher collaboration with teacher study groups — 30 in the 2020–2021 school year and 100 this year.
In the summer of 2021, we engaged many of those same teachers in leading days of action across the country in response to the right wing anti-history education attacks. 
These collective experiences are not only helping teachers deepen their practice as education activists, they are also keeping them in the profession. At a time when record numbers of teachers are leaving in the face of unprecedented challenges, the study groups and Teach Truth events offer teachers a lifeline. These are the very teachers we cannot afford to lose. And it is from this pool of teachers that we are recruiting the teacher fellows.
Fellowship
A fellowship generally means receiving a grant to study and learn; but fellowship is also a "friendly association, especially with people who share one's interests." We are designing something that incorporates both meanings of the word: an opportunity for working teachers to study, learn, and participate in a community of radical educators.
The fellowship is named Prentiss Charney for two education activists who embody the spirit of this endeavor. C. J. Prentiss and Michael Charney are committed to radical education for young people and recognize that creating the conditions for that learning requires creative, grassroots organizing. Through their decades of work in Ohio, and ongoing statewide and national work today, they model the tenacity and strategic brilliance required to be successful against the well-funded right wing institutions. 
This is a one-year fellowship with ongoing support and engagement. Sustaining and advancing this work requires that we have teachers ready to engage in one or more of five ways:
Organizing. Organizing for changes in district or state standards and testing, against anti-history bills, school district climate justice resolutions, etc.
Policy. Examining how education policy affects schools/classrooms, including gathering stories about the impact of and resistance to policies like privatization, testing, funding inequity, teacher credentialing/preparation, etc.
Professional development. Developing and offering workshops on Reconstruction, racial justice, climate justice, and other key areas that support the Zinn Education Project mission.
Writing curriculum. Adding new teaching resources and perspectives to the collection at the Zinn Education Project website so that we can eventually offer a full alternative to textbooks and packaged materials from groups like the Koch-funded Bill of Rights Institute.
Sharing stories. Writing about the work of being an educator and/or activist for multiple audiences, including op-eds, education blogs, the Zinn Education Project website, and Rethinking Schools magazine.
Fellows meet throughout the year as a cohort. Early in the year, they develop goals and write a work plan; meetings throughout the year allow Fellows to share their progress, receive feedback and support, and modify their plan accordingly. In a summer convening, they will share their work, celebrate each other, and coordinate next steps with the ZEP team. 
Each Prentiss Charney Fellow receives:
Public recognition: local and national media, stories about the work they accomplish, web posts featuring each fellow and their story, etc.
Structured sessions throughout the year (at least five) and summer convening. The sessions include organizing, writing, and curriculum workshops, political readings/discussions, and workshops on how to engage with the media.   
Stipend: recognizing the extra work they do during the fellowship year and have done for many years leading up to that (which is why they were selected in the first place), they each receive a stipend of $4,500 and at least $500 worth of resources, such as books, conference registration, travel, etc.
The teachers (or other school staff) selected for the Prentiss Charney Fellowship have demonstrated over time that they share the politics of the Zinn Education Project, are willing and able to play a leadership role, and can commit the time necessary to carry out an action plan in the fellowship year.
This group of people can play a necessary role in deepening the impact — now and in the future — of the Zinn Education Project in the fight to defend and expand teaching outside the textbook.
Timeline
The first group of Fellows was recruited and selected in the spring of 2022. Each month we spotlight one of the fellows.
They meet five times as a full cohort during the school year and also receive personalized support and opportunities in alignment with their respective project. They will share their work in June of 2023. During the spring of 2023, we will solicit applications for the second cohort. That cohort will follow the same plan, with some modifications based on lessons learned in year one.
Support
Funding for the 2022-2023 cohort is provided by the Geneviève McMillan-Reba Stewart Foundation and individual donors.
Help us fund the Prentiss Charney Fellows for the next five years. With secure funding, teachers can plan ahead to participate and we can continue to support the alumni as they interact with the media, present at conferences, organize, and offer workshops. Along with your donation, note in the dedications field that it is for the Prentiss Charney Fellows.