I see my role as improving the lives of poor folks. Now, I can say improve the lives of African Americans, but I'm real clear on the history. The Civil Rights Movement before that, the suffrage movement before that, our movement against slavery — we empowered everyone; we lifted all over as we zeroed in on the African American challenge. — C. J. Prentiss
The Prentiss Charney Fellowship is named for long-time Ohio activists, C. J. Prentiss and Michael Charney. Prentiss served in the Ohio State Senate and Michael Charney was a teacher and labor organizer. Married for 40 plus years, they live in North Kingsville, Ohio, and continue to support social justice causes with a focus on education. Below is a brief bio for C. J. Prentiss. [See Michael Charney's bio.]
---
C. J. Prentiss grew up in Cleveland, Ohio, in an activist family. Her father worked with the Future Outlook League, which was critical in mobilizing the Black community and increasing Black employment. In the 1940s, he was beaten trying to integrate Euclid Beach Park. As noted at the Cleveland Historical website article on the Euclid Beach Park Riot,
Albert T. Luster, a member of the interracial civil rights group the Congress of Racial Equality (CORE), was severely beaten by a Euclid Beach Park police officer. Luster was to be one of an interracial group of 10 or so CORE members who, like other groups that summer, sought to test the park's policies. . . . Discussions soon began in Cleveland City Council that would result in the passage, the following February, of an ordinance that explicitly outlawed discrimination at Cleveland's amusement parks.
While fighting for justice and driving a city bus, Luster also attended college. After years of study, he received his degrees and began practice as a physician and surgeon. Her mother, Berenice Spaulding Luster, was a science teacher and president of the Cleveland Delta Sigma Theta sorority.
Prentiss credits her parents for laying the foundation for her fight for justice and equality.
Prentiss received both a B.A. in Education and M.Ed. from Cleveland State University, and she holds a post-graduate certificate in Administration from Kent State University. She is also a graduate of the Advanced Management Program at Case Western Reserve University's Weatherhead School of Management.
Prentiss attended the March on Washington in 1963. In the 1970s, she started the Voter Service Club, where she organized people to register to vote. Then she worked in a fair housing organization.
In her dissertation, Linda M. Trautman explains:
Encouraged by her formative political training and experiences, Senator Prentiss became centrally involved in civil rights groups and political organizations in Cleveland. Most notably, Prentiss was a key player in the civil rights struggle for school desegregation in Cleveland during the late 1970s. 
In 1978, a court ordered the desegregation of Cleveland public schools. Prior to this decision, a similar court order was handed down in Boston which precipitated race riots and protests in that city. 
Prentiss organized a group called Black Community Leaders for Peaceful School Desegregation. She also became a leader of an interracial political organization called WELCOME (Westsiders and Eastsiders Let's Come Together), which advocated for racial cooperation and peaceful school desegregation.
Speaking of WELCOME, Prentiss said,
I met my husband Michael Charney. He is white, I am Black and we began to organize the city and have one of the largest bridge walks where the westside and eastside in a walk across the Detroit Superior Bridge [which at that time separated Black and white population in Cleveland.] So that was the beginning of me looking at organizing, politicizing people.
In 1976, Prentiss was one of the only Black women integrally involved in Ohio's Cuyahoga Women's Political Caucus, at the time primarily composed of white women. Next, Prentiss became a delegate to the Democratic Convention for Jesse Jackson in 1984, and then became co-chair of the Cleveland Rainbow Coalition. Prentiss was a teacher for several years before she was elected to the State Board of Education where she served a six-year term from 1985–1990.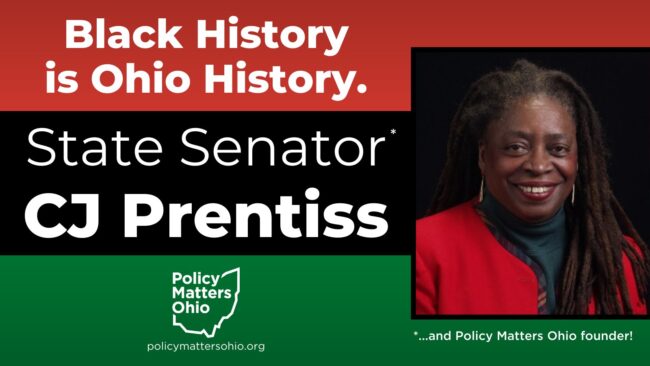 Known in Columbus as "the highest ranking African-American education lawmaker in the state of Ohio," Prentiss served eight years in the Ohio State House of Representatives (8th district) before serving eight years in the Ohio State Senate (21st district). While in the Ohio State Senate, Prentiss represented constituents of Bratenahl, Brooklyn Heights, Cleveland Heights, Cuyahoga Heights, East Cleveland, Newburgh Heights, and University Heights. She served as minority whip (during the 125th General Assembly), Senate Minority Leader in 2005 and 2006, was the first female president of the Ohio Legislative Black Caucus (OLBC), and was the second African-American woman to serve as the Democratic leader in the Ohio Senate.
According to Charney, Prentiss "was part of the squad in the Ohio legislature before there was a squad." Speaking of her campaign for state representative, Prentiss said,
When I ran for state representative in 1986, I ran against an incumbent, a Black male who had been a state representative for 18 years. I had absolutely no support from the Black power structure because I was running against one of the old boys. Women rallied around my candidacy.
During the race, Prentiss was attacked for being married to a white man. She won.
After serving as president of the OLBC, Prentiss became president of the Ohio Legislative Black Caucus Foundation. Under her leadership they traveled to South Africa, where they visited Robben Island Prison where Nelson Mandela was imprisoned and they visited Soweto. The caucus also develops policy and sponsors educational events on behalf of the African-American members of the Ohio General Assembly. 
She also served as Financial Secretary, was on the Executive Committee of the National Black Caucus of State Legislators (NBCSL), and chaired the Elementary and Secondary Education Committee of the NBCSL. She received special appointments to the Governor's Blue Ribbon Task Force on Financing Student Success, the Governor's Commission on Teaching Success, the OhioReads Council, and the Ohio Children's Trust Fund, among others.
Prentiss was on numerous committees and consistently advocated for those most underserved. She spearheaded significant legislation to decrease the Black-white academic achievement gap, obtained funding for all-day kindergarten, and reduced class sizes. She worked tirelessly to improve education for students of all races. Under her leadership, the NBCSL published Closing the Achievement Gap: Improving Educational Outcomes for African American Children, which helped to put the achievement gap on the national agenda.
Outside of her education initiatives, she addressed economic issues after the Republican-led senate refused to put a bill on the floor to raise the minimum wage. Prentiss organized a statewide coalition to put the Ohio Minimum Wage Increase Amendment on the ballot in 2006. Voters approved the measure, which led to an increase in the minimum wage in Ohio with further increases each year to make up for inflation.
According to the biography provided at the Ohio State House,
Prentiss challenged her colleagues to have the political will to act now. She believes that without immediate intervention, the future of this generation of young people is one of low self-esteem, prisons, welfare and a widening gap between the have and have nots. . . .
Prentiss has received the Legislator of the Year Award by NBCSL at their Annual Convention 2001 for, among many accomplishments, her work in leading the publication of Closing the Achievement Gap, NBCSL Roundtable Award, Cleveland State Civic Achievement Award, African American Women's Agenda Woman of the Year Award, Ohio Hunger Task Force Legislator of the Year Award, Greater Cleveland AIDS Taskforce "A Voice Against the Silence" Award, Glenville Hall of Fame Award, and McDonalds Black History Makers of Tomorrow Program Award.
Describing his wife's courage in the face of bipartisan neglect and indifference, Charney said,
They got a free breakfast program for kids, and it passed in the House again, but the Senate wouldn't give them money. So, C. J. decided to go on a hunger strike.
She went on a hunger strike particularly for poor Appalachian communities, since the cities were going to pay for the breakfast program anyway.
It lasted like 10 days. She got 20 or 30 other well-known leaders around the state to also go on the hunger strike. And she won.
What that captures is her commitment to not only Black empowerment, but also to all people who are marginalized.
After retiring from the Ohio Senate in 2006, Prentiss and Charney helped to found the nonpartisan economic policy research institute Policy Matters Ohio, which "creates a more vibrant, equitable, sustainable and inclusive Ohio through research, strategic communications, coalition building and policy advocacy." 
Prentiss also developed a program to raise the high school graduation rate of Black boys. Most of the 33 targeted high schools showed significant progress. Because of her work raising the African American graduate rate, Prentiss was picked to be the Special Education Adviser to Ohio Governor Ted Strickland in 2007.
In retirement, she created the C. J. Prentiss Emerging Leaders Project to hone the skills of progressive Ohio leaders under 40. Alumni include Lauren Groh-Wargo, campaign manager for Stacey Abrams, Nse Ufot of the New Georgia Project, and elected leader Nina Turner. She is also a devoted member of Hiawatha Church of God and Christ.
She organizes to improve the lives of those around her, and in doing so, Prentiss serves as model for the Prentiss Charney Fellows.
As Prentiss said in an interview with Rethinking Schools,
Everybody has a role — we must share the responsibility and act. It's not just about principals and teachers, but the kids, the parents, the church, the business community, the social service community —  everyone needs to be a part of this to make it happen.