On May 17, 1954, the U.S. Supreme Court handed down an unanimous decision in Brown v. Board of Education.
Decades of strategic planning and brave actions led to this historic ruling. In fact, this fight had a long history. For example, in 1848, African American Benjamin Roberts filed the first school desegregation suit after his daughter Sarah was barred from a white school in Boston, Massachusetts. Chinese American families in the Mississippi Delta petitioned against school segregation all the way to the Supreme Court. They lost in 1927 in Lum v. Rice. Latino families in California challenged school segregation in the case of Mendez v. Westminister. With the help of Thurgood Marshall, they won in 1947. In 1951, 16-yr-old Barbara Johns led her classmates in a strike to protest the substandard conditions in Prince Edward County, Virginia.
A key figure in the history leading up to the Brown v. Board ruling is Charles Hamilton Houston, who established an accredited, full-time (previously it was part-time) law program at Howard University. The focus was on civil rights to prepare lawyers, including Thurgood Marshall, to lead the fight against racial injustice.
Houston argued precedent setting cases and traveled throughout the South taking photos to document that separate was not equal.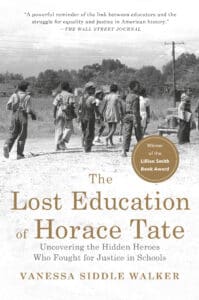 It is also important to learn about "the crucial role Black educators played in the evolution of public education in the South" and the movement to overturn Plessy v. Ferguson that led to Brown v. Board. Their story is documented in The Lost Education of Horace Tate: Uncovering the Hidden Heroes Who Fought for Justice in Schools (The New Press, 2018) by Vanessa Siddle Walker. We recommend reading an interview with Walker by Melinda Anderson in The Atlantic, "The Secret Network of Black Teachers Behind the Fight for Desegregation."
Find resources for teaching about Brown v. Board and the cases leading up to it below. There are also stories about the fight to ensure that Brown v. Board was implemented and the terrorism carried about by white supremacists in response, such as the murder of 16-yr-old James Earl Reese in Texas in October of 1955.