On June 11, 1965, more than 100,000 students stayed out of school to protest inequality and segregation in Chicago. Students ignored an injunction issued by the Circuit Court of Cook County against their peaceful demonstration, and continued to protest Chicago's policy of school segregation. Many African American students had been forced to attend school in overcrowded trailers and other substandard facilities while schools with predominantly white students had plenty of open seats.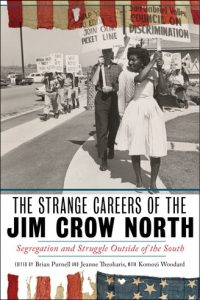 These protests sparked the sustained Chicago Freedom Movement of 1965–1966. Learn more about how the Chicago Freedom Movement brought the civil rights struggle into the public eye in the north. 
The walkout in 1965 wasn't the first mass protest of racism in Chicago's public schools by any stretch. Learn more about the Freedom Day boycott of 1963. 
In addition to the related resources below, we recommend The Strange Careers of the Jim Crow North Segregation and Struggle Outside of the South (NYU Press, 2019) edited by Brian Purnell and Jeanne Theoharis with Komozi Woodard.