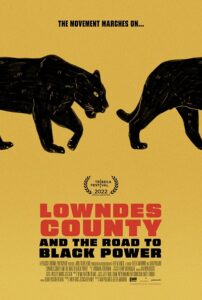 The passing of the Voting Rights Act of 1965 represented not the culmination of the Civil Rights Movement, but the beginning of a new, crucial chapter. Nowhere was this next battle better epitomized than in Lowndes County, Alabama, a rural, impoverished town with a vicious history of racist terrorism. In a town that was eighty percent Black but had zero Black voters, laws were just paper without power.
This isn't a story of hope but of action. Through first person accounts and archival footage, Lowndes County and the Road to Black Power tells the story of the local movement and young Student Nonviolent Coordinating Committee (SNCC) organizers who fought not just for voting rights, but for Black Power in Lowndes County. [Adapted from Multitude Films description.]
The documentary includes contemporary or archival interviews with Hasan Kwame Jeffries, Catherine Coleman Flowers, John Hulett, John Jackson, Lillian McGill, Bob Mants, Courtland Cox, Ella Baker, Jennifer Lawson, Judy Richardson, Kwame Ture (fmr. Stokely Carmichael), Mukasa Dada (fmr. Willie Ricks), Ruby Sales, and Reverend Wendell Paris.
Trailer
Democracy Now! Interview
Amy Goodman speaks with film co-directors Sam Pollard and Geeta Gandbhir, as well as former SNCC field secretary Reverend Wendell Paris, in this December 2022 interview on Democracy Now!