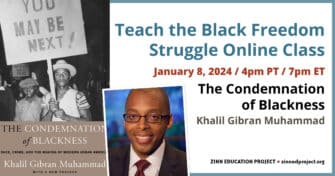 On Monday, January 8, 2024, historian Khalil Gibran Muhammad will discuss his book The Condemnation of Blackness: Race, Crime, and the Making of Modern Urban America.
Khalil Gibran Muhammad is the Ford Foundation Professor of History, Race and Public Policy at Harvard Kennedy School. He directs the Institutional Antiracism and Accountability Project and is the former Director of the Schomburg Center for Research in Black Culture, a division of the New York Public Library. His writing and scholarship have been featured in national print and broadcast media outlets, such as the New Yorker, Washington Post, The Nation, National Public Radio, PBS Newshour, Moyers and Company, MSNBC, and the New York Times.
Khalil will be in conversation with a teacher. Click the link below and add your name to a list to be notified when registration is open.
These online classes with people's historians are held at least once a month (generally on Mondays) at 4:00 pm PT / 7:00 pm ET for 90 minutes. In each session, the historian is interviewed by a teacher and breakout rooms allow participants to meet each other in small groups, discuss the content, and share teaching ideas. We designed the sessions for teachers and other school staff. Parents, students, and others are also welcome to participate.