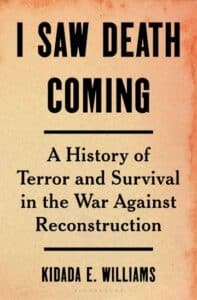 The story of Reconstruction is often told from the perspective of the politicians, generals, and journalists whose accounts claim an outsized place in collective memory. But this pivotal era looked very different to African Americans in the South transitioning from bondage to freedom after 1865. They were besieged by a campaign of white supremacist violence that persisted through the 1880s and beyond. For too long, their lived experiences have been sidelined, impoverishing our understanding of the obstacles post-Civil War Black families faced, their inspiring determination to survive, and the physical and emotional scars they bore because of it.
In I Saw Death Coming, Kidada E. Williams offers a breakthrough account of the much-debated Reconstruction period, transporting readers into the daily existence of formerly enslaved people building hope-filled new lives. Drawing on overlooked sources and bold new readings of the archives, Williams offers a revelatory and, in some cases, minute-by-minute record of nighttime raids and Ku Klux Klan strikes. And she deploys cutting-edge scholarship on trauma to consider how the effects of these attacks would linger for decades-indeed, generations-to come. [Publisher's description]
ISBN: 9781635576634 | Bloomsbury Publishing
Author Interviews
Why is This Happening?

Teach the Black Freedom Struggle
On Monday, March 20, 2023, Kidada E. Williams discussed I Saw Death Coming with Jessica Rucker as part of our Teach the Black Freedom Struggle online people's history series.
Excerpts
These families were among the more than four million African Americans who had sprinted off the blocks and into freedom with great expectations. Many of them achieved their dreams or were on their way to doing so when death came for them in the form of white men waging war on freedom. In many ways, testimonies such as theirs about torture, disabling injuries, trauma, displacement, and dispossession serve as a moral ledger documenting the pillaging of families' freedom. Collectively, they reveal a dark history of Reconstruction and its overthrow. 
– –
Black historians did their part to keep the story alive and serve as vessels for the truth of Reconstruction's overthrow, and to help more Americans witness the era through their writings and art.
The abolitionist, suffragist, and teacher Frances Ellen Watkins Harper — whose poem "The Deliverance" remarked upon newly freed people living through the worst of slavery and withstanding the "gale" of emancipation — was one of many whose work was laced with remembrances of Black Reconstruction.
W. E. B. Du Bois in Black Reconstruction in America and John Hope Franklin in Reconstruction after the Civil War turned to the Klan hearings to write the first histories of Reconstruction and emancipation centering African Americans. In doing so, they confronted racist propaganda of Reconstruction's "failure" by threading the war on freedom's cataclysmic effects into the tapestry of American and African American political history.
James Weldon Johnson and John Rosamond Johnson even incorporated this history and its aftermath into the lyrics of "Lift Every Voice and Sing," the African American national anthem. The song's origins lie in a poem James Weldon tried to draft for a 1899 commemoration of Abraham Lincoln's birthday.