The Colfax Massacre occurred in Colfax, Louisiana on Easter Sunday, April 13, 1873. Republicans had narrowly won the 1872 election to retain control of the state, but Democrats contested the results.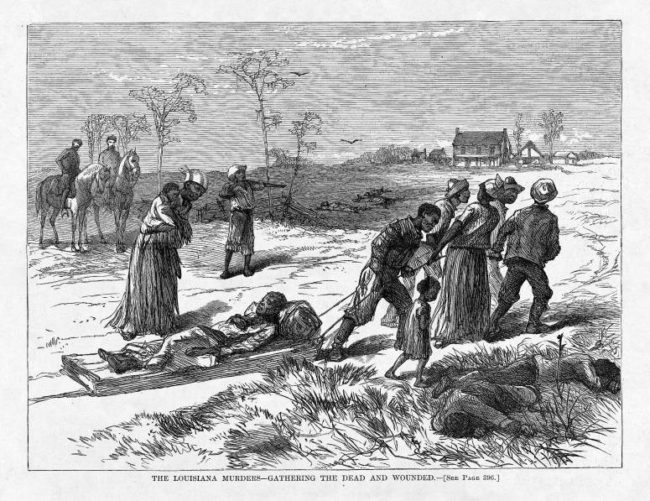 Eric Foner notes,
The bloodiest single instance of racial carnage in the Reconstruction era, the Colfax massacre taught many lessons, including the lengths to which some opponents of Reconstruction would go to regain their accustomed [white supremacist] authority.
Fearful that white militias would attempt to take over local parish governments, Republican officeholders occupied the Colfax courthouse. Here is a description from BlackPast.
More than 300 armed white men, including members of white supremacist organizations such as the Knights of White Camellia and the Ku Klux Klan, attacked the Courthouse building. When the militia maneuvered a cannon to fire on the Courthouse, some of the sixty Black defenders fled while others surrendered.
When the leader of the attackers, James Hadnot, was accidentally shot by one of his own men, the white militia responded by shooting the Black prisoners. Those who were wounded in the earlier battle, particularly Black militia members, were singled out for execution. The indiscriminate killing spread to African Americans who had not been at the courthouse and continued into the night.
Although federal charges were brought against several white insurgents, the Supreme Court later ruled in United States v. Cruikshank that the 14th Amendment only applied to state actions and offered no protections against acts by individual citizens.
Learn More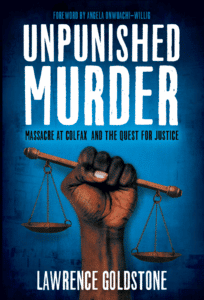 Watch a C-SPAN talk about The Colfax Massacre: The Untold Story of Black Power, White Terror, and the Death of Reconstruction (Oxford University Press) by LeeAnna Keith and read a review of her book, The Colfax Massacre: The Untold Story of Black Power, White Terror and the Death of Reconstruction.
Read The Colfax Massacre: The mass shooting that made America: 150 years ago today, a white supremacist act of domestic terrorism set the stage for Black voter suppression, the Jan. 6 insurrection and 150 years of gun hysteria by Michael Harriot in The Griot
For high school students, see Unpunished Murder: Massacre at Colfax and the Quest for Justice by Lawrence Goldstone.
Read about more massacres in U.S. history. Most of these massacres were designed to suppress voting rights, land ownership, economic advancement, education, freedom of the press, religion, LGBTQ rights, and/or labor rights of African Americans, Latinos, Native Americans, Asians, and immigrants.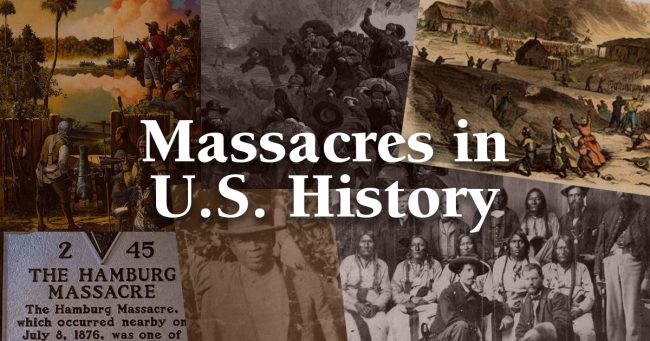 Learn more in the Zinn Education Project national report, "Erasing the Black Freedom Struggle: How State Standards Fail to Teach the Truth About Reconstruction," and find teaching resources on Reconstruction below.
Marker
Read about the removal of the marker that celebrated white supremacy and the dedication, on April 13, 2023, of a new memorial to the Colfax Massacre.
Removing the White Supremacy Marker at Colfax, Louisiana by Tom Barber and Jeff Crawford, July 6, 2021 in the Journal of the Civil War Era