On July 4, 1876, (in the midst of a heated Reconstruction era local election season) a Black militia was engaged in military exercises when two white farmers attempted to drive through. Although the farmers got through the military formation after an initial argument, this event provided the excuse sought by whites to suppress Black voting through violence.
On July 6, in a courtroom, the farmers charged the militia with obstructing the road.
The case was postponed to July 8, by which time more than 100 white men from local counties had gathered in town, armed with weapons. The African Americans attempted to flee, but 25 men were captured and six were murdered.
Read more about the Hamburg Massacre at BlackPast.org. Also, read an extraordinary story by the South Carolina Citizen History about the historic markers for the Hamburg Massacre and about Senator Ben Tillman who led the mob attack.
Another massacre in this time of terror during the 1876 gubernatorial campaign was the Ellenton Riot, when armed groups of white supremacists rampaged, with the excuse of rumors of Black-on-white crime, in Ellenton, South Carolina. No African Americans were safe, and accounts indicate that field crews, families at home, evening political meetings, and even church gatherings were targets of white assailants. The human cost was high: at least two whites were dead, with three wounded, while estimates of the death toll among African Americans ranged from thirty to more than one hundred. Among the dead was Black state legislator Simon Coker, who was shot in the head while praying for mercy. One of the leaders present at Coker's murder became South Carolina's governor and a longtime U.S. senator. His name was Benjamin Tillman. Only the intervention of the U.S. Army ended the killing spree. [Excerpted and adapted from the South Carolina Encyclopedia]
Note that the plaque, pictured on this page, identifies political parties. For further context regarding the party realignment that occurred in the 20th Century, leading the vast majority of African Americans to change party identification from Republican to Democrat, visit the History, Art & Archives of the US House of Representatives.
Read about more massacres in U.S. history.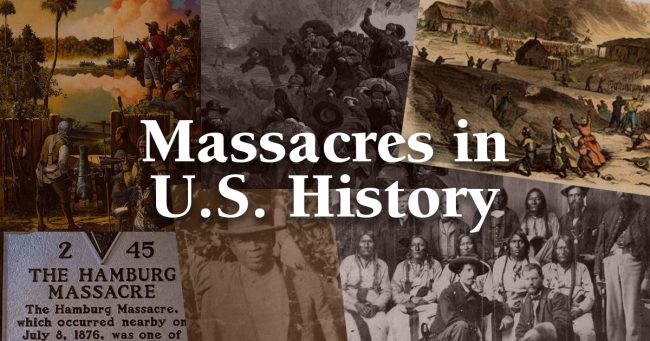 Learn more in the Zinn Education Project national report, "Erasing the Black Freedom Struggle: How State Standards Fail to Teach the Truth About Reconstruction," and find teaching resources on Reconstruction below.