What kind of country is this going to be? This was the urgent question posed in the period immediately following the U.S. Civil War. When students learn about Reconstruction, if they learn about this period at all, too often they learn how the presidents and Congress battled over the answer to this question.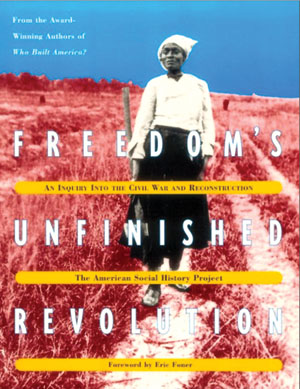 Textbooks and curricula emphasize what was done to or for newly freed people, but usually not how they acted to define their own freedom.
This role play asks students to imagine themselves as people who were formerly enslaved and to wrestle with a number of issues about what they needed to ensure genuine "freedom": ownership of land — and what the land would be used for; the fate of Confederate leaders; voting rights; self-defense; and conditions placed on the former Confederate states prior to being allowed to return to the Union.
The role play's premise is that the end of the war presented people in our country with a key turning point, that there existed at this moment an opportunity to create a society with much greater equality and justice.
The role play is followed by chapter 11 of Freedom's Unfinished Revolution: An Inquiry into the Civil War and Reconstruction (New Press, 1996) with discussion questions.
Tell Us Your Story — Get a Free Book
Have you used this lesson? We want to hear from you! Receive a free copy of the middle school historical fiction book Sugar for your time. Learn more.
Teacher Testimonials
"Reconstructing the South: A Role Play" from @ZinnEdProject might be one of my favorite lessons. #teachreconstruction #teachtruth pic.twitter.com/QIde17V3K8

— Anna O'Brien (@mrsohbrienpkms) February 23, 2023
more comments from teachers
 about this lesson.
Teach Reconstruction Campaign
"Reconstructing the South" is one of the lessons offered as part of our campaign to Teach Reconstruction.
---
Learn more in the Zinn Education Project national report, "Erasing the Black Freedom Struggle: How State Standards Fail to Teach the Truth About Reconstruction," and find teaching resources on Reconstruction below.