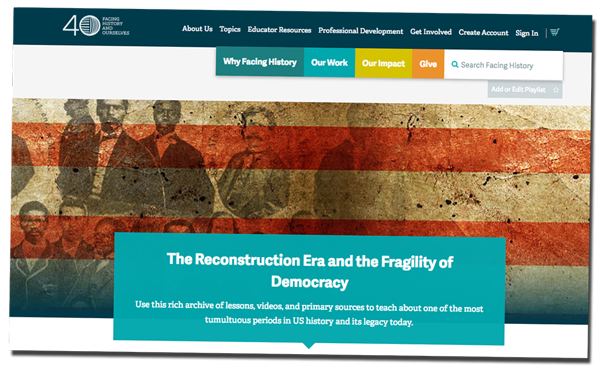 The Reconstruction Era and the Fragility of Democracy  is a collection of readings, primary documents, video clips, and lessons produced by Facing History and Ourselves in 2015. The resources and full unit are available online for free access by teachers.
The unit gives a strong overview of the entire Reconstruction era and is a useful resource for the #TeachReconstruction campaign. In particular, when teaching Reconstruction we would recommend "Lesson #5: Healing and Justice" as a strong follow-up to the Zinn Education Project role play "Reconstructing the South"; "Lesson #9: Equality for All?" as an important exploration of the limits of Radical Reconstruction; and "Lesson #15: The Power of Myth and the Purpose of History," which uses a critical examination of Birth of a Nation to introduce students to the historiography of Reconstruction.
A few examples of the documents provided in this unit:
Nucleus of Ordinary Men: In 1935, W. E. B. Du Bois published an influential book titled Black Reconstruction in America. This excerpt describes the role of secrecy and fear in perpetuating mob violence.
Changing Names: After Emancipation, many formerly enslaved people adopted new names and surnames. They did so either to take on a surname for the first time, or to replace a name or surname given to them by a former master. Here, three different formerly enslaved people discuss their names and the changes they underwent after Emancipation.
Collaborators and Bystanders: Historian Eric Foner writes that the Ku Klux Klan drew support from many more people than those who directly committed violent or threatening acts against freedpeople and white supporters of Reconstruction.
Improving Education in South Carolina: Freedman Samuel J. Lee was elected to the South Carolina House of Representatives in the elections of 1868, the first elections in which African Americans voted in the state. He became Speaker of the House in 1872. In 1874, he reported on the improvements to the state education system made by the Republican legislature during Reconstruction.
Klansmen Broke My Door Open: In the late 1860s and early 1870s, the Ku Klux Klan inflicted terror and violence on black Southerners in an effort to intimidate them and influence elections. Abram Colby, an African American legislator from Georgia, was a victim of Klan violence. This is an excerpt from his 1872 testimony given before a congressional committee formed to investigate violence against freedpeople in the South.
---
Learn more in the Zinn Education Project national report, "Erasing the Black Freedom Struggle: How State Standards Fail to Teach the Truth About Reconstruction," and find teaching resources on Reconstruction below.