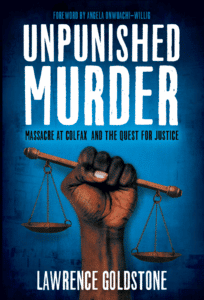 On Easter Sunday of 1873, during Reconstruction, a band of white supremacists marched into Grant Parish, Louisiana, and massacred over one hundred unarmed African Americans. The court case that followed reached the highest court in the land. Yet, following one of the most ghastly incidents of mass murder in U.S. history — known as the Colfax Massacre — not one person was convicted.
The opinion issued by the Supreme Court in U.S. v. Cruikshank ruled that the 14th Amendment only applied to state actions and offered no protections against acts by individual citizens.
In this thoroughly researched volume for young readers, Lawrence Goldstone traces the story of the Colfax Massacre and how the U.S. Supreme Court institutionalized racism in the justice system. [Description adapted from the publisher.]
ISBN: 9781338239461 | Scholastic
---
Learn more in the Zinn Education Project national report, "Erasing the Black Freedom Struggle: How State Standards Fail to Teach the Truth About Reconstruction," and find teaching resources on Reconstruction below.