On Sept. 14, 1941 four marches from different points in the city of Washington, D.C. got underway, involving an estimated 2,000 total participants. Each march was dedicated to one of the four recent African American victims of police brutality.
Signs carried by protesters included, "Old Jim Crow Has Got to Go," "Protect Our Civil Rights" and "Police Brutality is a Disgrace to the Nation's Capital." A hearse and an undertaker's automobile carried signs in memory of persons shot in recent months by the police.
The treks converged at 10th and U Streets NW for a rally where about 500 remained to hear a number of speakers including Alphaeus Hunton, professor at Howard University, who reiterated the six demands put forth at the rally that were developed at the previous week's meeting.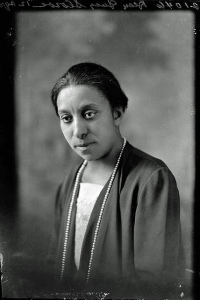 This protest followed years of organizing against police brutality in Washington, D.C.
For example, in May of 1937,  the protest effort culminated with a "public trial" of Washington's "killer cops" at the John Wesley A. M. E. Zion Church. The trial "provided a complete picture of the lawless police terror which has reigned in Washington for the past ten years," according to the Chicago Defender.
One of the judges in the mock trial was educator and athlete Lucy Diggs Slowe.
This description is from Washington Area Spark. Continue reading at Washington Area Spark.