The "Soccer War" was fought by Central American countries El Salvador and Honduras in 1969. Here is a description of the event and its root causes by Uruguayan journalist, writer and novelist Eduardo Galeano, best known for his book Open Veins of Latin America.
By Eduardo Galeano
Soccer, metaphor for war, at times turns into real war. Then "sudden death" is no longer just a name for a dramatic way of deciding a tied match. These days, soccer fanaticism has come to occupy the place formerly reserved for religious fervor, patriotic ardor, and political passion. As often occurs with religion, patriotism, and politics, soccer can bring tensions to a boil, and many horrors are committed in its name.
Some believe men possessed by the demon of the ball foam at the mouth, and frankly that image presents a fairly accurate picture of the frenzied fan. But even the most indignant of critics would concede that in most cases violence does not originate in soccer, any more than tears flow from a handkerchief.
In 1969 war broke out between Honduras and El Salvador, two small and very poor Central American countries that for more than a century had been accumulating reasons to distrust one another. Each had always served as the magical explanation for the other's problems. Hondurans have no work? Because Salvadorans come and take their jobs. Salvadorans are hungry? Because Hondurans mistreat them. Both countries believed their neighbor was the enemy, and the relentless military dictatorships of each did all they could to perpetuate the error.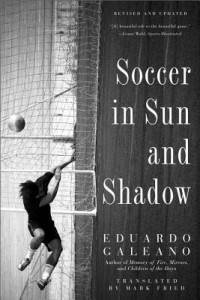 This war was called the Soccer War because the sparks that set off the conflagration were struck in the stadiums of Tegucigalpa and San Salvador. The trouble began during the qualifying rounds for the 1970 World Cup. There were tussles, a few injuries, several deaths. A week later, the two countries broke off relations. Honduras expelled a hundred thousand Salvadoran peasants who had always worked in that country's plantings and harvests; Salvadoran tanks crossed the border.
The war lasted a week and killed four thousand people. The two governments, dictatorships forged at a U.S. factory called the School of the Americas, fanned the fires of mutual hatred. In Tegucigalpa the slogan was "Honduran, don't sit still, grab a stick and a Salvadoran kill." In San Salvador: "Teach those barbarians a lesson." The lords of land and war did not lose a drop of blood, while two barefoot peoples avenged their identical misfortunes by killing each other with abandon.
From Soccer in Sun and Shadow (Nation Books) by Eduardo Galeano. Read more in "Soccer War" at the Duke University Soccer Politics website.
Learn more from the resources below and find free lessons at TeachingCentralAmerica.org.