Harvest of Empire, a feature-length documentary, examines the direct connection between the long history of U.S. intervention in Latin America and immigration today.
Based on the groundbreaking book by award-winning journalist Juan González, Harvest of Empire exposes the role that U.S. economic and military interests played in triggering an unprecedented wave of migration from Latin America and the Caribbean.
From the wars for territorial expansion that gave the U.S. control of Puerto Rico, Cuba and more than half of Mexico, to the covert operations that imposed oppressive military regimes in the Dominican Republic, Guatemala, Nicaragua, and El Salvador, Harvest of Empire unveils a moving human story that is largely unknown to the great majority of citizens in the United States.
"They never teach us in school that the huge Latino presence here is a direct result of our own government's actions in Mexico, the Caribbean and Central America over many decades — actions that forced millions from that region to leave their homeland and journey north," says Juan González at the beginning of the film.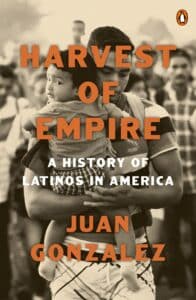 Harvest of Empire provides a rare and powerful glimpse into the enormous sacrifices and rarely-noted triumphs of our nation's growing Latino community. The film features present day immigrant stories, rarely seen archival material, as well as interviews with such respected figures as Nobel Peace Prize Laureate Rigoberta Menchú, the Reverend Jesse Jackson, ACLU Executive Director Anthony Romero, Pulitzer Prize-winning writer Junot Díaz, Mexican historian Dr. Lorenzo Meyer, journalists Maria Hinojosa and Geraldo Rivera, Grammy award-winning singer Luis Enrique, and poet Martín Espada. [Description provided by the producers.]
Harvest of Empire was selected as one of fifteen Notable Videos for Adults by the American Library Association (ALA) to "call attention to recent video releases that make a significant contribution to the world of video." The ALA described Harvest of Empire as, "A comprehensive geopolitical picture of the economic and historical realities that have guided waves of Latin American migration to the U.S."
Trailer

Harvest of Empire – Official Trailer from EVS Communications on Vimeo.