In response to an attempt by African Americans to exercise their legal and democratic right to vote, at least 50 African Americans were murdered in a brutal massacre in Ocoee, Florida on Nov. 2, 1920 in what is now called the Ocoee Massacre.
Here is a description from "Ocoee On Fire: The 1920 Election Day Massacre: A quiet Florida citrus town became the scene of a gruesome racial cleansing that purged the entire Black population for over 60 years" by Jason Byrne:
On November 1st, the day before the election, with robes and crosses, the Klan paraded through the streets of the two Black communities in Ocoee late into the night. With megaphones they warned that "not a single Negro will be permitted to vote" and if any of them dared to do so there would be dire consequences.
Election Day came and at least some Blacks did attempt to vote in Orange County; however, none were permitted to enter their respective polling places. White enforcers camped out around the centers and poll workers were given instructions to deflect their attempts.
One-by-one would-be Black voters were turned away either by threats of violence or by poll workers who found their names "mysteriously" absent from the voter registration rolls. Pollsters instructed them to get documentation from notary public R. C. Bigelow to verify that they were indeed registered to vote. Conveniently, however, Bigelow was unable to be located because he was out on a fishing trip that day.
With little other option, most returned to their homes without casting their ballots. Mose Norman would not be so easily deterred. After being turned away that morning in his Ocoee precinct, he rode to Orlando to seek the council of Judge Cheney. The attorney instructed him to write down the names of any African-Americans who were not permitted to vote and also the names of the poll workers who had denied their Constitutional right. Cheney said a lawsuit against the County could be brought to contest this violation.
Norman returned to Ocoee with these instructions, along with a handful of Black citizens again seeking to vote; as you can imagine, things did not go well. After again being forcibly turned away, he demanded the poll workers names and exclaimed: "We will vote, by God!"
The response by the Klan was a massacre. One of the people killed was Julius "July" Perry, pictured above. Here is a description of Perry from "Ocoee On Fire":
July Perry had become the well-respected godfather of the Black community. He served as a deacon in the church and the local labor leader or "straw boss." It was said that anyone seeking to employ Black laborers needed to speak with him first. He was an admired, brave, and rational thinker. A sort of civil rights leader before there was a civil rights movement, he encouraged young Blacks to be educated and stand up for themselves as first-class citizens.
Perry's wife (Estelle), his three sons and daughter (Coretha Perry Caldwell) lived on a large estate that included their home and several barns and outbuildings. They regularly opened their doors to anyone in need. If anyone was in trouble, they knew they could find advice and sanctuary in the Perry home. Continue reading "Ocoee On Fire".
Read "A Report of the Circumstances and Events of the Race Riot on November 2, 1920 in Ocoee, Florida," by Lester Dabbs Jr., Masters Thesis, 1969.
Learn more from the documentary film, "Ocoee: Legacy of the Election Day Massacre" (2008) by Sandra Krasa and Bianca White. Available for purchase or rent.

Sadly, this is one of countless massacres in U.S. history.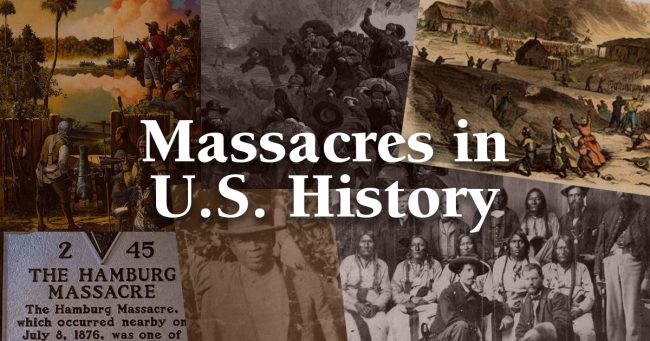 Find resources below for teaching about the history of voter suppression, sundown towns, and the demand for reparations.