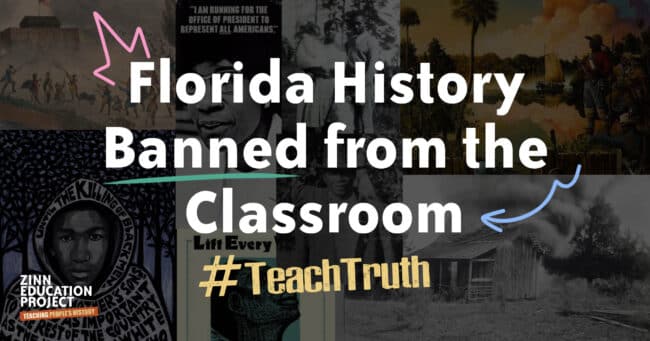 In the face of attempts by Florida Governor Ron DeSantis to ban AP African American studies, social justice books, and critical race theory in K–12 schools, we take a look at stories in Florida history that would be off limits to students.
These curricular gag rules began after the 2020 uprising as greater numbers of teachers committed to teach outside the textbook. This includes Florida, where Zinn Education Project registrations of mostly-classroom teachers at our site have doubled since June of 2020.
DeSantis and Florida education officials know that when students learn from history, they demand and can organize to shape a more just future. As is demonstrated in our report on teaching Reconstruction, much of people's history is not in the textbooks nor standards. When the Florida governor bans teaching about African Americans, Dr. Kimberle Crenshaw explained, DeSantis aims to "count you out of this democracy."
We will support the thousands of Florida teachers who teach outside the textbook — who share with students the stories below and many more.
We also demand that the College Board respond to the AP African American studies course ban by saying "all or nothing" with AP courses in Florida. We have long advocated for a pedagogy not tied to high-stakes standardized tests, such as the Advanced Placement courses, but we know that if Florida can ban AP African American studies then there is little hope for more liberatory classes such as Black studies and ethnic studies.
People's History of Florida
Here are stories from Florida history, central to history, music, and language arts. There are countless more.
July 27, 1816: Attack on Apalachicola River

The U.S. Army firebombed a fort on the Apalachicola River in Florida. Read more.

Dec. 25, 1837: Seminole Anticolonial Struggle

Africans and Native Americans formed Florida's Seminole Nation and defeated a heavily armed U.S. invading army. Read more.

April 5, 1866: Black Grocers Protest Taxes Supporting Confederates

Robert Williams and other Black grocers in Tallahassee wrote a letter to the Florida Freedmen's Bureau calling for an end to high taxes levied against them to support former Confederates. Read more.

Sept. 29, 1877: City of Sanford Incorporated

Originally inhabited by Mayaca Indigenous communities and site of the Seminole Wars in the early-to-mid 1800s, the town of Sanford, Florida was incorporated during Reconstruction. Read more.

Aug. 15, 1887: Black Town of Eatonville Incorporated

Eatonville, Florida is the oldest Black-incorporated municipality in the United States, incorporated toward the end of the Reconstruction era. Read more.

Feb. 12, 1900: "Lift Every Voice and Sing" First Publicly Performed

"Lift Every Voice and Sing" was first publicly performed by 500 school children in Jacksonville, Florida. Later, the NAACP adopted the song as the Black National Anthem. The lyrics spoke out against racism and Jim Crow laws. Read more.

Nov. 2, 1920: The Ocoee Massacre

More than 50 African Americans were killed in the Ocoee Massacre after going to vote in Florida. Read more.

Fall, 1922: Mary McLeod Bethune Confronts Klan to Defend Black Voting Rights

Mary McLeod Bethune faced off against the Ku Klux Klan in defense of Black voting rights in Daytona, Florida. Read more.

Jan. 1, 1923: Rosewood Massacre

White supremacists destroyed the Black town of Rosewood, Florida, and murdered many of its residents. Descendants have fought for reparations and recognition of the history. Read more.

July 16, 1949: Groveland Four Arrested

Four African Americans were brutally beaten and arrested after being falsely accused of a crime in Groveland, Florida. Read more.

Dec. 25, 1951: Murder of Harriette and Harry Moore in Florida

The Ku Klux Klan bombed the home of labor and voting rights activists Harry T. Moore and Harriette Moore — killing them both. Harriette Moore taught elementary school, secretly teaching her students Black history in the face of bans by the state Superintendent. Read more.

May 26, 1956: Tallahassee Bus Boycott Sparked by Students' Protest

Wilhelmina Jakes and Carrie Patterson sparked a city-wide boycott in Tallahassee when they were arrested for refusing to move from the "whites-only" seats of a segregated bus. Read more.

Feb. 20, 1960: Patricia Stephens Due Called for "Jail, No Bail"

Patricia Stephens Due was arrested for a sit-in in Tallahassee, Florida, and refused to pay bail. Read more.

Aug. 27, 1960: Ax Handle Saturday

White Floridians violently respond to lunch counter demonstrations. Read more.

Jan. 23, 1963: Patricia Stephens Due Arrested in Florida

Police arrested Patricia Stephens Due in the segregated lobby of the Florida Theater in Tallahassee. Read more.

Feb. 25, 1964: Muhammad Ali Won the Heavyweight Boxing Title

In Miami Beach, Florida, Muhammad Ali (then Cassius Marcellus Clay Jr.) won the heavyweight boxing championship title at the age of 22. Read more.

June 18, 1964: St. Augustine Swim-In

Black and white protesters attempted to desegregate a pool in St. Augustine, Florida. The owner dumped acid into the protester-filled pool in an attempt to force them to leave. Police officers eventually dragged protesters out of the pool and took them to jail. Read more.

Feb. 19, 1968: Florida Teachers' Strike

Teachers and administrators from the Florida Education Association (FEA) walked out in what is reported to be the first statewide teachers' strike. Read more.

July 10, 1972: Shirley Chisholm at Democratic National Convention

Shirley Chisholm was an historic candidate at the Democratic National Convention in Miami Beach. Chisholm was outspoken on behalf of civil rights legislation, the Equal Rights Amendment, and a minimum family income; she opposed wiretapping, domestic spying, and the Vietnam War. Read more.

Feb. 26, 2012: Trayvon Martin Murdered

Trayvon Martin, a Black teenager, was murdered. Martin's death and the acquittal of the man who shot him sparked the national and global Movement for Black Lives. Read more. (On Nov. 23 of the same year, Jordan Russell Davis was murdered in Jacksonville.)
These are only a few examples of the people's history of Florida. Some others are listed below, and there are countless more.
1914: John Evans lynched in St. Petersburg
1952: Ruby McCollum's Trial in Live Oak