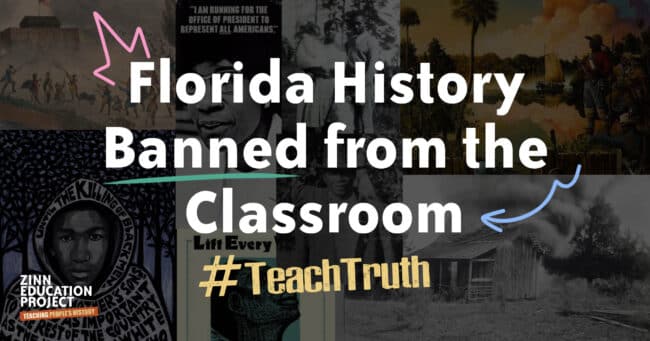 In the face of attempts by Florida Governor Ron DeSantis to ban AP African American studies, social justice books, and critical race theory in K–12 schools (and now DEI in public colleges), we take a look at stories in Florida history that would be off limits to students.
These curricular gag rules began after the 2020 uprising as greater numbers of teachers committed to teach outside the textbook. This includes Florida, where Zinn Education Project registrations of mostly-classroom teachers at our site have doubled since June of 2020.
DeSantis and Florida education officials know that when students learn from history, they demand and can organize to shape a more just future. As is demonstrated in our report on teaching Reconstruction, much of people's history is not in the textbooks nor standards. When the Florida governor bans teaching about African Americans, Dr. Kimberlé Crenshaw explained, DeSantis aims to "count you out of this democracy."
We support the thousands of Florida teachers who teach outside the textbook — who share with students the stories below and many more.
People's History of Florida
Here are stories from Florida history, central to history, music, and language arts. There are countless more.
July 27, 1816: The "Negro Fort" Massacre

The U.S. Army firebombed a fort on the Apalachicola River in Florida. Read more.

late April 1821: U.S. Attack on Maroon Community at Angola

After becoming governor of Florida in 1821, Andrew Jackson attacked the native and Black maroon community at Angola. Read more.

Dec. 26, 1835: Second Seminole War, Largest Uprising of the Enslaved

Africans and Native Americans formed Florida's Seminole Nation and defeated a heavily armed U.S. invading army during the Second Seminole War. Read more.

May 20, 1865: Emancipation Day

Union General Ed McCook reads the Emancipation Proclamation in Tallahassee, Florida, and raised the U.S. flag over the capitol. This ended slavery in Florida as a matter of law. A celebration of freedom is held at Bull Pond in Tallahassee (now called Lake Ella). Source and read more. [Note: Juneteenth was one of countless Emancipation Days.]

April 5, 1866: Black Grocers Protest Taxes Supporting Confederates

Robert Williams and other Black grocers in Tallahassee wrote a letter to the Florida Freedmen's Bureau calling for an end to high taxes levied against them to support former Confederates. Read more.

Jan. 23, 1873: Jonathan C. Gibbs Named Sup't. of Public Instruction

One of the most prominent Black officeholders in Florida during the Reconstruction era, Jonathan Clarkson Gibbs held the positions of Secretary of State and Superintendent of Public Instruction. Read more.

Sept. 29, 1877: City of Sanford Incorporated

Originally inhabited by Mayaca Indigenous communities and site of the Seminole Wars in the early-to-mid 1800s, the town of Sanford, Florida was incorporated during Reconstruction. Read more.

Aug. 15, 1887: Black Town of Eatonville Incorporated

Eatonville, Florida is the oldest Black-incorporated municipality in the United States, founded toward the end of the Reconstruction era. Read more.

Jan. 1, 1900: Notorious Dozier School for Boys Opens

The infamous Arthur G. Dozier School for Boys in Marianna, Florida swirled with allegations of cruelty, rape, and physical abuse for nearly all of its 111 years. We are only now uncovering some of the horrors that went on there. Read more.

Feb. 12, 1900: "Lift Every Voice and Sing" First Publicly Performed

"Lift Every Voice and Sing" was first publicly performed by 500 school children in Jacksonville, Florida. Later, the NAACP adopted the song as the Black National Anthem. The lyrics spoke out against racism and Jim Crow laws. Read more.

Nov. 2, 1920: The Ocoee Massacre

More than 50 African Americans were killed in the Ocoee Massacre after going to vote in Florida. Read more.

Fall, 1922: Mary McLeod Bethune Confronts Klan to Defend Black Voting Rights

Mary McLeod Bethune faced off against the Ku Klux Klan in defense of Black voting rights in Daytona, Florida. Read more.

Jan. 1, 1923: Rosewood Massacre

White supremacists destroyed the Black town of Rosewood, Florida, and murdered many of its residents. Descendants have fought for reparations and recognition of the history. Read more.

July 16, 1949: Groveland Four Arrested

Four African Americans were brutally beaten and arrested after being falsely accused of a crime in Groveland, Florida. Read more.

Dec. 25, 1951: Murder of Harriette and Harry Moore in Florida

The Ku Klux Klan bombed the home of labor and voting rights activists Harry T. Moore and Harriette Moore — killing them both. Harriette Moore taught elementary school, secretly teaching her students Black history in the face of bans by the state Superintendent. Read more.

May 26, 1956: Tallahassee Bus Boycott Sparked by Students' Protest

Wilhelmina Jakes and Carrie Patterson sparked a city-wide boycott in Tallahassee when they were arrested for refusing to move from the "whites-only" seats of a segregated bus. Read more.

Feb. 20, 1960: Patricia Stephens Due Called for "Jail, No Bail"

Patricia Stephens Due was arrested for a sit-in in Tallahassee, Florida, and refused to pay bail. Read more.

Aug. 27, 1960: Ax Handle Saturday

White Floridians violently respond to lunch counter demonstrations. Read more.

Jan. 23, 1963: Patricia Stephens Due Arrested in Florida

Police arrested Patricia Stephens Due in the segregated lobby of the Florida Theater in Tallahassee. Read more.

Feb. 25, 1964: Muhammad Ali Won the Heavyweight Boxing Title

In Miami Beach, Florida, Muhammad Ali (then Cassius Marcellus Clay Jr.) won the heavyweight boxing championship title at the age of 22. Read more.

June 18, 1964: St. Augustine Swim-In

Black and white protesters attempted to desegregate a pool in St. Augustine, Florida. The owner dumped acid into the protester-filled pool in an attempt to force them to leave. Police officers eventually dragged protesters out of the pool and took them to jail. Read more.

Feb. 19, 1968: Florida Teachers' Strike

Teachers and administrators from the Florida Education Association (FEA) walked out in what is reported to be the first statewide teachers' strike. Read more.

Feb. 12, 1971: Raiford Florida State Prison Uprising

Prisoners at Florida State Prison in Raiford staged a sit-down strike to protest prison conditions. The 700 incarcerated protesters were met with gunfire by prison guards, leaving 63 prisoners injured. Read more.

July 10, 1972: Shirley Chisholm at Democratic National Convention

Shirley Chisholm was an historic candidate at the Democratic National Convention in Miami Beach. Chisholm was outspoken on behalf of civil rights legislation, the Equal Rights Amendment, and a minimum family income; she opposed wiretapping, domestic spying, and the Vietnam War. Read more.

Aug. 31, 1973: Gainesville 8 Acquitted

Members of the Vietnam Veterans Against the War (VVAW) were arrested and erroneously charged with inciting violence at the 1972 Republican National Convention in Miami. They were all later acquitted after a lengthy and much publicized trial. Read more.

May 17, 1980: Miami Riots Begin

Following the acquittal of four Miami police officers in the brutal murder of Arthur McDuffie, Black residents rose up in protest at the injustice of these acquittals. Read more.

Feb. 26, 2012: Trayvon Martin Murdered

Trayvon Martin, a Black teenager, was murdered. Martin's death and the acquittal of the man who shot him sparked the national and global Movement for Black Lives. Read more. (On Nov. 23 of the same year, Jordan Russell Davis was murdered in Jacksonville.)

June 19, 2015: Stop Sugar Field Burning Campaign Begins

The Sierra Club launched a campaign to bring an end to the practice of sugarcane field burning which is harmful to the environment and to the health of local residents. Read more.

March 6, 2023: Tampa 5 Arrested During DeSantis Protest

Four students and a staffer at the University of South Florida face felony charges following a rally protesting Florida governor DeSantis' continued restrictions on and defunding of education in the state. Read more.
These are only a few examples of the people's history of Florida. Others are listed below and there are countless more.
1914 John Evans lynched in St. Petersburg, no one was convicted. The Equal Justice Initiative placed a marked at the site in 2021.
1922 Oscar Mack, African-American World War I vet and a mail carrier, escaped being lynched in Kissimmee, Osceola County. Read more and see new documentary.
1934 Claude Neal was lynched on Oct. 26 in Jackson County. See EJI video remembrance.
1952 Ruby McCollum, an African American woman in Live Oak, Florida, was arrested and convicted for killing a white doctor who had abused her. Zora Neale Hurston covered her case.
1960s MaVynee Betsch, environmentalist, fought to preserve a historically African-American beach on the Atlantic coast of Florida. See children's picture book and National Park Service
1996 St. Petersburg rebellion (riots) following police shooting of TyRon Lewis
2000 Bush vs. Gore presidential election ballot recount.
2016 Massacre at the LGBTQ Pulse nightclub in Orlando, Florida. A gunman killed forty-nine people and wounded fifty-three others.
2018
Massacre at Marjory Stoneman Douglas High School in Parkland, Florida. See DemocracyNow! about student organizing for gun safety.
Florida voters approved a constitutional amendment that auto­mat­ic­ally restored voting rights to most Floridians with past convictions; effort led by Desmond Meade of Florida Rights Restoration Coalition.
2022 Maxwell Frost elected to Congress as the first Afro-Cuban, first member of Generation Z elected to Congress, and the former national organizing director for March for Our Lives. Listen to interview on Democracy Now!
Books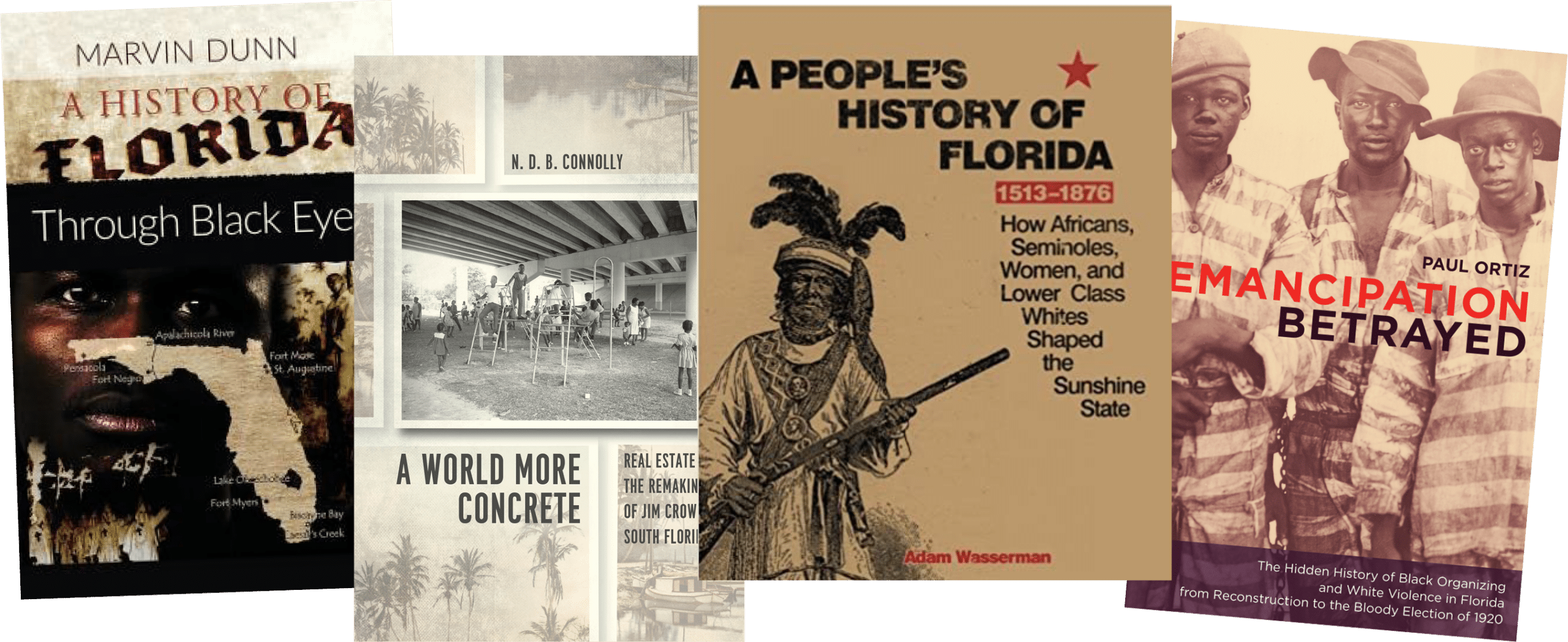 Here are a few titles on Florida history. View our full collection of recommended titles on Florida at Bookshop.
A World More Concrete: Real Estate and the Remaking of Jim Crow South Florida by N. D. B. Connolly
Emancipation Betrayed: The Hidden History of Black Organizing and White Violence in Florida from Reconstruction to the Bloody Election of 1920 by Paul Ortiz
A People's History of Florida 1513-1876: How Africans, Seminoles, Women, and Lower Class Whites Shaped the Sunshine State by Adam Wasserman (free PDF)
A History of Florida: Through Black Eyes by Marvin Dunn
Beyond Integration: The Black Freedom Struggle in Escambia County, Florida, 1960-1980 by Michael Butler
Reformatory: A Novel by Tananarive Due
Websites
Florida Memory: State Archives and Library
Articles
Florida's Past Paints Ron DeSantis's War on 'Wokeism' in a Dark Light: Florida's Past is Prologue by Carol Anderson in The Washington Post
Florida: An Outlier in Denying Voting Rights by Erika Wood for the Brennan Center
The Long History of Conservative Indoctrination in Florida Schools by Tera W. Hunter in The Nation
The Queer Stories in Florida's Black History by Nadege Green in Bazaar
Support Teachers in Florida and Across the United States
Rethinking Schools is offering copies of Teaching for Black Lives to Florida educators. Request a book or donate to the book giveaway.
Join our Teach Truth Day of Action on June 10. Learn more and sign up.