As part of a celebration of Abraham Lincoln's birthday on February 12, 1900, "Lift Every Voice and Sing" was first publicly performed by 500 school children at the Stanton School in Jacksonville, Florida.
The school principal, James Weldon Johnson, wrote the words and Johnson's brother Rosamond set them to music. The children continued to sing the song, popularizing it for generations to come.
Later, the National Association for the Advancement of Colored People (NAACP) adopted the song as the Black National Anthem.
In calling for earth and heaven to "ring with the harmonies of Liberty," the lyrics spoke out subtly against racism and Jim Crow laws — and especially the huge number of lynchings accompanying the rise of the Klan at the turn of the century.
By the 1920s, copies of "Lift Every Voice and Sing" could be found in Black churches across the country, often pasted into the hymnals. The words to the poem/song and another poem by Johnson can be read on the Civil Rights Movement Veterans website.
The children's book about the song featured on this page has an introduction by Jim Haskins and art by Elizabeth Catlett. Catlett grew up in Washington, D.C. and lived in Mexico. Her own life story is well worth reading, including being confronted by McCarthyism. "Happy 95th Birthday, Elizabeth Catlett!" (2010) in The Root describes her work as a noted sculptor and printmaker.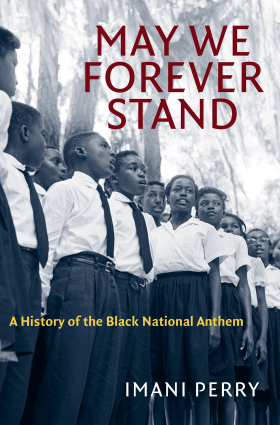 Learn about the history of "Lift Every Voice and Sing" in May We Forever Stand: A History of the Black National Anthem (UNC Press, 2018) by Imani Perry.
Comments
This annual #tdih post solicits stories from people about "Lift Every Voice and Sing" in their lives. Here are a few from our Facebook page.
Lynn Manfredi: I love this song. It was the first of many lessons I received from coworkers who helped me understand the African-American culture when I taught kindergarten at the Central Presbyterian Child Development Center in downtown Atlanta. Children and staff were mixed, racially and economically, which was highly innovative in 1979. We sang this song every day as we worked to become part of Dr. King's beloved community.
Michele Hall Robertson: I remember singing this each day in my westside Chicago Public School, way back in the late 60s and early 70s. My 3rd grade teacher, Mrs. Gravier, who just happened to be white, taught it to us and sang just as loudly as us kids. She told us it was the Black National Anthem "but people of all colors should celebrate this song and each other." I'll never forget her. It gave me chills and pride then and now. #PowerToAllPeople #Liberty
---