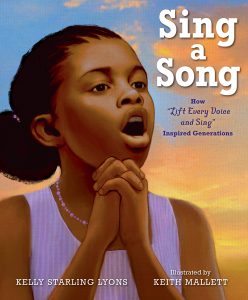 We should all know the story and words of the Black National Anthem, "Lift Every Voice and Sing," and now thanks to this picture book, we can.
Author Kelly Starling Lyons tells the 120-year history of the song through generations of her family who have passed it on — starting with a young girl who learned it in 1900 in Jacksonville, Florida, from her principal (James Weldon Johnson) and his brother.
They wrote the song and music that have given strength and inspiration to African Americans through many of the trials and celebrations described in the book — the Great Migration, Jim Crow, the Civil Rights Movement, graduations, and the opening of the National Museum of African American History and Culture (NMAAHC). [Description from Social Justice Books.]
ISBN: 9780525516095 | Nancy Paulsen Books
Starting Young: Students Sing "Lift Every Voice"
At a school in D.C., the pre-K students sing for teachers and parents. Read about the visit.