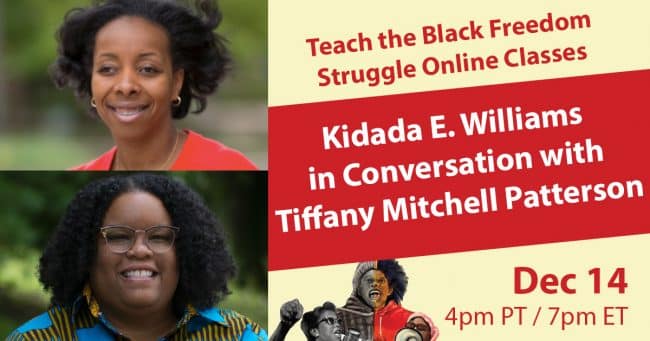 So many insights! "Reconstruction didn't fail, violence overthrew it!"; "Freedom making and freedom taking"; "Trauma sensitive lens"; "Lay another track on the freedom struggle." This class is laying another track on my understanding of this incredibly rich history.
I enjoyed the large think-tank, sharing information, and the Q&A portion. It was amazing to see how many educators are teaching similar concepts and the adversity that many are facing to teach a very challenging yet important topic.
These are reflections from just two of the participants who joined the Teach the Black Freedom Struggle class on Reconstruction: Repression and Resistance featuring Dr. Kidada Williams in conversation with Dr. Tiffany Mitchell Patterson. On Monday, Dec. 14, 2020, they joined a community of people's history educators — public historians, guardians, grandparents, and classroom teachers — to speak about African American survivors of racist violence in the context of Reconstruction, drawing parallels to the present.
Highlights
Here are some highlights of the session from the tweet thread by high school teacher and Zinn Education Project team member Ursula Wolfe-Rocca.
Mary Brown testified at the Joint Select Committee hearings that a gang of white men invaded her family's Georgia home & dragged them into the yard. In explaining, "they left great marks on me," Brown describes the simple facts of what happened to her. #TeachBlackFreedomStruggle

— Ursula Wolfe-Rocca (@LadyOfSardines) December 15, 2020
Dr. Williams says too often textbooks reinforce the narrative that "Reconstruction failed," which too easily translates into "Black people failed." But when we look at the testimonies of African Americans we do not see failure we see success stolen by white violence.

— Ursula Wolfe-Rocca (@LadyOfSardines) December 15, 2020
Dr. Patterson asks an important question about use of images of racial violence in classrooms. Dr. Williams says, "My question is why do we think we need images to teach this history?" She urges us to be very careful with mobilizing images of violence—"Why not a letter instead?"

— Ursula Wolfe-Rocca (@LadyOfSardines) December 15, 2020
At the same time, Dr. Williams cautions, we have a duty of care that our curriculum is not doing harm to our students. This kind of teaching requires careful forethought.

— Ursula Wolfe-Rocca (@LadyOfSardines) December 15, 2020
Video
Video of the full event, except the breakout sessions.
Audio
Listen to the recording of the session on these additional platforms.
Resources
Campaigns

Books

Lessons and Teaching Guides

Primary Sources

"Report and Testimony on the Select Committee of the U.S. Senate to Investigate the Causes of the Removal of the Negroes from the Southern States to the Northern States." 1880. Senate Report 693, 46th Cong., 2nd Sess.

"Special Field Order No. 15." 1865. Issued by William T. Sherman.

Podcasts

The Reckoning — A public radio and podcast series that traces the history and lasting impact of slavery in the United States with a case study of Kentucky.

Seizing Freedom — Using first-hand accounts from diaries, newspapers, speeches, and letters, this is a narrated docu-drama podcast about the failures and successes of the Reconstruction era, told by those who made it happen. Hosted by Kidada Williams. Premiers in February 2021.

Films

Race — the Power of an Illusion

This Day in History

April 13, 1873: Colfax Massacre

March 1, 1874: White League Formed

Nov. 3, 1874: White League Attacks Black Voters

Nov. 23, 1887: Thibodaux Massacre
Participant Reflections
Here are some of the responses by participants from the session evaluation.
What was learned
Responses to the question: What was the most important thing (story, idea) you learned today and what may you do with what you learned?
Freedom-making/Freedom-taking! I'll continue to study more about Reconstruction.
Reconstruction didn't fail; it was violently overthrown. Black people did *not* fail at emancipation.
Reconstruction touched all Black people including men, women, and children. This should be taught holistically and with acknowledgment of the bias of our individual point of view. I'll study Reconstruction myself so that I can teach it to my students with accuracy and conviction.
For me, it was great to learn about this important time of history. I appreciated the focus on testimonies and acts of resistance. I will start doing my own research to see if I can construct an age-appropriate way to teach this in 5th grade.
The class revealed resistance to the racist violence that too often buries Reconstruction in monochrome. As a newly retired member of the North Carolina Association of Educators (NCAE), I want to help bring our discussion into teaching practice and curriculum transformation by its newly elected leadership.
Being sure to include resistors when you teach about oppression, and to look into local history. Not quite sure how I will use this in math yet!!
Living what whites would consider a "normal" life WAS resistance. I have to teach more about what most Black people were doing during the Reconstruction period.
Wow! There is so much — freedom making and freedom taking and the different ways that people resisted. I'll be more thoughtful before presenting material that may be traumatic to see/hear. Also, I'll use first-person narratives — making sure to spotlight the voice of women, children, and the disabled.
The use of narrative over images in teaching a topic I want to build a Reconstruction unit for my course — as U.S. History, we skip Reconstruction and start with the Gilded Age instead.
"Freedom making and freedom taking" — the magnitude to which slaves and freed slaves were responsible for emancipation and the success of Reconstruction I will continue to think of ways to integrate Black history into the K-5 curriculum.
"Reconstruction didn't fail, it was violently overthrown" — that comment and then thinking about parallels with post-civil rights movement and COINTELPRO, and potentially what happens in response to Black liberation movements today; also the specific examples like the 8-year-old who called out her white attacker by name to prevent him from attacking her. I'll continue to incorporate into the framing of history to my students.
I learned in my breakout group that there is a Reconstruction nonprofit in the Sea Islands of South Carolina. That's exciting for me. I am thinking a lot about how to use images in my classroom but I was also focused on the community violence aspect of the talk — that people knew the folks who were trying to steal their freedom.
"Freedom making, freedom taking!" I want to juxtapose Reconstruction narratives about the South with local history in California.
Talk about agency more in class! I am going to continue to incorporate more stories into my everyday teaching. I am also going to create a specific lesson on Henry Adams.
Dr. Williams' push to go deeper on simple takes like "oh obviously it's a lie," re: Lost Cause Narrative and other attempts at erasing real history. I found it a really important strategy ("that's a kindergarten take!") to go deeper on the discussion with my high school students! I'm planning on trying new questioning strategies — like the one above — asking students to bring in their prior knowledge, bring in more testimony primary sources, and ask students to reflect more deeply on the agency of Black people during/after Reconstruction.
The idea that Reconstruction is a difficult, sensitive topic that must be taught and isn't always taught correctly. It will inform future units that I do relating to civil rights and black history.
You cannot understand Reconstruction violence without understanding what the Black community felt it was doing to them. I will apply it to future coursework and use it to change my perspective of Reconstruction
The importance of personal narratives and the history of racism in California. I'm looking for ways to incorporate Reconstruction into my English curriculum.
I'm retired and will teach a class on African American history for my church.
Identify the fabrication in oppressors' history, but DON'T STOP THERE! I will continue to push for more time to teach Reconstruction
I want to teach the actions of African Americans that drove the policy changes, and how people responded to the policies. This will help me focus on the strength and resilience of African Americans instead of the traditional white savior messaging.
I was particularly struck by the account of the young girl who recognized the man who was attacking her. Her ability to speak out showed a level of strength and resistance that would really stand out to my students. It also demonstrated that the violence so localized and so personal which makes it feel more real. I want to teach Reconstruction from a people-first perspective. I want to teach about the stories of success, and the ways white supremacy was used to push back. Freedom makers and freedom takers — quote of the panel!
I appreciated the stories of the Reconstruction era that I had not heard. The reminder that the narrative is biased, even in the telling of successes. I have been and will continue to push my school and district to require teaching Reconstruction in US history. The tools gained today will help to make the case and also helped to provide me with additional resources.
FREEDOM MAKING AND FREEDOM TAKING! And going against the grain of our archival work. Teaching students how to read between the lines of artifacts and move beyond the "lost cause" narrative. This will impact my instruction by giving me: 1) Being more conscious about the images we use (how when and why). 2) Framing for how I teach Reconstruction. — FREEDOM MAKING AND FREEDOM TAKING! 3) Challenging older students to identify lies and asking kids who those lies serve.
The importance of primary resources and researching Reconstruction in the Midwestern and Northern states. I will dig into some of the other resources.
Ideas for how I can better present truths about Reconstruction to counter the narrative that is so prevalent. The idea of how this continual fight for freedom keeps thriving–how the work of those in Reconstruction was not lost but led to the work and people who kept — and keep — making changes. My state is working on standards right now and we are in the feedback session–I will make every effort to argue for Reconstruction to be taught more fully and stories of resistance to be framed as patriotic and necessary to build a true democracy.
"Can you ever repair the harm of slavery?" That the testimony of people who survived terror talk about it in the present tense, the trauma is now not in the past. I'm working in a movement within the Episcopal diocese and churches to dedicate funds for reparations.
Dr. Williams encouraging the teaching of local histories, i.e. outside of the southern states, esp for educators located in the north and west – terrific suggestion – thank you Dr. Williams! continue teaching Reconstruction as the radical experiment in interracial democracy it was; teach about its intentional sabotage by white supremacists; always emphasize Black folks' agency, and continued resistance to build new systems and self-determination for themselves and all people
The testimonies that were given by Black people harmed by gang violence, WOW. To be bold enough to testify in court to the injustices forced upon you at that time is a testament to the strength of Black people. I will add this book to my classroom library for sure. We just want to live…simple as that.
The eyewitness testimony was a validation of things that I do, but the focus on PRESENT tense, implying both hope and impact, was a powerful addition. I also loved Dr. Williams's questioning of images vs. letters in Reconstruction lessons.
We need to center the words and voices of newly freed Black people — available in archives as letters, journals, and other documents — and teach those as the narrative of record — and to rightfully replace the Lost Cause narratives that erase so much Black agency. Freedom taking and freedom making! I will look for and use some primary sources when I teach my unit on Reconstruction to my 4th graders.
I would state from an SEL standpoint to use other primary sources besides images due to the fact that we do not want to retraumatize descendants of assaulted individuals. I want to ensure that I approach Reconstruction violence with fidelity as well as showcase the last impacts with a higher level of sensitivity.
Dr. Williams affirmed the importance of testimony for me. I think that the combination of not shying away, but also delivering this curriculum with care is central to teaching Reconstruction and she is inspiring me to not shy away with love. I am supporting my student teacher to teach my month-long unit on Reconstruction in January. I think that focus on testimony will be central to this.
The format
Small group discussions were great and the facilitator did a great job. I loved that the groups were less than 10 people. We had just enough time to get through the two questions.
The format — Zoom — worked well for me. The breakout sessions were informal with great conversations.
Great as usual! I think the questions today for the breakouts were spot on.
Many historical professional developments do not feature breakout rooms so it was helpful to have that addition; thank you!
It would have been nice to talk even longer in groups, but otherwise, I think everything worked perfectly! The Zoom call was run so smoothly, the facilitation of small group discussions, & the conversation with Dr. Williams was excellent. Tiffany Mitchell Patterson's questions were so thoughtful and insightful — she did an amazing job at leading the call.
Loved seeing the comments in the chat! I honestly learn so much just from reading that.
It was great that people could add questions to chat. The length of time was incredible to hear Dr. Williams talk and just drop knowledge the way she did!!
I thought recollections of how Reconstruction was taught worked really well. I might have had a second breakout at the end to allow the session to continue and to review what struck different participants most.
It was nice to connect with people in the breakout room, and I thought Dr. Patterson did an excellent job facilitating the conversation.
I was so inspired by all of it — I appreciate how well planned it was. I could have spent hours with the beautiful people in my breakout group, but the facilitator did a nice job of keeping the conversation flowing.
Breakout groups and questions helped build community and reminded me of how little most people learn about Reconstruction in school.
This was so incredibly well-executed. Tiffany Mitchell Patterson was an amazing moderator, and Dr. Williams managed to share so much in so little time. Thank you both! I appreciated the opportunity to hear from peers in the breakout room.
I liked everything. I think since these types of events are likely to get people who are truly interested in learning about the subject being taught that they could even be a little longer so the group discussions can go longer and get more in-depth.
Loved the format conversation with the historian. It felt like she was talking just to me.
I like that the bulk of the presentation was in the form of a conversation and not just a speech, and supplemented that with the chat-box for questions and conversation.
Additional comments
Thank you!! This was such a thought-provoking class — it was my first one, but I'm hugely inspired to return for future classes.
This was an awesome way to spend my Monday evening! I love being around like-minded people who are working and studying to learn the true authentic history of our country. Only by self and group study can we make changes. I really want to see the education system change to reflect the diversity of our country in ALL subjects not just history. Thank you Zinn Project for creating this space to learn and become energized for my next unit.
Thank you for these seminars. I hope that you continue them even when the pandemic no longer prevents us from meeting in person.
Thanks to everyone for making this possible. I'm going to encourage my organization to make use of this and other ZEP trainings.
I am very tired (virtual teaching is no joke) but I'm so glad I Zoomed in this evening.
Awesome discussion. Hate that I could not stay until the end. I learned a lot and I am re-energized to dive into learning more about Reconstruction.
Thanks so much for yet another stellar session. Dr. Williams was phenomenal — and I'm looking forward to Jeanne Theoharis next month.
Thank you very much! It's amazing to get together as a community to educate ourselves and to strive for change.
Thank you! This is my first Zinn class/webinar/PD and I almost bailed because I am so tired, but found the discussion, information, and format very engaging!
Thank you! In all sincerity, this has been the highlight of my fall semester.
This was so great! Made me realize that there is so much that I do not know. Looking forward to learning more through Dr. Williams' book.
---
Presenters
Kidada E. Williams researches African Americans' experiences of racist violence. She teaches courses on African American and American history and historical research methods at Wayne State University. In addition to research and teaching, she gives lectures and talks at public institutions including the Wright Museum, Detroit Historical Museum, the Henry Ford Museum, and America's Civil War Museum. She contributes to NEH Summer Seminars and Institutes, which help K-12 teachers broaden their understandings of U.S. history and develop new strategies for teaching challenging subject matter. Williams is also one of the co-developers of #CharlestonSyllabus, a crowd-sourced project that helped people understand the historical context surrounding the 2015 racial massacre at Charleston's Emanuel AME Church.
Tiffany Mitchell Patterson is an assistant professor of secondary social studies at West Virginia University. She taught middle school social studies in Washington, D.C. and Arlington, Virginia and is a Teaching for Change board member. Her articles include, What everyone should know about Reconstruction 150 years after 15th amendment's ratification.
---
Learn more in the Zinn Education Project national report, "Erasing the Black Freedom Struggle: How State Standards Fail to Teach the Truth About Reconstruction," and find teaching resources on Reconstruction below.