We are pleased to share with you a few highlights from the Zinn Education Project this year. It is thanks to individual donors across the country that this work is possible. Donate today so that we can reach more classrooms in 2020.
100,000+ People's History Teachers
We reached a milestone of 100,000 educators registered to access people's history lessons this year. As our community grows, teachers write to tell us about the impact of using lessons from the Zinn Education Project.

For teachers who want to move their teaching of history away from the dry and rote to the exciting, active, and dynamic, the Zinn Education Project's materials, from essays to activities, are not only imaginative and stimulating, they are essential. — Tyson Rahmeier, middle school social studies teacher, Austin, Texas

It is easy for some to lose track of WHY we teach these days and instead focus on what we are teaching. The Zinn Education Project has been so helpful to access thought-provoking resources, simulations, and role plays that reinforce the text while also teaching social justice and citizenship.  — Lindsey DiTomasso, high school social studies teacher, Elmhurst, Illinois
People's History Workshops
We introduced teachers to people's history lessons in workshops across the country, including Jackson, Mississippi, Washington, D.C., Brattleboro, Austin, Portland, Oregon, Seattle, and San Francisco.

The Zinn Education Project teach-in offered me a well-rounded way to present Reconstruction — from its successes to its failures. In fact, I've already used the "Write that I" poem exercise that we did as part of the Poetry of Defiance lesson plan, but modified it for Earth Day. — Corinna Ferro, middle school social studies teacher, Williamsburg, Virginia

Already an avid user of A People's Curriculum for the Earth, I was also thrilled to experience several of the exercises with other participants at the workshop. The depth of Bill Bigelow's content knowledge and his years of teaching experience allowed him to answer our questions with meaningful insights and model how to work with students.  I have understood the reasons behind using the Climate Change Mixer, the La Vía Campesina summit, and the Write that I poems. But the goals of teaching this way took on a whole new level of relevance; I felt why it matters to approach this type of knowledge in such a student-centered way. — Bethany Hobbs, middle school teacher, Greenfield, Massachusetts

These workshops highlighted lessons from our Teach Climate Justice and Teach Reconstruction campaigns.
Teach Climate Justice Campaign
We launched a Teach Climate Justice campaign to encourage and support climate justice education. We posted more than 20 lessons and recommendations of books for K—12.

We also promoted professional development workshops and produced a sample climate justice lesson booklet. One feature of the campaign is an invitation to teachers to Pledge to Teach Climate Justice, where they explain why they are taking the pledge.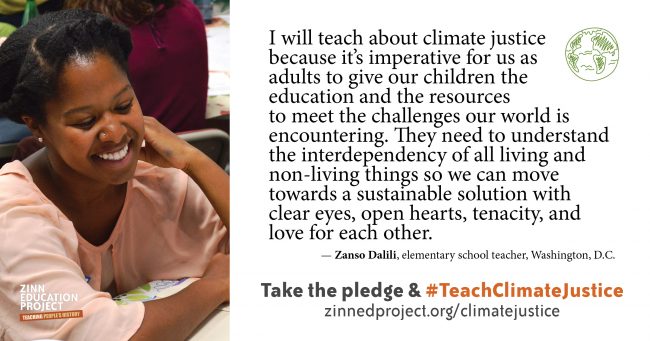 Teach Reconstruction
In 2019, we accepted more than 200 entries to our student project, Make Reconstruction History Visible, from students in Minnesota, Ohio, Oregon, and Virginia.

The Reconstruction lessons became the most frequently downloaded — 2,500 teachers accessing the Reconstructing the South role play and more than 1,600 using When the Impossible Suddenly Became Possible.

In our post-mixer discussion, students spoke up about the tensions between different movements, especially the abolitionist and women's rights movements…

This is a discussion we would not have had if we had just looked at the Reconstruction Amendments and the actions of the people at the top! — Lois Hammond, middle school social studies teacher, Massachusetts
Commemorate the 15th Amendment
We launched a new campaign for 2020, to promote the commemoration of the 15th Amendment during its 150th anniversary.

For this campaign, we are offering mini-grants to teachers and schools for commemorations of the 15th Amendment anniversary. A Teach Reconstruction donor made this campaign possible.
This Day in History
We added more than 180 new This Day in History entries and shared them across Instagram, Twitter, and Facebook throughout 2019.

Some of the most shared dates in 2019 were the stories of Red Summer 1919, the Tulsa Massacre, the formation of the Colored Conventions movement, Harriet Tubman's Combahee Ferry Raid, the Woolworth Sit-In, and the El Mozote Massacre in El Salvador.
In the News
The Zinn Education Project reached a national audience through stories in The New York Times, ENSIA, Bust-Ed Pencils, NBC News, Common Dreams, NPR, and The Nation.

Two of our articles were published in Teen Vogue: one on Red Summer 1919 and the other about climate justice education.

Rethinking Schools (co-coordinator of the Zinn Ed Project) participated in the international Covering Climate Now media project during the week of the Global Climate Strike in September 2019.
New Lessons
| | |
| --- | --- |
| | We posted six new people's history lessons for teachers to access for free on the New Deal, the Great Depression, reparations, redlining, resistance to slavery, and abolitionists. |
And more.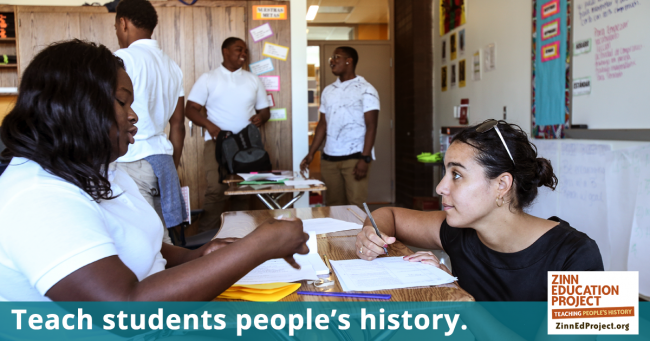 These are just a few of the stories from 2019.
Please donate today so that we can reach more classrooms in 2020.