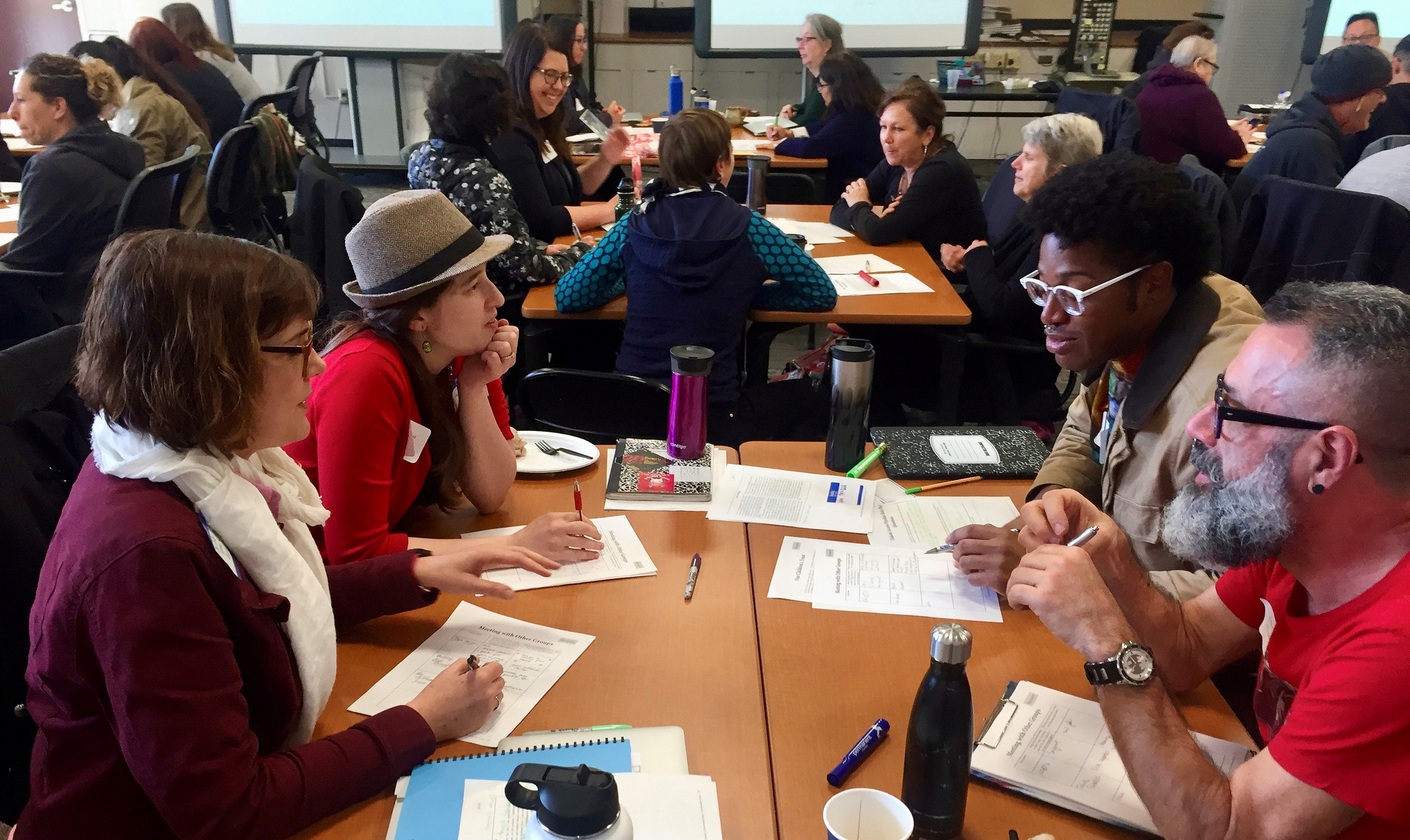 This winter, the Zinn Education Project (ZEP) continued its work with San Francisco librarians and fostered new relationships with the UCLA School of Education and the Oaks School in Los Angeles.
Teacher Organizer, Ursula Wolfe-Rocca, was excited to return to work with the SFUSD librarians for their January 30th professional development day. Teacher-librarian Esther Honda, and leaders of the SFUSD ethnic studies program, Artnelson Concordia and Nikhil Laud, organized the event, which enabled each librarian to bring at least one classroom teacher to the in-service. Artnelson (who is a contributor to the new Rethinking Schools collection, Rethinking Ethnic Studies) and Nikhil opened the day with a discussion of the philosophical underpinnings of ethnic studies.
Next, Ursula led participants through two Zinn Education Project lessons – When the Impossible Suddenly Became Possible (about Reconstruction) and Standing with Standing Rock: A Role Play on the Dakota Access Pipeline. Finally, Esther guided teachers and librarians through a discussion of the ways they might collaborate to write new people's history/ethnic studies lessons. The last hours of the day were handed over to educators to get started on those collaborations. The Zinn Education Project was honored to be part of this model of carefully conceived professional development: engaging, collaborative, useful, and centering the creative capabilities of educators.
In February, ZEP traveled to Los Angeles to work with the Oaks School's Center for Civic Engagement, which brought together educators from local public and private schools, community organizations, and Oaks' teachers, students, and staff for a day of people's history workshops.
In the morning workshop, Ursula introduced the Zinn Education Project's new #TeachClimateJustice campaign, leading participants though Bill Bigelow's Climate Change Mixer from A People's Curriculum for the Earth. Through role playing 17 different people, each of whom is affected by climate change differently, students see that though the warming of the climate is "global" the culprits and consequences are not — the most responsible tend to be the least harmed, while the most harmed are the least responsible.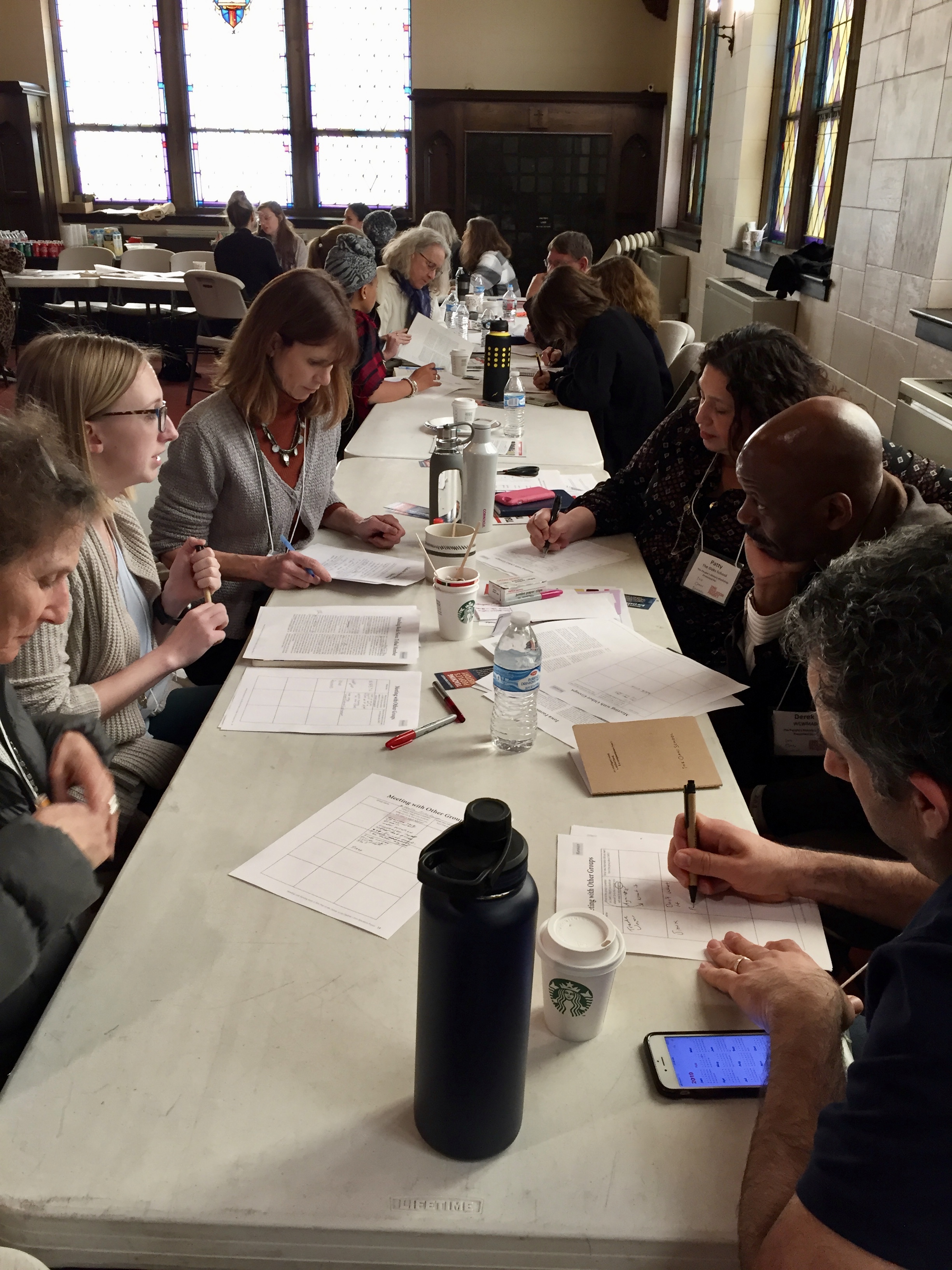 Looking at climate justice from a different angle, participants next dove into Standing with Standing Rock: A Role Play on the Dakota Access Pipeline, which looks at the question of fossil fuel infrastructure from the perspective of multiple stakeholders, including U.S. farmers, Indigenous Peoples, building trades unions, the oil industry, and young people involved in climate activism. Educators used these model strategies — the mixer and role play — as a springboard for their own curriculum writing in the afternoon session. A 4th-grade team planned a role play on the L.A. River, in which different interests would come together to debate and discuss issues of economic development, environmental sustainability, and the commons. The 2nd-grade team conceived of a mixer about migration, bringing together a wide assortment of migration stories to unearth factors that lead humans to move.
Ursula was excited to also get to meet some of the 5th- and 6th-grade students from Oaks School. They joined her for a "Howard Zinn lunch chat." Between bites of pizza, students engaged with a brief biographical sketch of Zinn's life by reading excerpts from You Can't Be Neutral on a Moving Train, discussing what they read, and asking wonderful questions about history, racism, sexism, and war. They also shared some of their favorite books — Voice of Freedom, about Fannie Lou Hamer, and A Young People's History of the United States.
While ZEP was in LA, Ursula was also lucky enough to spend an evening in UCLA Professor Eduardo Lopez's class. She introduced some of ZEP's climate justice materials to his students, all of whom are focusing on ethnic studies and in their first year teaching in LAUSD. Though they had taught all day themselves, these educators were full of energy and enthusiasm. They not only actively participated in the role plays, but also asked insightful questions about writing people's history ("How do you decide which stories to tell?") and how to sustain the practice of social justice teaching over the long term ("How do you prevent burnout?").
Below are a few of the comments from California teachers about the ZEP workshops:
I was definitely excited about the role play and how it was a great way to introduce a lot of information in such a short time.
I appreciated having the opportunity to collaborate and connect with fellow colleagues and other educators as we tried on multiple perspectives.
The facilitator was engaging, professional, and answered all questions thrown at her in a productive and beneficial way.
I will absolutely use the resources presented and seek more ZEP resources.
I like developing concepts through building the voice of the character.
I will implement role-playing and mixers in my class for social studies and novel units. I can't wait to have students explore multiple perspectives this way!
I learned so much about the different constituent groups debating DAPL.
I loved all the ideas and format of the session. I liked the mixer and role playing and how they support each other.
Fascinating PD. I loved how interactive it was. The time really flew by!
Photo Slideshow