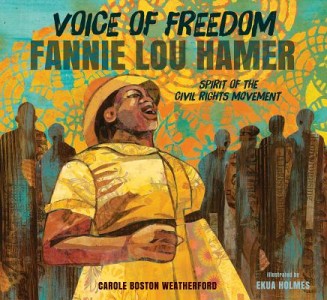 Voice of Freedom: Fannie Lou Hamer, Spirit of the Civil Rights Movement is the story of Fannie Lou Hamer in poetic form. It is infused with Hamer's own quotes and colloquial style that defined her skill as leader and speaker for the Civil Rights Movement. This book charts Fannie Lou Hamer's life from her family beginnings as a sharecropper to her run for the Mississippi State Senate.
The story includes her work with the Student Nonviolent Coordinating Committee (SNCC) and the Mississippi Freedom Democratic Party.
Weatherford provides further notes on Hamer's life, in addition to a timeline of the Civil Rights Movement from her birth in 1917 to her death in 1977.
Using earth toned hues, Ekua Holmes provides a visual feast that complements Carole Boston Weatherford's prose. Although this is a picture book, educators should be informed that it delves into mature topics such as Hamer's forced sterilization.
ISBN: 9780763665319 | Candlewick Press
Learn more about Mrs. Fannie Lou Hamer from profiles at SNCC Digital Gateway and Mississippi History Now (MDAH) by Kay Mills.