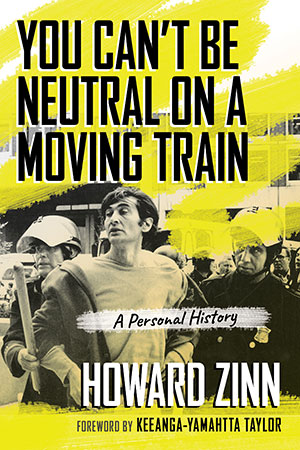 This is the classic memoir of Howard Zinn, author of A People's History of the United States, where he tells his personal stories about 50 years of fighting for social change. This updated version includes a foreword by professor of African American Studies and author Keeanga-Yamahtta Taylor.
A former bombardier in WWII, Zinn emerged in the civil rights movement as a powerful voice for justice. Although he's a fierce critic, he gives us reason to hope that by learning from history and engaging politically, we can make a difference in the world.
Video Clip
Watch an interview with Howard Zinn on Democracy Now!, conducted on April 27, 2005. It begins with an excerpt from the film, "You Can't Be Neutral on a Moving Train."
Howard Zinn: "To Be Neutral, To Be Passive In A Situation Is To Collaborate With Whatever Is Going On"
Excerpts from the Foreword by Keeanga-Yamahtta Taylor

This was not a scholastic endeavor for Zinn, even though he was a professor of history. But history was not academic exercise; it was a means to make sense of the world we live in and, if necessary, a guide to action. Zinn, a prolific writer and scholar, tore down the wall intended to separate activism — or partisanship — from the professed objectivity of scholarship. Instead Zinn told his students that he did not "pretend to an objectivity that was neither possible nor desirable. 'You can't be neutral on a moving train,' I would tell them. . . . Events are already moving in certain deadly directions, and to be neutral means to accept that."
Zinn eschewed neutrality, choosing to write reports, news stories, and multiple books from the perspective of the movements that he was active in. Prolific and without pretension, Zinn chronicled the civil rights and anti–Vietnam War movements for the general public. His writing exposed the broader world to the realities facing ordinary Black people across the South while also challenging the assumptions that the United States, by the sheer volume of its bombing campaign in Vietnam, could impose its will on that tiny country.
Zinn's magnificent autobiography, You Can't Be Neutral on a Moving Train, is his own telling of the events and experiences within those movements that shaped his people-centered rendering of his history. It is a thin volume, barely two hundred pages, belying Zinn's extraordinary life from his days as a bombardier in the Air Force during World War II, to his arrest as a civil rights activist in the South, to his negotiating the return of prisoners of war during the Vietnam War. The power of Howard Zinn the writer has overshadowed his fascinating history as an active participant in these powerful social movements. As Zinn said in an interview, "[I] had begun to wander out of the classroom to go see some history."
This is a book written with a purpose that goes beyond touting the lifetime achievements of a well-known and influential person. What makes this an essential read is that Zinn is writing in response to the timeless questions that burn within anyone who cares about creating a more just society and world. Is change possible? Where will it come from? Can we actually make a difference? How do you remain hopeful? Zinn returns to these questions graciously and with humility by exploring his own journey toward radicalism. There are times when leftists disparage liberals for their continued faith in the system, becoming exasperated when they have not yet come to radical conclusions. Zinn makes the simple yet critical point that people make their own way to political consciousness: "You read a book, you meet a person, you have a single experience, and your life is changed in some way. No act, therefore, however small, should be dismissed or ignored." For Zinn, this fluidity of political consciousness — people who may be completely passive in one moment but can be moved to act in a different moment — was the key to the emergence of a mass movement. To write off the possibility of change was to essentially write off the possibility of building the kind of movement necessary to change what was wrong in the world. Continue reading.
Reviews
A teacher who committed his politically engaged life to the belief that love is a command to action. —Colman McCarthy, The Washington Post
A powerful, politically electric book from one of the most engaging social critics in the nation. —Jonathan Kozol
A history and a history maker to give us hope. —Alice Walker
A personal favorite. This autobiography by the great activist and historian. . . provides an eloquent, personal account of the struggles for civil rights and against the Vietnam War, and a universal paean to protest and resistance. —Matthew Rothschild, The Progressive
Zinn explains his involvement in the struggles for civil rights, against war, and in support of organized labor by citing his 'abhorrence of any kind of bullying.' These are lively tales. —Patricia O'Connell, The New York Times
Pick up this book! Start reading it! I guarantee you won't stop. The most influential teacher I've ever had continues to teach us about life and humanity and hope. —Marian Wright Edelman
ISBN: 9780807071274 | Beacon Press