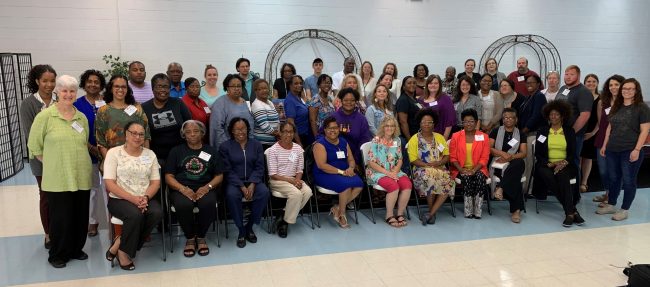 Forty-five teachers from across the state of Mississippi convened in Jackson on Saturday, May 18 for a workshop on Reconstruction as part of the Teach Reconstruction campaign. The event was hosted by Southern Echo and the Zinn Education Project, with outreach support by the Mississippi Department of Education.
As teachers arrived (some having driven as far as three hours away), they had a chance to browse a collection of books for students on Reconstruction and also enjoyed a locally prepared breakfast of spinach quiche, fruit, and biscuits with ham and egg.
Rachel Mayes, executive director of Southern Echo, welcomed everyone and introduced the facilitators, Deborah Menkart of the Zinn Education Project and Hilary N. Green, associate professor of history at the University of Alabama.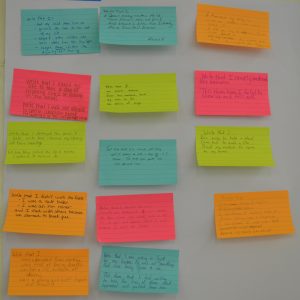 Using a similar format to the recent teach-in at Howard University, the day began with "Poetry of Defiance: How the Enslaved Resisted," from the new Rethinking Schools book, Teaching a People's History of Abolition and the Civil War edited by Adam Sanchez. This lesson places Reconstruction into the long history of African American resistance during slavery. Participants read short stories about countless ways people resisted slavery, interviewed each other in a mixer activity, and wrote a collective poem.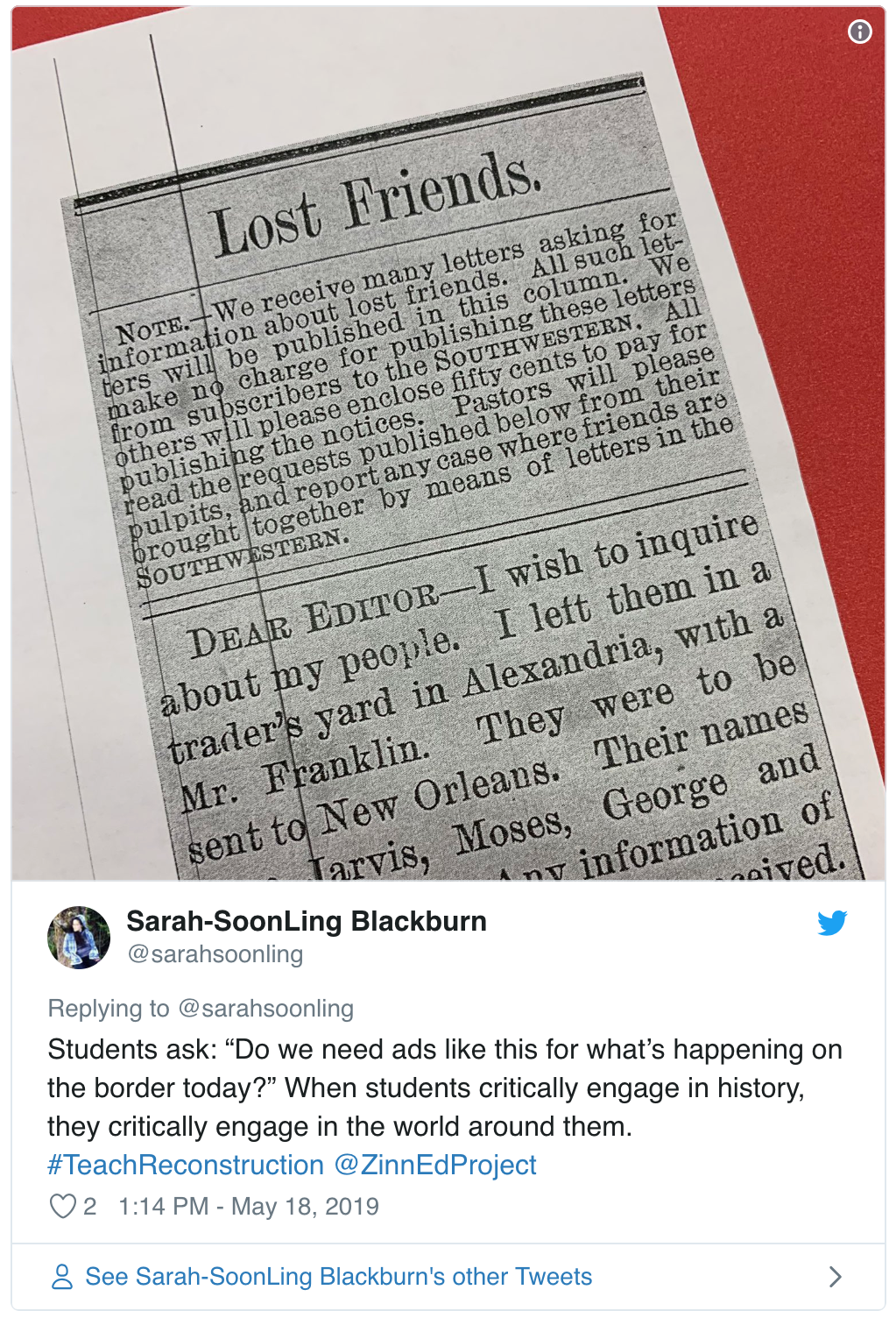 After a discussion about how they might bring the lesson back to their classroom, participants engaged in "Reconstructing the South: A Role Play." Working in groups of five, teachers grappled with questions about land, labor, voting, self-defense — and the meaning of freedom — from the perspective of people recently freed from slavery. For example, "Now that the war is ended, who should own and control these plantations?" Each table was asked to share their responses, resulting in some debates when one group thought the land should be divided equally among the people who had been enslaved and the former plantation owners — while another table thought the plantation owners should be jailed for treason. These are the same debates that surfaced during Reconstruction and that engage students in critical thinking about the era.
Green pointed out that while African Americans were grappling with the political questions in the role play, they were also facing challenges in their day to day lives, including finding work and housing, raising funds for schools and churches, securing clothing, and the ongoing quest to find family members who had been sold away. At each table there was a collection of "last seen" ads from Mississippi and Louisiana. Participants took some time to read and discuss them. They also talked about how they might use the lessons from the morning, the "last seen" ads, and other Reconstruction era resources in their classrooms.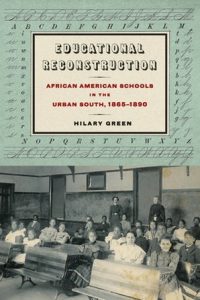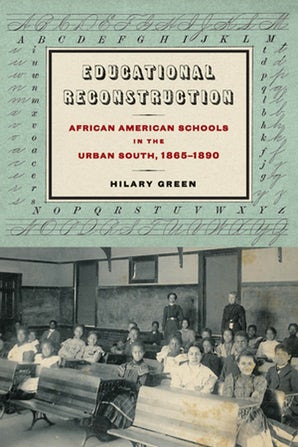 In a working session for lunch (delicious fried catfish), Green offered a talk about education during Reconstruction based on the research in her book, Educational Reconstruction: African American Schools in the Urban South, 1865-1890. She began by pointing out that, "In Black Reconstruction, W. E. B. Du Bois called the training of Black teachers in Black institutions an 'accomplishment [that] crowns the work of Reconstruction'." Green described the intentional strategy and organizing that led to a large Black teaching force in Reconstruction era schools, and how contrary to the stereotype, the teachers were highly qualified. They were required to have a degree, pass an interview, and have letters of recommendation.
There were so many questions for Green that she offered to email responses to those she could not get to by the end of the day.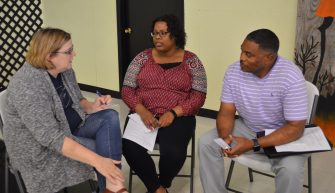 This wrapped up the main focus on Reconstruction. Teachers seeking continuing education credits (CEU's) stayed for an additional hour to explore resources and strategies for teaching about the Civil Rights Movement. The session began with a mixer drawing on activists from the Southern Freedom Movement. Then five teachers from a Teaching for Change fellowship program shared brief stories about how they teach outside the textbook about the Civil Rights Movement. Each one of them led a small group discussion so that everyone could share ideas, experiences, and questions.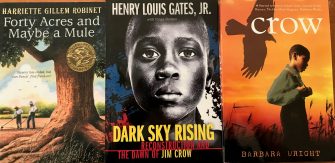 As teachers left, they received three books about Reconstruction for the classroom: Dark Sky Rising: Reconstruction and the Dawn of Jim Crow (thanks to a donation from the publisher), Forty Acres and Maybe a Mule, and Crow.
Here is some of what teachers said they learned or appreciated about the day:
That Reconstruction instruction does not have to be a linear or a chronological process, but driven by issues that can be revisited throughout the year to make parallels to today.
Knowledge of not only content, cross content in fact, policy and resources (people and books and handouts). The perfect storm!
Terrific resources for teaching Reconstruction and, more broadly, people's history. Also some hope for the future of history education in our state.
Creating innovative ways to deepen the classroom conversations bout Reconstruction (and re-centering Black narratives in it), as well as creating a space for educators to have a radical conversation about justice.
I find strength in numbers to be encouraging. Today I learned from, spoke with, and listened to people from many diverse parts of my state – a blessing!
It extended my knowledge of how Reconstruction should really be taught – truth about everything – not just what's in textbooks.
It was a diverse mix of lessons, lecture, to interactive activities — and FREE!
I've never felt so cared for as a teacher at professional development. (Referring to the breakfast and lunch spreads.)
Reconstruction is a period I knew very little about. I found it valuable that we "heard" many different voices from that era.
The workshop has helped me re-focus and re-invigorate my passion for incorporating social justice and history in the classroom . . .and my everyday life.
I don't get to have these types of conversations in my district of school. It was enlightening and I got many ideas for lessons.
I did not expect the quality that was presented.
The group activities were engaging and elicited critical thinking, expression, and potential for application.
Normally I'm just given information. This session gave practical applications and resources.
I am going to build a larger, more intensive unit on Reconstruction in American literature classes.
Thank you for such an awesome training. The information that I got, as well as the facilitation that I saw modeled, was informative and inspiring. It was also just so refreshing to be in a space with so many dedicated educators.
This year my focus was defining freedom. I now want to include a focus on redefining the dream through resistance.
The workshop was incredible and was exactly what I needed to get my mojo going again.
I loved that this workshop fed my teacher soul with new ideas, as well as my scholar soul with a lunchtime talk.
---
Our appreciation for the collaboration from: Al White for the photography; Trinity Catering for the meals; Mississippi Roadmap to Health Equity for the venue; William Carey University for the CEUs; Scholastic for the donation of Dark Sky Rising for each participant; and the Mississippi Department of Education for outreach.