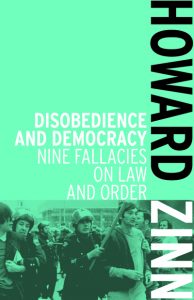 In this slim volume, Howard Zinn lays out a clear and dynamic case for civil disobedience and protest, and challenges the dominant arguments against forms of protest that challenge the status quo. Zinn explores the politics of direct action, nonviolent civil disobedience, and strikes, and draws lessons for today.
In a 2002 edition, Zinn wrote preface to explain his reasoning for writing the book in 1968:
When David O'Brien burned his draft card on the steps of the courthouse in South Boston, he was prosecuted, and the Supreme Court, by a vote of 7-1, upheld his conviction, rejecting his claim that it was an act of free speech protected by the Constitution. When Abe Fortas, one of those justices condemning David O'Brien, wrote a booklet on civil disobedience, justifying such prosecutions, I decided to write a response.
Disobedience and Democracy: Nine Fallacies on Law and Order presents nine fallacies about civil disobedience and the law that Zinn found in Judge Fortas' booklet.