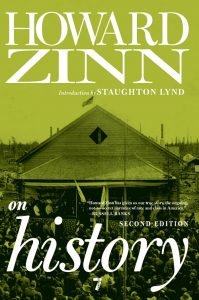 This second edition of Howard Zinn on History brings together twenty-seven short writings on activism, electoral politics, the Holocaust, Marxism, the Iraq War, and the role of the historian, as well as portraits of Eugene Debs, John Reed, and Jack London, effectively showing how Zinn's approach to history evolved over nearly half a century, and at the same time sharing his fundamental thinking that social movements — people getting together for peace and social justice — can change the course of history. That core belief never changed.
Chosen by Zinn himself as the shorter writings on history he believed to have enduring value — originally appearing in newspapers like the Boston Globe or the New York Times; in magazines like Z, the New Left, the Progressive, or the Nation; or in his book Failure to Quit — these essays appear here as examples of the kind of passionate engagement he believed all historians, and indeed all citizens of whatever profession, need to have, standing in sharp contrast to the notion of "objective" or "neutral" history espoused by some. "It is time that we scholars begin to earn our keep in this world," he writes in "The Uses of Scholarship." And in "Freedom Schools," about his experiences teaching in Mississippi during the remarkable "Freedom Summer" of 1964, he adds: "Education can, and should, be dangerous." [Publisher's description.]
ISBN: 9781609801328 | Seven Stories Press
 Excerpt
Empire or Humanity? What the Classroom Didn't Teach Me about the American Empire: We learn in school that there was an "Age of Imperialism" with a beginning, middle, and end. Howard Zinn learned through his own experience as a student, soldier, historian, and activist to question that assumption. In this April 2008 article in TomDispatch.com, Howard Zinn shows us through historical examples that the current expansionist tendencies of the United States are nothing new — they fall directly in line with the imperialism of the past. —Eds.
About the Author
HOWARD ZINN, America's most popular historian, has introduced four generations of Americans to his views on democracy, civil disobedience, history, and war. Zinn's books have sold over two million copies and, in 2009, a film based on two of his books, The People Speak, aired on national television, bringing his vision to millions more. Zinn died at 87 in 2010, but his books, ideas, and activism live on.
Praise for Howard Zinn on History
"The thing about Howard is that the history that he taught was not just about losing the official illusioin about nationalism, about the heroic figures. It was about telling people to believe in themselves and their power to change the world." —Naomi Klein
"A welcome collection of essays and occasional pieces by the dean of radical American historians." —Kirkus Reviews, on The Zinn Reader
 "Howard's life and work are a persistent reminder that our own subjective judgments of the likelihood of success in engaging human problems are of little interest, to ourselves or others. What matters is to take part, as best we can, in the small actions of unknown people that can stave off disaster and bring about a better world, to honor them for their achievement, to do what we can to ensure that these achievements are understood and carried forward." —Noam Chomsky
"Unlike many historians, he was not afraid to speak out about the difference between right and wrong." —Eric Foner, The Nation