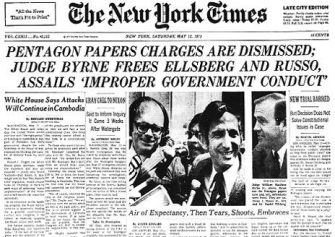 On May 11, 1973, U.S. District Court Judge William Byrne Jr. in the Pentagon Papers trial dismissed all charges against Daniel Ellsberg and Anthony Russo.
Byrne ruled,
The totality of the circumstances of this case which I have only briefly sketched offend a sense of justice. The bizarre events have incurably infected the prosecution of this case.
A continuation of the government's investigation is no solution with reference to this case . . . each passing day indicates that the investigation is further from completion as the jury waits. Moreover, no investigation is likely to pro­vide satisfactory answers where improper government conduct has been shielded so long from public view and where the government advises the Court that pertinent files and records are missing or destroyed. . . .
I have decided to declare a mistrial and grant the motion for dismissal.
Learn more from the archived New York Times article, "Pentagon Papers Charges Are Dismissed; Judge Byrne Frees Ellsberg and Russo, Assails Improper Government Conduct."
Below are lessons for teaching about the case, the Vietnam War, and whistleblowing based on the film The Most Dangerous Man in America: Daniel Ellsberg and the Pentagon Papers.