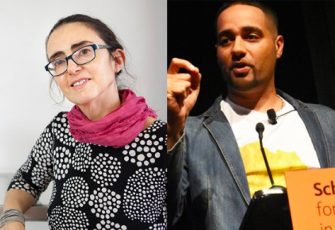 On June 26, 2020, the weekly People's Historians Online session explored the history of rebellions in the United States with a conversation between Jeanne Theoharis and Jesse Hagopian.
As has been the case with the 2020 rebellion, corporate media coverage sheds little light on the roots of rebellions and often casts protesters as violent or destructive. In this mini-class, Theoharis and Hagopian discussed various rebellions in U.S. history. Hagopian noted in his introduction:
When we started this series in late March, our conversations stressed how Rosa Parks worked for decades without ever knowing if there would be tangible results. Her life was a reminder that you may have to hang in for years before a movement erupts. What a difference a couple of months can make. The current rebellion is scoring victories against police in schools and in the fight to defund police departments all over the country.
Here are a few reactions from the participants:
I appreciate Jeanne's emphasis and encouragement for educators to consider "the many tendrils" that led to this current movement and others before it. And as Jesse mentioned we need to give time and space for our students to share their experiences related to the current moments in the fall.
I really loved the discussion of how a single narrative arose and the way that Black publications actually wrote about uprisings differently.
The "redneckification" of racism challenged my stereotypes of racists and pushes me to confront my biases against the South.
Below, find highlights of the session, a full video recording, recommended resources, and more participant feedback.
Highlights
Here are some main points of the session from the tweet thread by Ursula Wolfe-Rocca, high school teacher and Zinn Education Project team member.
Jesse: White Northern liberals often like to talk about racism as a southern problem.

"Americans like their racism, & their racists, southern & conservative, not northern & liberal." —Brian Purnell, @JeanneTheoharis, & Komozi Woodard, The Strange Careers of the Jim Crow North

— Ursula is camping (@LadyOfSardines) June 26, 2020
"Time and again, King was called on to rein in Black people and when he refused and called out policy and politicians instead, they refused to listen." https://t.co/QllonR3Cyj

— Ursula is camping (@LadyOfSardines) June 26, 2020
Both discourses are saturated in a language of overwhelming uncertainty: Is this *really* a problem? Let's make a committee, organize a commission, do a study!

Spoiler: no amount of evidence ever led the north to desegregate.

— Ursula is camping (@LadyOfSardines) June 26, 2020
Jesse is suggesting some teaching ideas: Let's empower kids to interrogate their textbooks. How do they address the Watts uprising?

Jeanne: Look for slippery explanations. Some textbooks might talk about "unjust policing" but does it talk about the LONG, multiracial movement?

— Ursula is camping (@LadyOfSardines) June 26, 2020
Another great breakout chat about how we're gonna teach the Rebellion of 2020 in the fall. Short version: the rebellion WILL BE THE CURRICULUM!

— Ursula is camping (@LadyOfSardines) June 26, 2020
Video
Video of the full event, except the breakout sessions.

Resources
Here are many of the resources recommended by the presenters and also by participants in the chatbox.
Books and Articles by Jeanne Theoharis

A More Beautiful and Terrible History: The Uses and Misuses of Civil Rights History

The Rebellious Life of Mrs. Rosa Parks

50 Years Later, We Still Haven't Learned from Watts by Jeanne Theoharis in the New York Times

Using MLK to Quell Outrage Distorts His Legacy by Jeanne Theoharis in Black Perspectives

Related Books

Lessons

Roots of Rebellion: selected lessons on the long history of racism and resistance in the United States

Related Articles and Digital Resources

People

Films

Mighty Times: The Children's March

Podcasts

Revisionist History podcast: How Brown v. Board implementation led to loss of Black teachers
Participant Reflections
Here are some of the responses by participants from the session evaluation.
What was learned
I appreciated the emphasis on framing the 2020 Uprising within a larger historical context, and how to communicate that to our students. Referring it to an uprising or rebellion as opposed to a riot, as well as making sure students realize the hundreds of people throughout history whose work preceded these uprisings. These don't happen in isolation!
I now want to research more about the children's activism and figure out how to teach it in my Kindergarten classroom.
To frame rebellions as not just a surprise, but as a response to issues, and to critically think about the framing post-rebellion in the MSM.
There are long periods of organizing and struggle before an uprising, often without much progress. This is important to frame how we got here, but also how to continue forward when the protests are no longer in the headlines.
The way the "redneckification" of racism distracts from acknowledging white, liberal, Northern racism that is equally pernicious and the importance of contextualizing rebellions in the decades and centuries of organized work that preceded them.
Got more context about rebellions from the 1960s and communities I wasn't as familiar with (Watts).
The names we give historical events reflect white supremacist dominance.
When my kids find out about Claudette Colvin, I think they kind-of write off Rosa Parks and I would like to teach them that real history can include both acknowledging Park's work but also thinking about why Colvin wasn't the "right person." It doesn't have to be either/or.
The connection of rebellion to the Civil Rights, Voting Right, and Housing Rights Acts of the 1960s — putting the 2020 Rebellion within this context.
Poor people of all races joined in the Civil Rights Movement.
I learned so much about Watts that I didn't know before. I'm inspired to dig deeper and learn even more. I was already committed to teaching "the long story" but it's SO important to be mentored and encouraged, so I'm really grateful for today.
I would like to further dialogue with local educators on how they will return to their classroom teaching regarding the Rebellion.
The story of the Boston busing program was an important reminder that I need to revisit. The north, including Canada, is/was not immune.
Inspired to make this topic 2020 Rebellion the focus of my fall curriculum. By framing in relation to Watts, children's march, Poor People's, there's an opportunity to retell the story in the broader history of movements.
Someone in my group made a point about the importance of agency and how we strip that away from BIPOC when we don't talk about the organizing and causes of a rebellion.
Contextualize the effect that the often not-publicized grassroots work has to teach the whole story, from the pebble tossed into the water that caused the ripple that became a movement.
There were so many gains in things like affordable housing after the rebellions of the 60s. It might mean we may be on the right path with the rebellions currently happening in 2020. There's also a new Poor People's campaign happening, so there are lots of patterns happening that in the past, led to positive outcomes. Hoping to see that again. In our breakout room, someone brought up the importance of emphasizing cause and effect in teaching. That seems relevant here.
The emphasis on the type of language used to describe rebellions interested me as my class this next year will be focusing on the use of words, actions, and art to implement change. I think a discussion around words such as riot, uprising, and revolution would be a good way to begin as we talk about current events and begin to tie them to the past.
I think the bit of discussion around rebellion and integration/segregation in schools (especially in the north) is a topic that is really interesting — especially at this moment and thinking both about COVID and the 2020 rebellion's impact on our schools. The potential for both really important anti-racist work at the same time that COVID leaves us susceptible to really racist practices including more privatization, to white flight, to different levels of access & different exposure to risk of the virus.
I appreciated the reminder from Mr. Hagopian of the importance of giving students space to process these issues emotionally as well as intellectually.
I really loved the question of 'how will educators teach about the rebellion of 2020?' — it is crazy to think that we are living through this uprising and, for so many of us, we feel so disconnected bc we are quarantining or staying busy trying to attend to daily life. It is helpful to even have that framing of when we look back knowing the power of the moment we were in.
The format.
Very good session, I thought the questions for the breakout rooms were the best yet. We all grappled with how we were going to frame the rebellion for our students. This was made even more interesting because of the diversity of teachers in our breakout room. From teachers of kindergarten to teachers of teenagers in a variety of different settings from urban to rural, From California to Ireland.
I love the breakout groups because I get a chance to process what I'm thinking and build my knowledge with others. I loved the question in our breakout group because it helped me focus my thinking and focus our discussion.
Great opportunity to hear from educators from all over U.S.
I thought it was really great. Particularly having a facilitator in the break session with as helpful to push people to chime in with their ideas and thoughts.
As always, Dr. Theoharis is such an encyclopedia and I feel like at this point there is such a community feel after all of these weeks.
I really found it all to be incredibly effective and useful.
I think it was short but pretty powerful — I like the idea of maybe having more than one breakout and less talking in between or more consolidated talking points…so we learn juicy nuggets and then go dissect them.
As always, too short. We need to spend a lot of time coming up with new lesson plans for the fall.
The speakers, facilitator questions, conversations are so rich, as are the breakout session, so of course, more time is desired. That said, I am always inspired to continue reading more deeply, grateful for having a more focused eye, and feel driven to continue the work.
The size of breakout sessions is good. It allows everyone time to express their ideas and reflect on what others have to say.
I've been enjoying jotting down lists of new historic figures and authors to check out from each of these sessions. All of these topics are bigger than just one session.
Additional Comments
Thank you! I so appreciate these sessions and look forward to sharing what I've learned with my students.
Thank you so much to Jeanne & Jesse!
I cannot thank everyone enough for participating
So informative as always! Hope they continue through the school year.
Thank you! I look forward to Friday afternoons.
Thanks for letting students be a part of this!!
Thank you so much, it is wonderful to be a part of these. Thank you so much for all the love and passion you pour into these. It means so much to me. Please don't stop!!
This was a great opportunity to see people's different perspectives on the movements both in the 1960s and now in 2020.
Thank you! The solidarity and community found in this session give me hope. You all challenge me to do better.
This was my first session and I really appreciated the conversational approach. There were so many wonderful resources being shared!
I deeply appreciate this 75 minutes every Friday. It gives me time for reflection, rejuvenation, and recognition that we are not alone. Moves me to organise for international solidarity.
As another participant said, "these sessions are nourishing."
Presenters
Jeanne Theoharis is a distinguished professor at Brooklyn College. She is the author or co-author of nine books and numerous articles on the Civil Rights and Black Power movements and the politics of race and education. Her books include the award-winning titles The Rebellious Life of Mrs. Rosa Parks and A More Beautiful and Terrible History: The Uses and Misuses of Civil Rights History.
Jesse Hagopian teaches Ethnic Studies and is the co-adviser to the Black Student Union at Garfield High School in Seattle. He is an editor for Rethinking Schools, the co-editor of Teaching for Black Lives, and editor of More Than a Score: The New Uprising Against High-Stakes Testing.