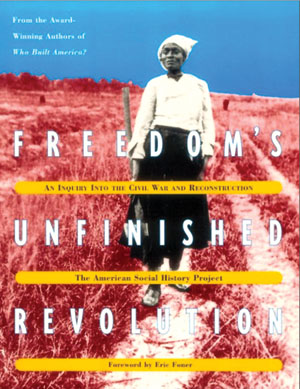 Lively prose, primary documents, illustrations and photographs invite students to study this period of history in-depth and critically. Includes exercises and discussion questions.
"Unlike any high-school textbook I have ever seen. It brings students into the practice of history by demystifying the historians craft. It invites students to make their own judgments rather than absorb what historians tell them. Its rich visual materials bring authentic primary source documents from the Civil War era into the learning process. It proposes teaching activities, one after another, that ought to overjoy all teachers who wish to see active learning in their classrooms. If that wasn't enough, the text is sound as Vermont granite, reflecting the best scholarship of recent decades. Don't call this a textbook; call it a gold mine." — Gary B. Nash, director, National Center for History in the Schools
All too often, the history of the Civil War is taught in isolation, without reference to Reconstruction or to its broader historical implications. Such an approach obscures the most telling consequences of America's greatest conflict and the links between the 1860s and 1870s and our modern age. While the failures of Reconstruction led to generations of racial injustice, its successes paved the way for the eventual emergence of the modern civil rights movement.
Written by the award-winning group that produced the groundbreaking college textbook Who Built America?, Freedom's Unfinished Revolution is an innovative attempt to describe this pivotal period in American history for high-school students. It examines the ways that "ordinary" people — men and women, white and black, Northern and Southern — experienced and shaped the major events of the era. It highlights the vital role of African Americans, whose achievements in this period are often overlooked, though they stood at the center of the national debate.
Filled with primary historical documents, including letters, speeches, and excerpts from novels and newspapers, Freedom's Unfinished Revolution offers students a firsthand look at the war and its aftermath: the struggle to rebuild the South and construct a new society. Photographs, engravings, art, and political cartoons are included, as well as pre-reading and discussion questions, critical thinking exercises, timelines, and a glossary.
"Who says we need CD-ROMs and interactive videos to make the past come alive? Freedom's Unfinished Revolution proves that history books for young readers can still be exciting and engaging. Combining original documents with lively prose, powerful illustrations, and deft insights, the authors have given us a rich, sophisticated account of what I still believe is the most important revolution in U.S. history." — Robin D. G. Kelley, general editor, Young Oxford History of African Americans
"A superb teaching tool. I know of no school text which treats the Civil War and Reconstruction period with such extraordinary skill and sophistication. It represents the newest of interpretations, and will provoke students to think about this era in a profoundly different way. It captures the drama of those years, enhancing the narrative with short, pungent documents and wonderful illustrations that make it exciting visually as well as intellectually. I hope it will be widely used." — Howard Zinn, author, A People's History of the United States
"In its first pages, this textbook invites readers to second-guess its own decision to modify slave dialect. Then it suggests that students question its photographs. Later it sets students questioning W. E. B. Du Bois and Abraham Lincoln. Horrors! If enough Americans read Freedom's Unfinished Revolution, we will face a nation of thinking, questioning citizens." — James W. Loewen, author, Lies My Teacher Told Me

ISBN: 9781565841987 | American Social History Project and The New Press
---
Learn more in the Zinn Education Project national report, "Erasing the Black Freedom Struggle: How State Standards Fail to Teach the Truth About Reconstruction," and find teaching resources on Reconstruction below.