Which country is the No. 1 supplier of oil to the United States? Saudi Arabia? No. Iraq? No. Russia? No.
My geography students were surprised to learn it's my country — Canada. Most of that oil comes from the tar sands located in northern Alberta, in an area roughly the size of Florida. The Alberta tar sands are home to the world's second largest deposit of oil, after Saudi Arabia. They are also the source of great controversy, seen by some as "Canada's greatest treasure" and others as "Canada's greatest shame."
As a Canadian teaching at an international school in New York City, I had long been planning to teach about the tar sands. Although many people are aware of the devastating effects of BP's oil spill in the Gulf of Mexico or Shell's human rights abuses in Nigeria, few know about the enormous environmental and social injustice caused by oil extraction just to the north. The perfect opportunity to teach about this issue arose this past fall when the media focused attention on the proposed TransCanada Keystone XL pipeline. If approved, this pipeline would have brought as much as 700,000 barrels a day of crude oil from Alberta's tar sands to refineries in Texas.
Who would benefit most from the pipeline? Who would suffer? What would be the pipeline's long-term effects on the environment, economy, and on local communities? Should we support or resist increasing the capacity of the tar sands? These were the questions that I wanted my geography students (most of whom come from relatively privileged backgrounds) to consider.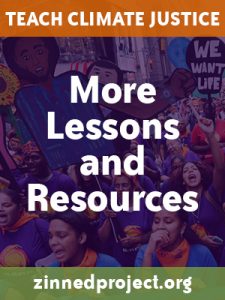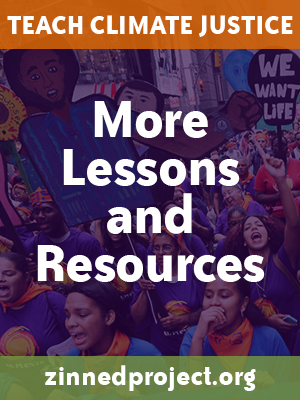 To confront these questions, I wrote a role play where students take on the characters of six key stakeholders invited to an imaginary public hearing, chaired by then-U.S. Secretary of State Hillary Clinton (played by myself), to discuss whether or not the State Department and the president should approve the Keystone XL Pipeline.
Key stakeholder roles included with this lesson are:
The Tar Sands and the Keystone XL Pipeline
TransCanada
American Petroleum Institute
The Republican Party
Environmental Activists
Indigenous Environmental Network
Bold Nebraska
---

This teaching activity was originally published by Rethinking Schools and is included in their book A People's Curriculum for the Earth.
---

---