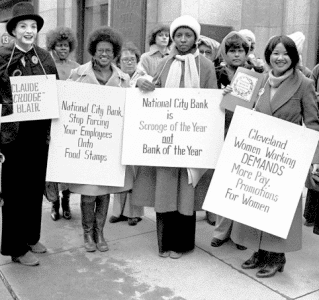 The documentary 9to5: The Story of a Movement captures the real-life fight that inspired a hit song and challenged gender inequity in the U.S. workplace.
When Dolly Parton sang "9 to 5," she was singing the true story of a movement that started with 9to5, a group of Boston secretaries in the early 1970s.
As the 9to5 organization explains:
The year was 1973. Helen Reddy's I Am Woman, was at the top of the charts. The 'Women's Movement' was in full swing. Change was in the wind.
In Boston, a group of female office workers started talking about how they were treated at work. They talked about how men made more money than they did for the same job. They talked about how their male co-workers could get away with making passes at them, and worse. And they talked about how when their kids got sick they couldn't get time off without endangering their jobs.
These women decided enough was enough. They felt feisty, empowered and fed up. They decided to fight for fair pay and equal treatment. They started 9to5 and inspired the hit movie and song. [Read more.]
The documentary films features interviews with 9to5's founders and Jane Fonda. [Description adapted from PBS's Independent Lens and the 9to5 website.]
Trailer
Filmmakers
Ohio-based Julia Reichert is a four time Academy Award nominee and Oscar winner for her documentary work. Julia's student film at Antioch College, Growing Up Female was the first feature documentary of the modern Women's Movement. It was selected for the National Film Registry. Her films Union Maids and Seeing Red: Stories of American Communists, (with Jim Klein) were screened worldwide, nominated for Academy Awards for Best Feature Documentary, as was The Last Truck, as a Short. Her film A Lion in the House (made with Steven Bognar) premiered at Sundance, screened nationally on PBS, won the Primetime Emmy for Exceptional Merit in Nonfiction Filmmaking. Her film, The Last Truck (with Bognar) premiered on HBO, and the Telluride Film Festival. Reichert and Bognar won the 2020 Academy Award for Best Documentary for American Factory. Julia is co-founder of New Day Films, the independent film distribution co-op. She is author of "Doing It Yourself," the first book on self-distribution in independent film. Julia has been drawn to focus on class, gender and race in her work.
Steven Bognar is an Oscar and Emmy award winning documentary filmmaker based in Ohio. With his partner Julia Reichert, he has directed and produced American Factory, The Last Truck, and A Lion in the House. Their films have screened at top film festivals, and on HBO, PBS and Netflix. Bognar's first feature documentary, Personal Belongings, which he produced, directed & edited, premiered at the 1996 Sundance Film Festival, and screened that year at SXSW, IDFA and on P.O.V. His short films include Last Reel (Telluride Film Festival premiere), Foundry Night Shift  (True/False Film Festival premiere), No Guns for Christmas (New York Times Op-Doc, with Reichert) and Picture Day (Sundance Film Festival premiere).
Awards
Alexandria Film Festival: Best of Fest Award

St. Louis International Film Festival: St. Louis Film Critics' Joe Williams' Award for Best Documentary

Key West Film Festival: Best Women's Film

Cordillera International Film Festival: Audience Choice – Best of Fest
This documentary is currently available on Netflix.