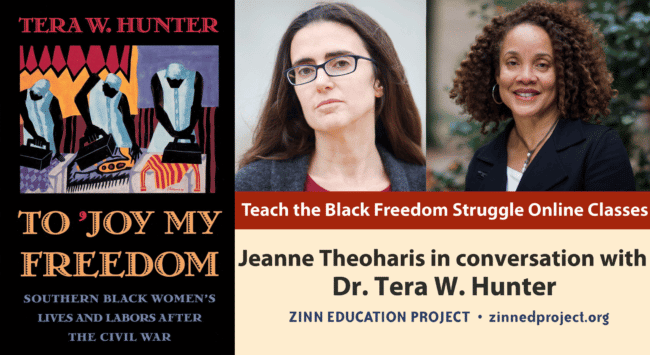 Close to 200 people joined the Zinn Education Project's Teach the Black Freedom Struggle class on March 11, 2021 to learn about the lives of Southern Black women during and after Reconstruction. This interactive online class featured a conversation between Jeanne Theoharis, scholar and co-founder of the series, and Tera W. Hunter, history professor at Princeton University and author of To 'Joy My Freedom: Southern Black Women's Lives and Labors After the Civil War.
Hunter began with the story of the 1881 Atlanta Washerwomen's Strike and went on to share many more stories of organizing by Black women for labor rights, public health, voting rights, and the right to joyful endeavors (such as dancing) from the Reconstruction era through today.
Here are a few reactions from the participants:
I have attended several sessions and each one has left me in awe. One for the scholarship that is out there but I have not been exposed to as of yet and the diversity of the groups. This is such a great way to start my week. I feel energized.
The book's title is gorgeous. And the story behind it is so revealing: that a formerly enslaved woman responds that she wants to "'joy my freedom" when her former enslaver asks why she's leaving.
I very much enjoyed the rapport between Professors Theoharis and Hunter. Professor Hunter took very seriously not just telling us the stories; she also emphasized the primary sources. I loved it when she asked what teachers are teaching. She broke the fourth wall — if you will. So many of the scholars who have spoken are eager to tell us about their research. I loved that she took seriously that the educators on the call had something to tell her. WOW!
I thought this was very useful and did not, like many things for teachers, pander. It was like being part of a discussion.
The central role of collective action among Black women domestic workers; leisure as a form of resistance; the role of organizing work in multiple directions to work for just labor conditions; the power of creative archival work.
The connection between stigma around COVID for the AAPI community today and the similar experience of Black folx being labeled as the primary vector for spreading TB in the early 1900s piqued my interest and definitely illuminated some simple ways to make connections in the classroom.
Wonderful — as always! These workshops have been a highlight of 2020 and now 2021 and they just keep getting better. My small group today was an amazingly diverse group of educators of all levels and multiple subjects from across the nation and was a powerful point of connection to others moved by Drs. Hunter and Theoharis' passion for giving life and story to such important history.
Below, find highlights of the session, a full video recording, recommended resources, and more participant feedback.
Highlights
Here are some main points of the session from the tweet thread by Ursula Wolfe-Rocca, high school teacher and Zinn Education Project team member.
In Atlanta in 1881 a group of Black laundresses formed the Washing Society & called a strike for a uniform wage ($1 per 12 lbs wash), respect, & autonomy. Door-to-door (& interracial) canvassing resulted in a mass labor action of 3,000 workers. https://t.co/PeRv06dWw7

— Ursula Wolfe-Rocca (@LadyOfSardines) March 22, 2021
Q from the audience: Did these women get fired or punished for their activism? Dr. Hunter: They certainly TRIED, but white folks were ultimately hamstrung by their desire to have their clothes laundered. (This article lists names of arrested women.) https://t.co/mVlrnLu55O

— Ursula Wolfe-Rocca (@LadyOfSardines) March 23, 2021
Dr Hunter: This moment is a wonderful opportunity to take another look at the LONG history of suffrage (recommends @marthasjones_'s book, Vanguard). Urges Ts to surface the way Black women voting rights activists were often involved in MULTIPLE campaigns, not just voting.

— Ursula Wolfe-Rocca (@LadyOfSardines) March 23, 2021
Video
Video of the full event, except the breakout sessions.

Audio
Listen to the recording of the session on these additional platforms.
Resources
Here are many of the resources recommended by the presenters and also by participants.
Participant Reflections
Here are some of the responses by participants from the session evaluation.
What was the most important thing (story, idea) you learned today?
Teachers can humanize movements with collective activism and stories about the strength of marginalized women.
The rules working women had to follow.
Everything. I was born and raised in Mexico so I do not know a lot of history from the U.S., but I'm learning more everyday. I want my kids who are being taught in the U.S. to learn the real history and not the whitewashed version.
Public health campaigns and how tuberculosis was characterized as a Black service worker's disease.
The story about the neighborhood union focusing on health care issues in the Black community.
I was never taught this in school, and now that I am a teacher educator, I want to pass along information that they do not know about, or were never taught themselves, and provide them resources for the history and materials to use in their own teaching. I enjoyed hearing about the "taboo" dancing that occurred, as I am a dancer, so always interested in dance-related history.
Different strategies used by the working class to struggle for freedom beyond wage and work. I want to learn more about the Atlanta Washerwomen's Strike.
That Black working women in the 1881 washer women's strike were part of a long, broad movement for living wages, public education, public health.
The importance of pushing for ethnic studies K-12.
Dr. Hunter naming three things that we need to do better in high school — slavery, Civil War, and Reconstruction — thank you, so powerful and helpful!
Organizing of the washerwomen. My grandmother did this type of work in Trinidad.
I appreciated the information about the grassroots organizing of the domestic workers in Atlanta in 1881 and how that carried over to Stacy Abrams election as well.
The connecting thread running from the labor struggle of the 1800s to the 1950s.
How Black women were able to harness collective power to make changes to their working conditions.
I learned a lot about African Americans and marriage within the lens of slavery. I was not informed of a lot of those dynamics. I also appreciated the intersectional and historically framed way that Dr. Hunter shared her research today.
The primary sources: Freedman Bureau records, congressional testimony on the KKK, Civil War widow pensions etc. I learned about the washerwomen's strike as a prereq to the class but prior to that I was not aware of this amazing organizing done so early after the Civil War
Black women were organizing Domestic workers in the 19th century. Before I thought of domestic worker organizing as a recent phenomenon, but this struggle goes far back and it was often people of color led in this country.
I appreciated the way Dr. Hunter creatively thought about which sources could help her craft the story she was telling about the washerwomen's strike and the loving relationships among formerly enslaved individuals.
The connection between stigma around COVID for the AAPI community today and the similar experience of Black folx being labeled as the primary vector for spreading TB in the early 1900s piqued my interest and definitely illuminated some simple ways to make connections in the classroom.
The Washing Women Strike in 1881, the idea of "broadening leadership possibilities" by the means of organizing in "cells" in Lugenia Burns Hope's Neighborhood Unions, and the inclusion of "leisure" to bring the full picture of domestic workers' lives to life.
Didn't know about the three washerwoman strikes — 1860s, '70s, '80s — such different decades in relation to Reconstruction. Makes me want to learn more.
Neighborhood Association was an important discovery. It helped me gain a wider view into modern coalition building that we see today.
What will you do with what you learned?
Adapt my lessons to include more archival research.
I am trying to integrate more primary sources into my English class to go with novels, poems, etc. so I think there are a lot of materials I will look at integrating here.
I'm purchasing Tera's book so that I can read and learn in context. I am passing this info on to my colleagues who teach middle and high school and growing my "Backpack" of tools for my 4th-grade class.
Lessons looking at jobs that are deemed menial, unskilled, or looked down on and how that is racialized, gendered, and demeaned. The history of how these workers fought for economic justice.
Make more explicit the connections between the 19th century and the 21st.
I'll connect it to the current organizing by women of color for One Fair Wage.
I'm doing research on my family's history and writing about it. This info helps me think about my grandmother's working conditions and the legacy of Black women's organizing.
I teach kindergarten so I'm continuing to grow my own history so I can figure out what and how to bring it to my little people.
I'm a math teacher and looking forward to incorporating the various collective action movements (washerwomen's strike, public health campaigns, etc.) into my lessons. I'm imagining some analysis of economic impact from the strike and/or a data visualization challenge to have students create graphs that explain the impact of the strike.
Looking forward to having a chance to bring this history into my classroom; not sure where it will fit yet as just designing courses for next year, but excited to possibly bring into a critical ethnic studies course focused on labor and justice issues.
I am on the curriculum subcommittee of our Cultural Competency Committee and I will be making recommendations about content that needs to be included and/or revised.
I'll include some of it in my discussions with my students about sociology and the background to many of today's social developments and movements.
I am thinking about building inquiry stations around a variety of strikes and uprisings that will demonstrate people standing up for unfair work conditions. This would be for students to explore on their own and then share back with the groups. We would also weave in conversations about minimum wage and other situations here in Chicago that have been in the current news.
I am a student of power and power inequality. As a cultural anthropologist, I have focused most of my life work on activism and community education. Am working hard right now to read/listen/learn more about Reconstruction and the decades after. Sharing this history needs to be woven into all kinds of daily interactions, not only in classrooms. That's what I try to do — with adults, youth, children — our histories are powerfully with us and active in our daily interactions.
As a Pre-Service teaching instructor at an after school program, I often inhabit the middle place on what parents may not be aware of our what schools will not teach since Indiana's history curriculum is so incredibly lacking. I hope to incorporate these materials for teachers to work with our students with to help widen their perspective on historical events post Civil War and beyond.
Learn more! Follow recommended reading, continue asking hard questions and also remember to find beauty in the struggle. Research more about women's history, class and race — in the U.S. and beyond.
What did you think of the format?
Loved an opportunity to connect with others in breakout rooms.
I continue to marvel at how well this is organized: clear, lucid, supportive, respectful, generative.
It was short, but it gives me time to process and plan for next steps in my curriculum.
Format was great. I love the way you introduce the sessions, and that there is a short break out, which just is nice to see and be able to chat with people from across the country. It makes me feel like we are all in this truly together. Also, the explanation of the politics and pedagogy of the breakout room is so well-explained. Thank you.
The format continues to be great for learning and reflecting!
Loved having breakout rooms to process the first part of the sessions! Perfect amount of time in breakout rooms and perfect sized room (our room had 5 people). I did wish the whole session had been a little longer, maybe to have time to jump back in breakout rooms at the end or just to hear a little more from Dr. Hunter.
I always want more breakout time, because all the participants have so many experiences to tell us. People's history happens on all levels for real.
I love how you guys utilize live participant interaction so it's not strictly a lecture.
I thought the entire meeting worked well. We were engaged, we were encouraged to chat, we had an opportunity to exchange ideas in a breakout room, and we were allowed to submit questions to Dr. Hunter.
It all worked. I just wish I would have read the book before. Now I am reading the book from the last session on. March 8 — I figure I will catch up sooner or later!
Great facilitator (Bill Bigelow) able to allocate time for everyone's voice to be heard.
Additional Comments
I'm encouraged by how scholars like Dr. Hunter are drilling down on lesser-known aspects of our history.
Wonderful resource. I'll help spread the word. I'm afraid too many people who would take advantage of this resource are unaware it exists.
Thank you again for all the work to make this happen. I worked with Dr. Hunter when she came to work with students in the Newark (NJ) public schools about 10 years ago and it was great to be with her again.
Thank you so much for these fabulous conversations. I always learn so much and come away feeling more optimistic and proud.
Breakout room 20 was a little quiet but all of us were able to share and find common interests! Several group members mentioned how wonderful it was to hear from Dr. Hunter, since we as teachers have seen her in some of the Teaching Hard History videos from Learning for Justice (formerly Teaching Tolerance) — it is always nice when historians share their work publicly.
I thought this was very useful and did not, like many things for teachers, pander. It was like being part of a discussion.
I have attended several sessions and each one has left me in awe. One for the scholarship that is out there but I have not been exposed to as of yet and the diversity of the groups. This is such a great way to start my week. I feel energized.
Really enjoyed doing a deeper dive into this important history. Reinforces that there are SO many elements of Black history that we don't know or teach.
Once again, the Zinn Education Project does not fail. My son used to read Zinn history book in high school, and under-informed and/or under including teachers used call my home. They were challenged to expand their scope and my son would not need to do their work. The calls soon stopped.
I hope the idea of doing Zoom presentations and workshops continues after the pandemic. Very accessible for me with my time, energy during the school year.
It always amazes me that enslavers really couldn't believe the enslaved would want to leave them (and the idea of "freedom" was totally beyond their comprehension). The book's title is gorgeous. And the story behind it is so revealing: that a former enslaved woman responds that she wants to "Joy My Freedom" when her former enslaver asks why she's leaving. It reminded me of the fact that enslavers made up a name for an illness that they said the enslaved caught, which is the reason they ran away. I mean, why else would they try to escape?
I really appreciated the high quality of engagement in the key conversation — it was a lot more significant than simply mentioning women's names to include in a learning plan.
Dr. Hunter brought up important issues that are essential for our deeper understanding of history and yet not discussed very often. Dr. Hunter's perspectives were enlightening.
I am impressed with the diversity of people who attended. My group had 7 people from all parts of the U.S. and one from Canada.
Presenters
Tera W. Hunter is an award-winning scholar of labor, gender, race, and Southern history. She is presently a professor of history and African-American studies at Princeton University and the author and editor of several books, as well as a contributor to public intellectual life through her consulting with museums, classroom history education programs, and documentary film.
Jeanne Theoharis is a distinguished professor at Brooklyn College. She is the author or co-author of nine books and numerous articles on the Civil Rights and Black Power movements and the politics of race and education. Her books include the award-winning titles The Rebellious Life of Mrs. Rosa Parks, The Rebellious Life of Mrs. Rosa Parks: Young Readers Edition, and A More Beautiful and Terrible History: The Uses and Misuses of Civil Rights History.
Cierra Kaler-Jones is the Education Anew Fellow at Teaching for Change through the Communities for Just Schools Fund. As a Ph.D. student, her work examines how Black girls use arts-based practices (such as movement and music) as forms of expression, resistance, and identity development