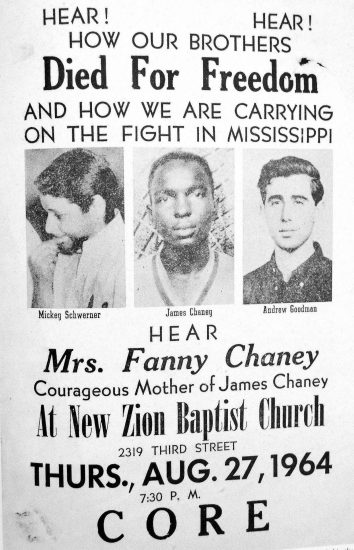 On June 21, 1964, James Chaney, Michael Schwerner, and Andrew Goodman were tortured and murdered by the KKK with help from the deputy sheriff near Philadelphia in Neshoba County, Mississippi.
The three young men had traveled to Neshoba County (from the Freedom Summer orientation in Oxford, Ohio) to investigate the burning of Mt. Zion Methodist Church, which had been a site of a CORE Freedom School.
They were killed defending the right to learn and human rights for all.
While their case received national attention (thanks to grassroots organizers), there were more people murdered in Mississippi while seeking basic democratic and human rights. A few of those stories are listed in Related Resources below.
In fact, while investigators dragged and searched the rivers, they uncovered the bodies of eight African Americans: Herbert Oarsby, a 14-year-old who was wearing a Congress of Racial Equality (CORE) t-shirt; Henry Hezekiah Dee and Eddie Moore (both 19-years-old); and five unidentified men.
Throughout the rest of June and July, authorities (including President Lyndon Johnson), claimed that the disappearance of Chaney, Goodman, and Schwerner could be a Civil Rights Movement publicity stunt.
Their bodies were found, buried in a dam site in Neshoba County, on August 4, 1964.
In 1980, Ronald Reagan launched his general election campaign with a speech lauding "states' rights" outside Philadelphia, Mississippi, within walking distance from the earthen dam where the three civil rights workers had been buried.
See the Democracy Now! broadcast: "After Over Four Decades, Justice Still Eludes Family of 3 Civil Rights Workers Slain in Mississippi Burning Killings."
Find resources below to teach outside the textbook about the Student Nonviolent Coordinating Committee (SNCC) and Freedom Summer.