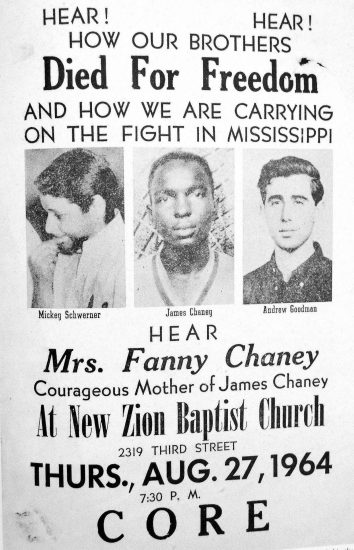 On Aug. 4, 1964, the bodies of three lynched civil rights workers (James Chaney, Michael Schwerner, and Andrew Goodman) were found, after disappearing more than a month before.
On June 21, 1964, James Chaney, Michael Schwerner, and Andrew Goodman were tortured and murdered by the KKK with help from the deputy sheriff near Philadelphia in Neshoba County, Mississippi. They were killed defending the right to learn and human rights for all.
The three young men had traveled to Neshoba County to investigate the burning of Mt. Zion Methodist Church, which had been a site of a CORE Freedom School. While searching for the three civil rights workers, bodies of other African Americans were found including Henry Dee and Charles Moore.
Learn More
Read "Lynching of Chaney, Schwerner & Goodman" at the Civil Rights Movement veterans (crmvet.org) website, a detailed description of their arrest, the complicity between the "law enforcement" and the Klan, their murder, and the fight to have their bodies found, autopsied, and the murderers charged.
See the Southern Poverty Law Center list of Civil Rights Martyrs for more names of people murdered in the fight for voting rights and human rights in the United States.
Listen to the Democracy Now! broadcast, "After Over Four Decades, Justice Still Eludes Family of 3 Civil Rights Workers Slain in Mississippi Burning Killings."

Find related lessons and other teaching resources below.