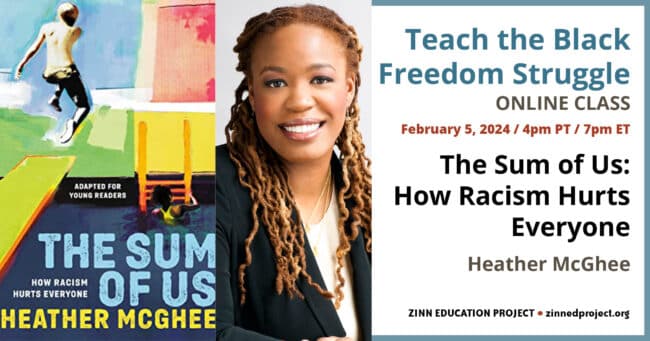 On Monday, February 5, 2024, policy advocate and author Heather McGhee will discuss The Sum of Us: How Racism Hurts Everyone, the young readers' edition of her bestselling book.
Heather McGhee designs and promotes solutions to inequality in the United States. Her first book, The Sum of Us: What Racism Costs Everyone and How We Can Prosper Together, was adapted into a Spotify podcast and a young adult readers' version. In addition to testifying before Congress, drafting legislation, and developing strategies for organizations and campaigns, McGhee is chair of the board of Color of Change, an online racial justice organization fighting injustice in the U.S.
McGhee will be in conversation with a teacher. Click the link below and add your name to a list to be notified when registration is open.
These online classes with people's historians are held at least once a month (generally on Mondays) at 4:00 pm PT / 7:00 pm ET for 90 minutes. In each session, the historian is interviewed by a teacher and breakout rooms allow participants to meet each other in small groups, discuss the content, and share teaching ideas. We designed the sessions for teachers and other school staff. Parents, students, and others are also welcome to participate.