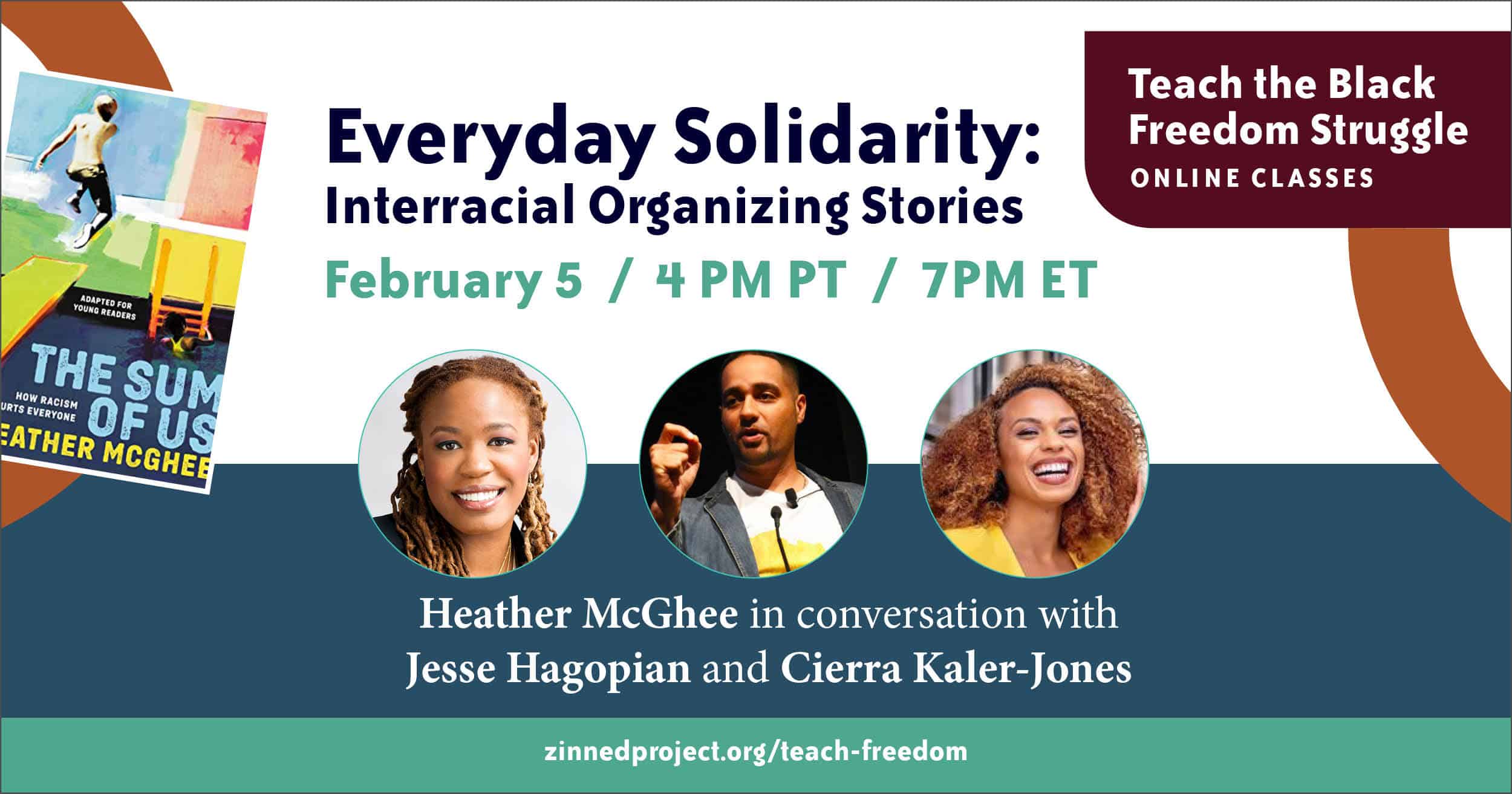 On Monday, February 5, 2024, policy advocate Heather McGhee will discuss The Sum of Us: How Racism Hurts Everyone, the young readers' edition of her bestselling book and the podcast companion series.
Heather McGhee is distinguished lecturer of urban studies at CUNY School of Labor and Urban Studies. In addition to testifying before Congress, drafting legislation, and developing strategies for organizations and campaigns, McGhee is chair of the board of Color of Change.
McGhee will be in conversation with Jesse Hagopian and Cierra Kaler-Jones. Jesse teaches Ethnic Studies and is the co-adviser to the Black Student Union at Garfield High School in Seattle. He is an editor for Rethinking Schools, the co-editor of Teaching for Black Lives, editor of More Than a Score: The New Uprising Against High-Stakes Testing, and on the leadership team of the Zinn Education Project. Cierra serves as the executive director of Rethinking Schools. Cierra is also on the leadership team of the Zinn Education Project, and is a teacher, a dancer, a writer, and a researcher. She previously served as director of storytelling at the Communities for Just Schools Fund.
Here is a list of stories from McGhee's podcast:
Environmental Racism & The Right to Clean Water in Memphis, Tennessee

Felon Disenfranchisement & Voting Rights in Orlando, Florida

Minimum Wage in Kansas City, Missouri 

Land Reparations in Manhattan Beach, California

Food Justice & Immigration in Lewiston, Maine

Sundown Towns & Ordinances in Minden, Nevada

Reproductive Rights in Dallas, Texas and Albuquerque, New Mexico
Thanks to a donation from the Ford Foundation, we sent 300 hardback copies of the young readers' edition of The Sum of Us: How Racism Hurts Everyone to people's history teachers across the United States.
These online classes with people's historians are held at least once a month (generally on Mondays) at 4:00 pm PT / 7:00 pm ET for 90 minutes. In each session, the historian is interviewed by a teacher and breakout rooms allow participants to meet each other in small groups, discuss the content, and share teaching ideas. We designed the sessions for teachers and other school staff. Parents, students, and others are also welcome to participate.