By Matt Reed and Ursula Wolfe-Rocca
The Flint Water Crisis is one of the most egregious examples of environmental racism in recent memory. In 2011, Michigan Governor Rick Snyder appointed an "emergency manager," an unelected official, to oversee the majority-Black city's budget and cut costs. To save money, the manager ended the city's five-decade practice of piping treated water for its residents from Detroit, and opted to pump highly corrosive, untreated water from the Flint River. While residents immediately complained of skin rashes, hair loss, and foul smelling and tasting water, it took more than a year before the contaminated water was addressed by the government, and many more years of litigation and grassroots organizing to win a settlement for victims. At least a dozen people died of Legionnaires' disease and many more were sickened with lead and other toxins.
Flint is not anomalous. In every corner of the country poor people and people of color are disproportionately burdened by environmental contamination — in their neighborhoods, schools, and homes.
In this mixer activity, inspired by the 2016 Democracy Now! documentary Thirsty for Democracy, students learn about the struggle of residents to access safe water for drinking, cooking, and bathing in the majority-Black cities of Flint, Michigan; Jackson, Mississippi; and Newark, New Jersey. By bringing the circumstances of these different locales into conversation with one another, students see that these water crises are not simply accidents that could have happened anywhere; they are manifestations of racism, past and present, that happen in some places — and to some people — far more than others. As Robert Bullard, known as the "father of environmental justice," a scholar featured in the activity, says, "Zip code is still the most potent predictor of an individual's health and well-being."
In the mixer, each student takes on the persona of someone whose life is touched by these crises — along with some scholars and experts who offer important background — and hear stories from each other to surface patterns across the different cities. In conversations, they find others who can help answer mixer questions. For example: "Find someone who was directly affected or harmed by one of the water crises. Who are they? How were they affected or harmed?"
Students meet Kawanne Armstrong, a Flint grandmother who tested her water when it started running brown and smelling foul, and found it had dangerous levels of lead. Now she relies entirely on bottled water for herself and her grandson, which is not always easy to come by. Students meet Kehinde Gaynor, of Jackson, who explains the painful calculus of parenting through a water shutdown:
My daughter loves to eat fruit. She says, "Daddy, can I get an apple?" But rather than just grab one and give it to her, I'm weighing washing that apple off with the same bottle of water that we're using to brush our teeth, to drink, to clean. Do I have enough water to give my daughter an apple?
Students also encounter stories of community activists. Shakima Thomas says that it was her 5-year-old testing positive for lead — a neurotoxin that can permanently damage children's brains — that pushed her to join the Newark Water Coalition and lobby the city to replace the lead pipes. Nayyirah Shariff works with the Flint Democracy Defense League (FDDL), which organized a door-to-door campaign delivering bottled water, water filters, and replacement filters, and to document people's stories about the water crisis.
Those on the frontlines also share their analysis of the roots of the crises. From Claire McClinton, founder of FDDL, students learn it was Flint's unelected emergency manager, who sought to save money by switching Flint's drinking water from the Detroit system to the poisonous Flint River, where General Motors had dumped industrial toxins for decades. She insists the Flint crisis is not only a water problem, but also "a democracy problem." From Kendrick Hart in Jackson, students learn that one of two main water treatment plants in the city is more than 100 years old but that when Jackson is under a boil-water notice or water pressure is too low to flush a toilet or take a shower, the water systems in the majority-white suburbs continue to operate without problem.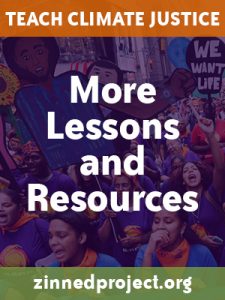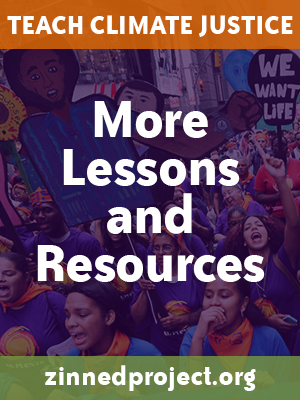 The activity also includes a handful of "experts," people neither residents of the cities, nor directly organizing on their behalf, but who share critical context about the systemic causes of the crises. From journalist Judd Legum, students learn that a massive multibillion dollar corporation — Siemens — brokered a $90 million contract with the city of Jackson to fix the water system, which it utterly failed to do. From hydroclimatologist Dr. Upmanu Lall, students learn that all parts of the U.S. municipal water system need massive upgrades and investment. But, he points out, while the United States has a Department of Energy (which continues to prop up the death-dealing fossil fuel industry), it has no Department of Water to coordinate the vast and critically important undertaking of ensuring clean water for the nation.
Ultimately, the stories included in this activity suggest that the injustices faced by the residents in Flint, Newark, and Jackson will not be addressed by merely swapping out pipes or building a new water treatment plant. There is a water crisis; but there is also a housing crisis, a health care crisis, a governance crisis, a funding crisis, and yes, a white supremacy and capitalism crisis. This activity helps students identify key causes of environmental racism so they are better equipped to demand and enact lasting solutions that will add up to a more just world for us all.
Roles for this lesson include:
Kawanne Armstrong, Flint, Michigan, resident
Dr. Mona Hanna-Attisha, Children's Hospital of Michigan
Ras Baraka, Mayor of Newark, New Jersey
Sabre Bee, Newark Water Coalition
Dr. Robert D. Bullard, Texas Southern University
Christopher Daniels, Newark, New Jersey, resident
Anthony Diaz, Newark Water Coalition
Kenyetta Dotson, Flint, Michigan, resident
Kehinde Gaynor, Jackson, Mississippi, resident
Kendrick Hart, Jackson, Mississippi, resident
Kali Akuno, Jackson, Mississippi, Cooperation Jackson
Yvette Jordan, Newark Education Workers Caucus
Dr. Upmanu Lall, Columbia University
Haley Lane, University of California, Berkeley
Judd Legum, Journalist
Mayor Chokwe A. Lumumba, Jackson, Mississippi
Larry Marshall, Flint, Michigan, resident
Melissa Mays, Water You Fighting For and Flint, Michigan, resident
Claire McClinton, Flint Democracy Defense League
Ivelisse Mincey, Newark, New Jersey, resident
Paul Mohai, University of Michigan School for Environment and Sustainability
Erik Olson, National Resource Defense Council
Dr. Aaron Packman, Center for Water Research
Pauline Rogers, RECH Foundation, Jackson, Mississippi
Nayyirah Shariff, Flint Democracy Defense League (FDDL) and Flint Rising
Shakima Thomas, Newark Water Coalition and Newark, New Jersey, resident
Matt Reed teaches high school social studies in Portland, Oregon. He is a co-editor of the forthcoming second edition of the Rethinking Schools teaching guide, A People's Curriculum for the Earth. Read more.
Ursula Wolfe-Rocca has taught high school social studies since 2000. Ursula works full time for the Zinn Education Project and is on the editorial board of Rethinking Schools magazine. She has written articles and lessons on voting rights, redlining, deportations, COINTELPRO, climate justice, Red Summer, the Cold War, and more. Read more.
This lesson was featured in the spring 2023 issue of Rethinking Schools magazine and will be in the second edition of the Rethinking Schools teaching guide, A People's Curriculum for the Earth.