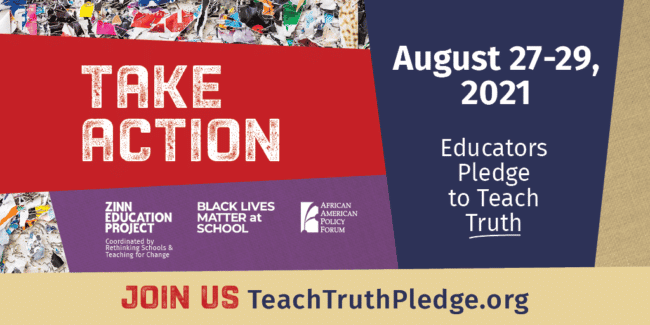 Where to Participate   How to Plan an Action
Lawmakers in at least 28 states are attempting to pass legislation that would require teachers to lie to students about the role of racism, sexism, heterosexism, and oppression throughout U.S. history.
In response, educators across the United States are signing a pledge to teach truth.
To raise public awareness about the danger of these bills, we invite educators to make that pledge public in gatherings nationwide August 27 – 29, 2021. This follows on the June 12 Pledge to Teach Truth Day of Action in dozens of cities across the United States.
This invitation is extended by the Zinn Education Project (coordinated by Rethinking Schools and Teaching for Change), Black Lives Matter at School, and the African American Policy Forum.
Teach Truth Days of Action Endorsers
The Days of Action are endorsed by Learning for Justice, March On for Voting Rights, Race Forward, NYU Metro Center, National Equity Project, Center for Black Educator Development, Modjeska Simkins School for Human Rights, National Parents Union, Citizens for Public Schools, California Teachers Association, BARWE, brightbeam, Dignity in Schools Campaign, Asian Pacific American Labor Alliance (AFL-CIO), and more. [Organizations are invited to join the list of endorsers.]
This is a national call. While bills and budget resolutions are being proposed (and in some cases passed) in specific states, the threat to teaching — and the need for solidarity — is everywhere.
Where to Participate
Educators in more than 115 cities have signed up so far to host events on Aug. 27 – 29, 2021. As they provide links with information about how to join in their actions, we will add them here.  Join one of the events below or plan your own!
Anchorage, Alaska. Martin Luther King Jr. Memorial. Hosted by the Alaska Coalition of BIPOC Educators – ACBE. Saturday, Aug. 28, 1:00 pm – 2:00 pm AKST. Learn more and RSVP.
Ketchikan, Alaska. Online. Talking about the history of colonization in Southeast Alaska. Saturday, Aug. 28, 11:00 am AKST. Learn more and RSVP.
Mesa, Arizona. Alston House in the Washington Escobedo Neighborhood. Saturday, Aug. 28, 9:00 am MST. Learn more.
Springdale, Arkansas. 300 E Huntsville Rd. Hosted by the Educators Equity Coalition. Saturday, Aug. 28, 10:00 am CDT. Learn more and RSVP.
Albany, California. Ohlone Sacred Shellmound. 8th grade students from Albany Middle School created Google presentations and signs. Saturday, Aug. 28, 10:00 am – 11:00 am PDT.
Auburn, California. The Placer County Museum. Hosted by Riverview teachers, parents, students and alumni of California public schools. Saturday, Aug. 28, 10:00 am – 4:00 pm PDT.
Bay Area, California. Online #TeachTruth in History Education project. Hosted by the UC Berkeley History-Social Science Project. Aug 27 – 29, 2021. 
Compton, California. Color Compton. Saturday, Aug. 28. 3:00 pm – 4:00 pm PST. Learn more.
Los Angeles, California. Biddy Mason Memorial Park. Hosted by the Ida B. Wells Education Project. Saturday, Aug. 28, 1:00 pm – 3:00 pm PDT. Learn more at website. Facebook page.
Santa Cruz, California. Mission Santa Cruz. Hosted by local educators on the occasion of the removal of the last Santa Cruz Mission Bell by the Amah Mutsun Tribal Band. Saturday, Aug. 28 at 12:30pm.
Evergreen, Colorado. African Queen Statue. Hosted by Evergreen Coalition for Racial Justice. Friday, Aug. 27, 3:30 MDT. 
Washington, D.C. Malcolm X Park. Friday, Aug. 27, 4:00 pm – 6:00 pm EDT. Learn more and RSVP.
Athens, Georgia. Formerly Linnentown (now Brumby  Hall). Friday, Aug 27 5:00 pm – 7:00 pm EDT. Learn more and RSVP
Decatur, Georgia. A teach-in at a cannon (placed in 1906 by the United Daughters of the Confederacy) on the city square. Hosted by the Beacon Hill Black Alliance for Humans Rights. Sunday, Aug. 22, 4:00 pm – 6:00 pm EST. Learn more.
Chicago, Illinois. 1919 Eugene Williams Memorial Marker (also known as Chicago "Race Riot" Marker). Hosted by the Chicago Teachers Union. Saturday, Aug. 28, 11:00 am CDT. Learn more and RSVP.
Statewide, Iowa. Virtual event. Hosted by Black Lives Matter at School – Iowa. Saturday, Aug 28. 1:00 pm – 3:00 pm CST. Learn more and RSVP.
Waterloo, Iowa. District wide. A video is being produced for release during the Days of Action with current and formers teachers, current and former students, and community members calling for the Waterloo school buildings they represent to teach the truth. News story about the Teach Truth video. 
Kansas City, Kansas. Quindaro Underground Railroad Commemorative landmark historic site. Hosted by the Quindaro Underground Railroad Museum. Friday, Aug. 27, 6 pm – 7:30 pm CST. Learn more and RSVP.
Portland and Yarmouth, Maine. 615 Forest Avenue (Portland) on Friday Aug. 27, 5:30 pm EST and former Freeman Barber Shop (Yarmouth) on Saturday, Aug 28, 9:00 am EDT.
Annapolis and Severna Park, Maryland. The EJI Historical Marker on Calvert Street in People's Park  Saturday, Aug. 28, 12:oo PM EDT and the EJI Marker at the Severna Park Library, 45 West McKinsey Rd. Sunday, Aug. 29, at 12:00 PM. Hosted by Connecting the Dots: Anne Arundel County. Learn more and RSVP.
Baltimore, Maryland. Towson Manor Park in Historic East Towson. Hosted by the Loyola School of Education and the Baltimore Teach Truth Coalition. Sunday, Aug. 29, 12:00 noon – 1:30 pm EDT. Learn more and RSVP.
Statewide, Michigan. Online Action Zap. Hosted by One Love Global. Learn more and participate.
Kansas City, Missouri. Marching to the Black Archives of Mid-America. Hosted by BLOC , SURJ-KC, JUST Systems, Racial Equity EdConnect, and more. Saturday, Aug. 28, 10:00 am CDT. Learn more and RSVP.
Portsmouth, New Hampshire. Prescott Park Marcy Street. Hosted by CAFA (Community Advocates For All). Saturday, Aug. 28, 12:00 pm EDT. Learn more and RSVP.
Paterson, New Jersey. Paterson's Historical City Hall. Hosted by New Era Paterson, Educators 4 Real Education, Paterson Black Panther Party. Saturday, Aug, 28. 2 pm EST. Learn more and RSVP.
Princeton, New Jersey.  John Witherspoon Statue at Princeton University. Sunday, Aug. 29, 10:00 am EDT. Learn more and RSVP.
Trenton, New Jersey. Hedgepeth-Williams Middle School Middle School of the Arts. Hosted by NJ21United. Friday, Aug 27, 11:00 am EDT. Learn more and RSVP.
Las Cruces, New Mexico. "Baylor" Canyon Solidarity Hike. Hosted by Southern NM Equity Forum, with Borderlands & Ethnic Studies Program/Learning Action Buffet/ NEA-Las Cruces/NEA-NM. Sunday, Aug. 29, 8:00 am MST.
Albany, New York. The Stephen and Harriet Myers Residence. Hosted by the Lower Hudson Valley Teachers' Field Study Group. Thursday, Aug. 26, 1:00 – 3:00 pm EDT.
New York, New York. New York Slave Market. Hosted by AntiRacist Alliance of Educators (ARAE). Friday, Aug 27, 3:00 pm – 5:00 pm EDT. Learn more and RSVP.
Newburgh, New York. Newburgh Colored Burial Ground (commonly known as Newburgh City Court). Hosted by Citizen Action, Melanin Unchained, and Next Step Hudson Valley. Saturday, Aug. 28, 12:00 noon EST. Learn more and RSVP.
Sag Harbor, New York. Heritage House. Hosted by the Eastville Community Historical Society of Sag Harbor. 2:00 – 4:00 PM EDT. Learn more and RSVP.
Saratoga Springs, New York. Solomon Northrup Commemorative Plaque. Hosted by Saratoga Educational Equity Network (SEEN). Saturday, Aug 28. 10:00 am – 12:00 pm EDT. Learn more and RSVP.
Greensboro North Carolina. Greensboro History Museum. Hosted by Keep History Real. Saturday,  Aug. 28, 12:00 pm EDT.
Bexley, Ohio. Bexley High School. Hosted by the Bexley Anti-Racism Project.  Sunday, Aug. 29, 1:00 pm – 3:00 pm EDT.
Cincinnati, Ohio. Harriet Beecher Stowe House. Hosted by Our Revolution Ohio. Aug. 28, 10 AM and Sept 18. Learn more and RSVP.  Additional info here.
Westerville, Ohio. Alum Creek Park Amphitheater. Hosted by WeRISE for Greater Westerville. Sunday, Aug. 29, 12:00 pm – 1:30 pm EDT. Learn more and RSVP.
Youngstown, Ohio. Robinson-Shuba statue in Youngstown. Saturday, Aug. 28, 12:30 pm EDT. Learn more and RSVP.
Oklahoma City, Oklahoma. The Black Times along with the help of other community organizations and leaders is hosting a march to the Oklahoma State Capitol from the historic Eastside of Oklahoma City. Saturday, Aug. 28, 1:00 pm EDT. Learn more and RSVP.
Eugene, Oregon. Pioneer Cemetery. Sunday, Aug. 29 4 pm PDT.
Lansdale, Pennsylvania. Lansdale Library. Saturday, Sept.  4 10:00 am – 2:00 pm EST. Learn more and RSVP.  
Philadelphia, Pennsylvania. A teach-in at The President's House – Protest Park. Friday, Aug. 27 5:00 pm – 6:30 pm EST. Learn more and RSVP.
North Kingstown, Rhode Island. Wickford Town Dock. Hosted by the Teach Truth RI Coalition. Sunday, Aug. 29 2:00 pm – 4:00 pm EDT. Learn more and RSVP. Teacher and student testimony.
Columbia, South Carolina. U.S. National Register of Historic Places sites. Virtual event. Friday, Aug. 27 All day twitter event.
Knoxville, Tennessee. Virtual event. Hosted by Center for Children's and Young Adult Literature at the University of Tennessee, Knoxville in partnership with the Children's Diversity and Justice Library and the Tennessee Association of School Librarians. Collecting book recommendations to share during all three days of action. 
Corpus Christi, Texas. Facebook live presentation. Hosted by the Corpus Christi American Federation of Teachers. Sunday, Aug. 29, 7:00 EDT. Learn more.
Richmond, Virginia. Event to be held online. Day/time TBD.  Learn more and RSVP.
Bainbridge, Washington. Bainbridge Island Historical Museum. Hosted by the Multicultural Advisory Council BISD. Sunday, Aug. 29,  10:00 am – 11:30 am PDT.  Learn more and RSVP. 
Seattle, Washington. Yesler Terrace public housing complex, which was the first integrated public housing project in the nation in 1939. Hosted by Social Equity Educators of the Seattle Education Association. Sunday, Aug. 29, 1:00 pm – 3:00 pm PST. Learn more and RSVP.
West Richland, Washington. On the Kennewick side of the Cable Bridge across the Columbia River. Hosted by the Tri-City Democrats. Sunday, Aug 29. 3:00 PM PDT  Learn more and RSVP   
Milwaukee, Wisconsin. Milwaukee Cathedral Square Park, near the intersection of Jackson Street & Kilbourn Avenue. Sunday, Aug. 29, 2:00 pm CDT. Learn more and RSVP.
National: #TeachTruth Webinar hosted by Two Broads Talking Politics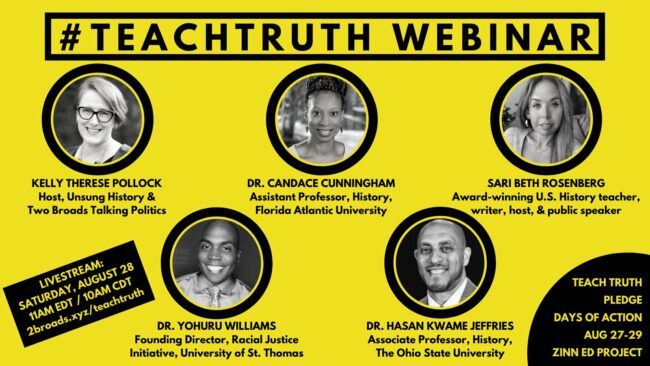 Check out the fliers for many of the events in the slide show below.
Add YOUR city to this list. Learn how to plan an action below.
New Resources from Sponsors and Endorsers
How to Plan An Action in Your City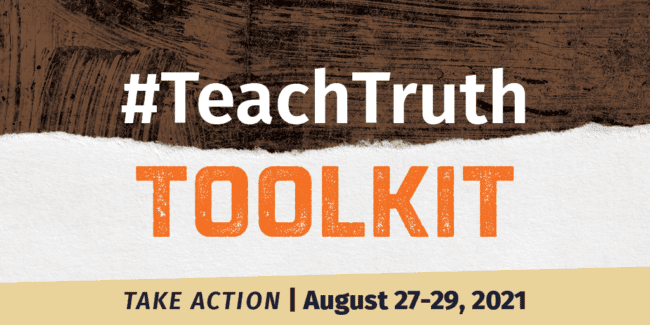 To make our voices loud and clear, we hope to see actions (of all sizes — from one person to 100+) all over the United States. Below is a step-by-step guide with creative ideas. In addition to the guide below, we have two organizers who can provide one-on-one coaching and support. Once you select your site and type of action, the organizers can provide additional information to assist with your planning. We will also invite you to online media workshops. It is important to sign up so that we can send you more resources and support. While the step-by-step guide is detailed, the process is simple:
Organize a gathering at the site (or online) with fellow educators, family members, students, and community members. The group can be any size. If you don't have time to organize a group, pick a site and go on your own or with a friend. Every voice and action counts!
You could invite teachers to read their pledges and students to share why learning the truth about history is important to them.
Post photos and videos to social media with hashtags: #TeachTruth
Day of Action Step-By-Step Guide
1. SELECT A SITE, DATE, AND TIME
Plan where to hold your event. It could be a virtual teach-in or town hall. If in person, select a site in your town or city that symbolizes or reflects history that teachers would be required to lie about or omit if these bills become law, which is already the case in some states. It could be identified by a historic marker, statue, archive, burial ground, or museum.
There are also countless historic sites that are unmarked — such as a freeway that destroyed a neighborhood or a university building funded by enslaved labor.
The power of selecting a historic site is that it becomes the focus of your media interviews, providing a concrete example of the history young people have a right to learn. 
If in person, we encourage you to check on and be aware of any local guidance or ordinances on public gatherings in your area. And although outdoor gatherings are seen as safer, we recommend wearing masks and staying appropriately distanced to protect the health and well-being of all people in attendance.  
Select any day or time from August 27 – 29. If that weekend does not work, pick another day. We are supporting and promoting #TeachTruth events throughout the summer and fall. If you are considering Saturday, August 28, we ask that you check the March on Voting Rights map. If there is a March On event in your city, reach out to collaborate or schedule the events at different times.
2. PLAN AN ACTIVITY
Organize an event with fellow educators, family members, students, and community members. The group can be any size. If you don't have time to organize a group, pick a site and go on your own. Every action counts.
Determine type of action. There are a lot of options for organizing your event. Below are are some ideas from the June 12 events. For any events with speakers, it helps to have access to a microphone and amplifier so that everyone can hear.  
Teachers read pledges and/or students testify at a historic site. There is power in having a group of teachers read their pledges aloud and students testify to why they want to learn history outside the textbook. Arrange to have one person as an MC who can create a list of the teachers who agree to read their pledges, introducing them one by one and keeping the program moving at a good place.
In preparation, ask teachers in advance to read their pledges and students to share why learning the truth about history is important to them. For example, in Washington, D.C., the group met at the African American Civil War Memorial and Museum. A 3rd-grade teacher was the MC and the museum director spoke and then teachers read their pledges. See photos and story about the D.C. event.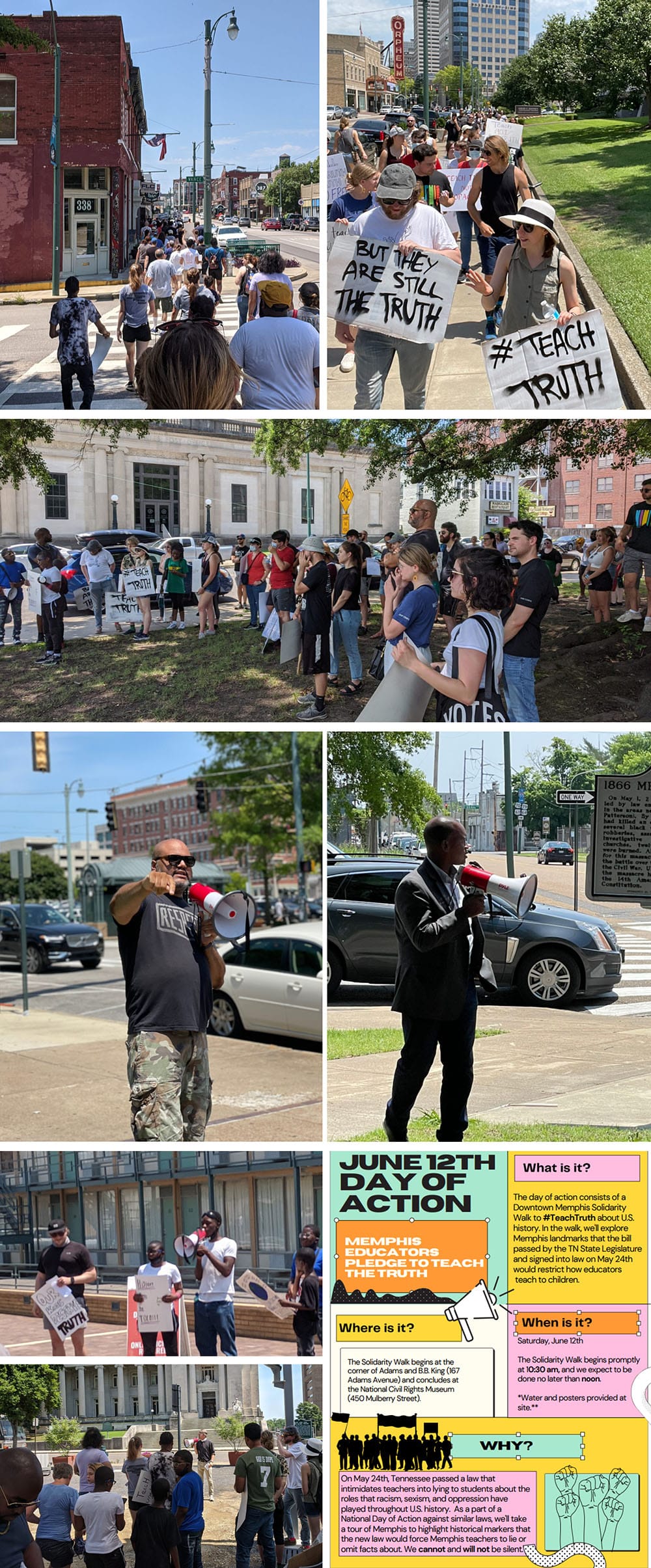 Walking tours. In addition to selecting a historic site for your convening, you can invite participants to walk or march to additional sites. Teachers in Memphis and Seattle organized walking tours, with different people responsible for sharing the history at each location. Here is the announcement for Memphis and here are photos of the event. In Waterloo, Iowa, speakers addressed the history of various sites that were in close proximity.  
Rally with speakers. In addition to having teachers read pledges, you can invite noted guests to speak. Speakers could include historians, elected officials, poets, voting or climate justice activists, labor leaders, and more. We recommend encouraging speakers to keep their talks to five minutes or less. As an example, see the video from the June 12 event organized by Black Lives Matter Week of Action—Philly at The President's House. If you are looking for speakers, here are sources:
Local voting rights and climate justice organizations
Books to symbolize banned history. As you plan your event, consider visuals to convey the goals of your gathering to the public and the media. One suggestion is to have everyone bring a book that symbolizes the history they want to protect the right to teach about. For example, in Concord, New Hampshire, there was a book swap on June 12.
The Concord invitation said: "Participants are encouraged to bring a book that changed their perspective on systemic racism/inequity that might be considered "divisive" under the new law and treat the event as a giant book swap. Attendees will be welcomed to place their book on the capitol steps and at the end of the event, anyone who brings a book can pick a new one!"
Students as Historians. Students can be invited to share the local history of the respective site you select.
In Youngstown, students in a youth group shared the history of the local pool. (See photo above.) They also made the link to mass incarceration. A prisoner (speaking via cell phone and amplifier) addressed the group. Read the announcement.
Gather at History Sites Countywide. In Westchester County, an organizer got folks to pledge to #TeachTruth at sites throughout the county on July 22. See photos and read a detailed description of how the event was organized.
Virtual teach-in or town hall. The day of action event can be offered online as a teach-in with various presenters or a large group town hall. For example, the Foster Woods Folk School virtual teach-in on June 12 offered a series of five to seven minute "illegal lessons" from or about a historical site or event near them. Read the description of the sessions and watch the video. Black Lives Matter at School-Iowa hosted a town hall forum for educators, parents, and students to discuss the impact of the legislation and honor the stories and experiences of Black Iowans.
For more ideas, look at the list of actions from June 12th here.  
Before you keep reading, please sign up using the button below. It is important that we are in touch with all the site coordinators so we can offer support and resources.
Sign Up for Graphics and Media Toolkit
3. SPREAD THE WORD
Create a Facebook event or webpage announcement. For Facebook, check out this example from Youngstown.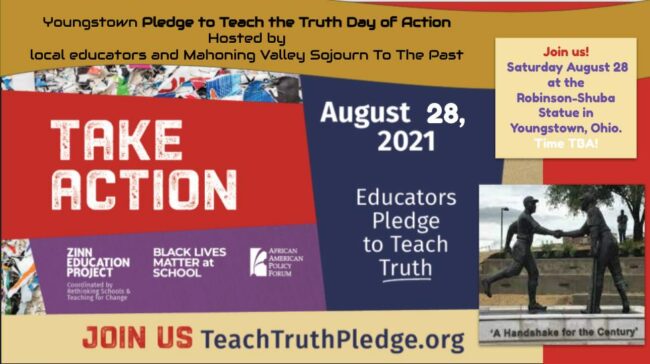 Send that link to the Zinn Education Project so that we can announce your event. We will add it to a page listing all the events nationally — and if you like — we can send an email to all the teachers on our list in your state or region. (We will send the email to you to check first to make sure all the information is correct.)
It will be on a page similar to this listing of June 12 events.
Create a graphic for your event. We will send you templates and customizable graphics as soon as you sign up.
On the announcement, include the hashtag #TeachTruth, a link to the national call to action, directions to the site, and remind participants to bring signs, a mask, and a water bottle. (We discourage the use of plastic water bottles, so encourage participants to bring reusable bottles.) Ask for volunteers to take photos and help with social media.
If you prefer not to have your event listed, skip this step.  
4. SECURE SPONSORS
Invite local organizations to endorse or join your action, such as the:
state council for social studies

teacher education programs at local universities

teacher unions

middle and high school student groups

local poets, musicians, and artists

voting rights organizations

climate justice groups

education advocacy groups

community based civic organizations

local elected officials

religious leaders

racial justice organizations
5. PREPARE MATERIALS FOR THE DAY OF ACTION
Make signs or download them, when available, from this toolkit. You can make your own signs — here are dozens of ideas for language. Listen to sample chants.
Print handouts from the toolkit. These will be available for download by August 20.
Gather supplies you might need, such as tape, a trash bag, sign-up sheets, pens, and markers. Bring a few water bottles as backup in case people don't bring their own.
6. GET IN THE NEWS
Make sure teachers' voices are heard. We had a lot of success on June 12 with local and national media coverage. We have a media company working on contract to support your local organizing. They provide templates for media releases, feedback if requested on draft releases, and lists for local media outreach. In August, we will share the sample media releases and invite you to media training.  Check out selected local coverage from June 12 in Portland, Waterloo, Youngstown, and Rhode Island.
The media announcements are sent two days in advance of the event and on the morning of the event.
7. OPTIONAL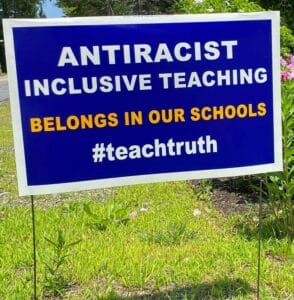 Have tables set up for postcard writing to legislators. A sample postcard is here. Have a list of legislators available to send postcards to. Link to current bills. 
Have tables set up for social media posts with signs for people to hold. Once you sign up, we will send you lots of downloadable graphics to use as is or to customize.
Order yard signs for participants to take home. Learn how.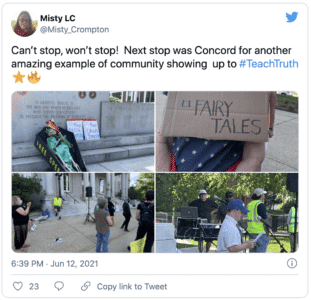 8. DURING THE EVENT
Post photos and videos to social media with the hashtag: #TeachTruth 
Use these messages for people to post to social media during your event. 
9. AFTER THE EVENT
Send pictures and descriptions from your event to the Zinn Education Project for posting online. Email to info@zinnedproject.org.
Take the time to congratulate yourself and your colleagues!
---
ASK FOR HELP
The two #TeachTruth campaign organizers are Tamara Anderson and Debbie Wei. Once you sign up, one of them will reach out to you. Please stay in touch, share updates, and ask for assistance. We want every site to be as successful as possible.
Fill out the form below and we will send you graphics for social media and for the event. Next week we will send media advisories, how to respond to FAQs, an invitation to media workshops, and more for the August 27-29, 2021 events.