Maine teacher Sarah Norsworthy was concerned about the increasing number of anti-history education laws designed to limit truthful teaching. Therefore, she set up a #TeachTruth table to engage people in discussions and she created signs to help amplify support for truthful, antiracist, inclusive teaching. Sarah tweeted a photo of the table and lots of people asked where they could get signs to post in their community.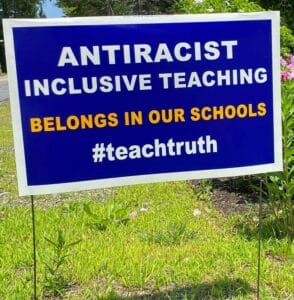 Sarah made the image available and shared the two options below for copying:
Download the image and take it to a local printer.
Order from Dale Rand Printing.

They will ship from their unionized printer in Kansas.

Email Mike Rand, ask for the TeachTruth signs, and provide your shipping address. Signs are 14″ x 23.5″ with metal frames. The cost is $7.62 ea. for 50; $4.64 ea. for 100; $3.75 ea. for 200, plus shipping and taxes.