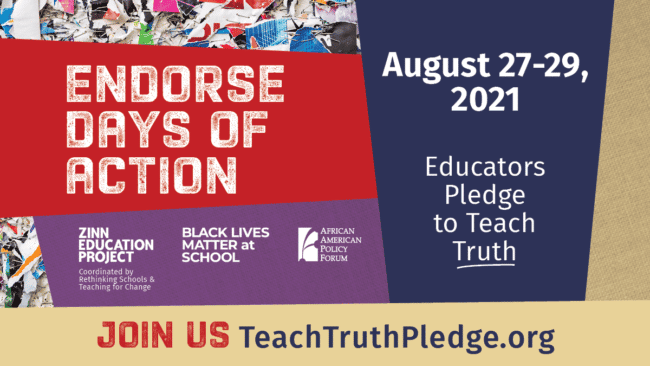 Lawmakers in at least 28 states are attempting to pass legislation that would punish schools where teachers teach truth about U.S. history. In response, educators, students, and their supporters are gathering to speak out against these attempts to hide our nation's racist past.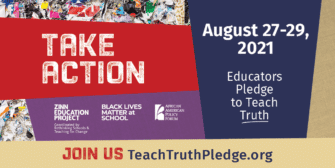 The Zinn Education Project (coordinated by Rethinking Schools and Teach for Change), Black Lives Matter at School, and the African American Policy Forum are organizing a national weekend of action on August 27-29, 2021. Educators across the U.S. are signing a pledge to teach truth and gathering at historical landmarks to raise public awareness about the danger of these bills. Some teachers who have signed the pledge have been targeted and harassed by people on the right. 
We invite local and national organizations to endorse this vital national action. This can include but is not limited to promoting the days of action on all your platforms (use #TeachTruth) and encouraging your members to host and/or participate in local actions. 
Let us know if we can add your organization to the list of endorsers. Complete the short form below and send us a hi-res logo for your organization.
In the meantime, here are some ready to go graphics. If you have any questions do not hesitate to reach out. 
Endorse Teach Truth Days of Action
---
In addition to endorsement, sign up to host an action in your city.
---