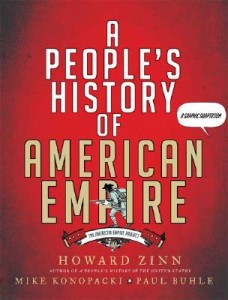 Howard Zinn, historian Paul Buhle, and cartoonist Mike Konopacki collaborated to retell, in vibrant comics form, a most immediate and relevant chapter of A People's History: the centuries-long story of America's actions in the world. Narrated by Zinn, this version opens with the events of 9/11 and then jumps back to explore the cycles of U.S. expansionism from Wounded Knee to Iraq, stopping along the way at World War I, Central America, Vietnam, and the Iranian revolution. The book also follows the story of Zinn, the son of poor Jewish immigrants, from his childhood in the Brooklyn slums to his role as one of America's leading historians. [Publisher's description.]
From School Library Journal:  A study of empire-building by established politicians and big businesses from the 1890 Massacre at Wounded Knee through the current Iraq war. As nonfiction sequential art narrative, this stellar volume is compelling both as historical interpretation and you-are-there observation during many eras and in many climes. Konopacki melds realistic and energetic cartoons — Zinn lecturing in the present day, American and Vietnamese soldiers in the jungle, the Shah of Iran's White Revolution — with archival photos and document scraps to create a highly textured visual presentation. Each episode has its own period-specific narrator: Woody Guthrie sings about the Ludlow Massacre, a zoot suiter recounts the convergence of racial politics with popular music, and Zinn remembers his class-conscious boyhood through World War II soldiering and activism undertaken as a Civil Rights-era college professor. Politically charged, this book can't stand alone as a history text, but it is an essential component for contemporary American government education, as well as an easy work to suggest to both narrative nonfiction and sophisticated comics readers. —Francisca Goldsmith, Halifax Public Libraries, Nova Scotia
About the Authors and Illustrators
Howard Zinn, author of numerous acclaimed histories, taught history at Spelman College and Boston University, and received the Lannan Literary Award, among many others.
Mike Konopacki has collaborated on five collections of cartoons, and his work is regularly syndicated. He lives in Madison, Wisconsin.
Paul Buhle is a senior lecturer in history at Brown University and the editor of the Encyclopedia of the American Left, among other books. He lives in Providence, Rhode Island.
ISBN:9780805087444 | Metropolitan Books and the American Empire Project
Related Resource:
Empire or Humanity? What the Classroom Didn't Teach Me about the American Empire film clip by Howard Zinn. Narrated by Viggo Mortensen. Art by Mike Konopacki. Video editing by Eric Wold.