One of the most important advocates for teaching the full story of African Americans in U.S. history was Dr. Carter G. Woodson.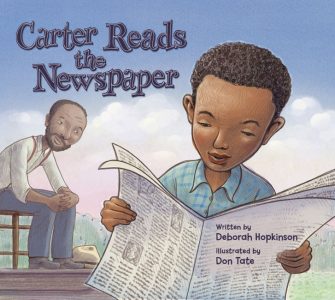 Woodson founded Negro History Week in 1926 (which grew into Black History Month), the Association for the Study of African American Life and History (ASALH), and the Journal of Negro History. He is quoted as saying that:
This crusade [to teach Black history] is much more important than the anti-lynching movement, because there would be no lynching if it did not start in the schoolroom.
Carter Reads the Newspaper chronicles Woodson's early life. As the child of parents who had both been enslaved, it infuriated Woodson that their lives were not included in school books. While working in the coal mines in Appalachia, Woodson was asked to read the newspaper to his fellow miners who were illiterate. They asked lots of questions which led Woodson to conduct research and eventually to pursue higher education, including getting a doctorate at Harvard University. He was the second African American to do so.
We hope that this picture book will lead students and teachers to read Woodson in his own words, in particular The Mis-Education of the Negro (1933), which is sadly still relevant today. [Description from Rethinking Schools.]
Reviews
Hopkinson skillfully shapes Carter's childhood, family history and formative experiences into a cohesive story. . . the inclusion of notable figures from black history reinforces the theme (a key is in the backmatter). An important and inspiring tale well told. ―Kirkus Reviews
Young readers will be caught up in his story. . . Quotes are seamlessly woven into the narrative, and a time line, list of sources, and bibliography add research appeal. Of special note are the illustrations, which include more than 40 portraits of black leaders. . . Their images and one-line biographies will pique further interest, making this a valuable resource for school and public libraries. ―Booklist
ISBN: 9781561459346 | Peachtree