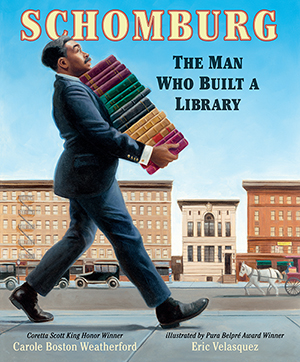 "Where is our historian to give us our side? To teach our people our own history?" asks Afro-Puerto Rican Arturo Schomburg on the first page of this beautifully illustrated picture book,
Schomburg: The Man Who Built a Library.
Schomburg's 5th-grade teacher had told him "Africa's sons and daughters had no history, no heroes worth noting."
Schomburg dedicated his life to ensuring that future generations would learn of Africa and African Americans' powerful heritage. He set out to write, research, and collect the stories that chronicled the Black history of the Diaspora. Filling every nook and cranny of his family home in Harlem, his collection was eventually donated to the now famous Schomburg Center for Research in Black Culture in New York.
ISBN: 9780763680466 | Candlewick Press
The book is also available in Spanish, Schomburg: El Hombre Que Creó Una Biblioteca.