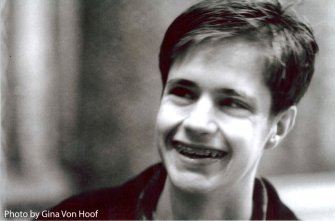 On October 7, 1998, Matthew Shepard (December 1, 1976 – October 12, 1998), a gay student at the University of Wyoming, was beaten, robbed, and left tied to a wooden fence post outside Laramie, Wyoming. He died five days later.
His death helped awaken the nation to the persecution of LGBTQ people and their victimization in hate crimes.
A play about the story of Matthew Shepard (and later an HBO movie, The Laramie Project) has been performed all over the world. His parents launched the Matthew Shepard Foundation.
Learning for Justice offers the story of Matthew Shepard for students to read and other teaching resources in "The Book of Matthew: Matt Shepard died 20 years ago, but his name lives on in stories, on stage, in the law—and in the classroom."