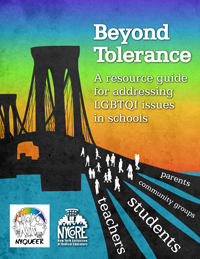 Often, teaching about LGBTQI issues in the classroom is complex and unique — fraught with a variety of fears and uncertainty including fear of retribution and backlash from students, families or administration. But as educators, we must teach these issues because we know it is what is right — as individuals committed to social justice; as LGBTQI-identified educators; for the LGBTQI students we meet; and because we know too clearly what the outcomes are when we don't. [Publisher's description.]
Table of Contents:
1. Statement from NYQueer
2. How to Use this Guide
3. Resource and Support Organizations
4. Youth Focused Organizations
5. Days to Recognize in the Classroom
6. Curricular Resources
7. Film and Video
8. Historical Events and Figures
9. Transgender and Intersex Support
10. Homophobia
11. Marriage Equality
12. Professional Resources
13. Booklist and Databases by Organizations Other than NYQueer
14. NYQueer's Annotated Booklist of Children's Literature
15. Collection of Young Adult/Adult LGBT Literature
Download guide from NYCORE Google Doc page.