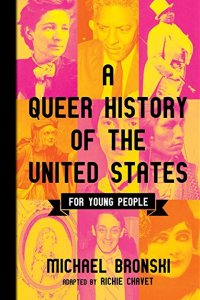 A Queer History of the United States for Young People explores how LGBTQ people have always been a part of our national identity, contributing to the country and culture for over 400 years. It is crucial for lesbian, gay, bisexual, transgender, and queer youth to know their history. But this history is not easy to find since it's rarely taught in schools or commemorated in other ways.
Through narratives, letters, drawings, poems, and more, A Queer History of the United States for Young People encourages young readers, of all identities, to feel pride at the accomplishments of the LGBTQ people who came before them and to use history as a guide to the future.
People and groups featured include:
Indigenous nations who embraced same-sex relationships and a multiplicity of gender identities
Emily Dickinson, brilliant nineteenth-century poet who wrote about her desire for women
Gladys Bentley, Harlem blues singer who challenged restrictive cross-dressing laws in the 1920s
Bayard Rustin, civil rights organizer
[Publisher's description.]
The book includes accessible descriptions and explanations of the identities included in the text, as well as an introduction to explain the relevance and necessity of LGBTQ history.
Regrettably, the book does not address the racist views of some of the LGBTQ historical figures described in the book, such as Walt Whitman.
IMDB: 9780807056127 | Penguin Random House